Husqvarna Designer Topaz 50 Embroidery Sewing Machine
With the full colour screen and a larger embroidery area, the Designer Topaz 50 embroideries up to 36x20 cm. Edit on screen functions and It will also automatically snip threads between colours or at the touch of a button. Save stitches to you own personal memory area. Designs can be imported via USB stitch.
Free Embroidery pack worth £120
FREE delivery by DPD
, order
Delivery: 1 Working Day(s) (Sat, Sun options)

Click to buy or view finance options.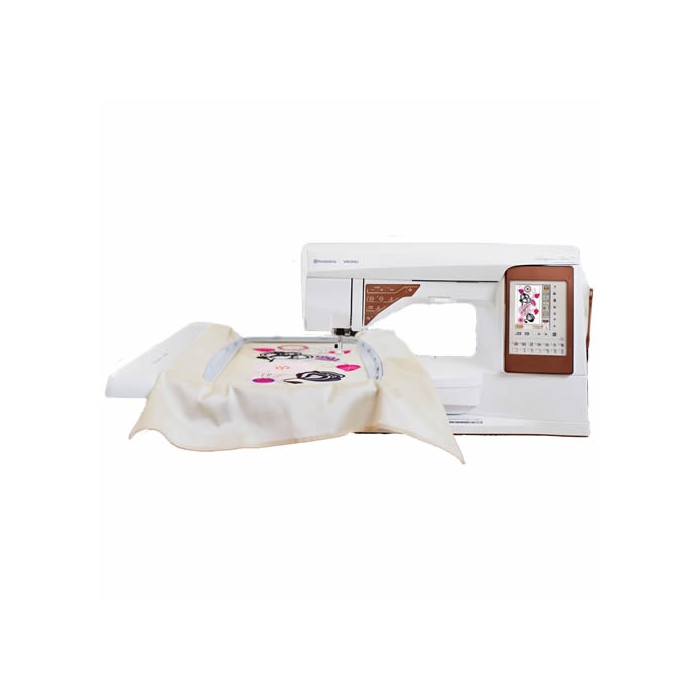 Why choose the Husqvarna Designer Topaz 50 from us?




The Husqvarna Viking Designer Topaz 50 is exclusively designed to help you create some of the finest embroideries and unleash your creativity. Perfect stitcher which features a large full colour screen and a large working surface (10") with extended free arm and includes an exclusive sensor system technology. The sensor automatically adjusts according to the thickness of the fabric to allow for an even stitch. The sensor foot pressure can be activated with the touch of a button to automatically adjust to fabric thickness that results in an even feed. It comes with two hoops in sizes 360 x 200 mm and 120 x 120 mm. Plus load more accessories for using while in sewing or embroidery mode.
Additionally the larger memory allow 24 saves of the custom My-stitches you have created your self. In sewing mode, the Topaz 50 brings you 261 stitch options with programmable alphabets to total rises to 719.! Select the stitch or stitch number on the beautiful colour touch panel and you are ready to start. Other sewing features include a built-in needle threader and 3-speed electronic control. Store hundreds of pattern combinations to recall later. Ideal for name labels. We all love doing free-motion and the Topaz is ready with 2 settings to allow full floating or spring action stippling.
As well as the sewing advisor which is one of the most comprehensive features on the other Topaz models, this one also incorporated the embroidery advisor. It provides all the settings and helps when needed while doing embroidery. It includes type of stitch, stitch width and length, thread tension, needle type and size, presser foot pressure and sewing speed as soon as you enter the fabric type and sewing technique on its wide 3.5" full colour touch screen.
For embroidery projects the Topaz 50 excels and comes with a USB stick with preloaded 75 embroidery designs and a large embroidery area of 36 x 20cm. Also by way of free download, its loaded with 5D or 6D QuickFont and Organizer embroidery software. Use this software to convert between design formats and create embroidery fonts from true-type font on your PC automatically. Use the 1GB USB embroidery stick to transfer designs easily to and from your computer to the machine. Choose from one of the 159 built in design, once a design is loaded on screen it can be edited by scale or position or swing by 90 degrees. You also zoom in, add lettering and another feature we use is the option to baste before sewing the design out. You simply attach the embroidery unit, hoop and start to embroider. Most file formats can be loaded in to the machine, thanks to it new internal operating system. Now designs are show one screen must faster than ever before. This is noticeable as soon as the machine is switch on.
Accessories include a seam ripper, screwdriver, brush, felt pads, thread nets, spool caps, bobbins, 16 hoop clips, pictogram pen, needles, a hard carrying case, and more. Most importantly, you receive a complete education package which includes the Viking embroidery collection, a bonus USB with designs on, a starter kit with threads, sample fabric and stabilizer, and a whole lot of other useful information to make you the master embroiderer you always desired to be. The Topaz 50 comes with a 5-year manufactures guarantee.
Also in the box:
Two hoops 36 x 20 cm and 12 x 12 cm
USB stick
Stylus
Curved Embroidery Scissors
Utility Foot A and B
Zig-zag Foot
Blind Hem Foot
Two way Zipper Foot
Teflon Non-Stick Foot
Edging Foot
Clear Embroidery Foot
Sensor One-Step Button Hole Foot
Non-Stick glide plates
Light bulb remover
Extra spool caps large and small
Multi-purpose tool
Power Lead
Hard protective cover
Electronic Foot Speed Controller
Full colour A4 book showing all the built in designs in full colour
Instruction book
Specification

| | |
| --- | --- |
| UPC | 7393033081591 |
| Manufacturer | Husqvarna |
| Model Number | Designer Topaz 50 |
| Type | Sewing & Embroidery |
| Promotion | Free Embroidery pack worth £120 |
| Warranty | Manufacturers 5 Year, Our 10 Year Extended Warranty Applies |
| Weight Kg | 9.0 |
| Size (Height, Width, Depth) | W 50cm x H 30cm |
| Variable Electronic Speed Control | Yes |
| Bobbin Access | Top Loading |
| Transparent bobbin cover Bobbin Cover | Yes |
| Hard Carrying or Storage Cover | Yes |
| Automatically Tensions Thread | Yes |
| Integrated Needle Threader | Yes |
| Thread End Cutting | Manual |
| Number of Stitch Selections | 719 |
| Popular Stitch Functions | Straight, Zig-Zag, Multi Zigzag, Blind Hem, Stretch Blind Hem, Rolled Hem, Straight Stretch, Overlock Stretch, Scallop, Ric Rac, Honeycomb, Herringbone, Gathering, Applique, Sew-On Buttons, Quilting Stitches, Basting Stitch, Plus decorative patterns |
| Formation of Buttonholes | 1-Step Fully Automatic |
| Variety of Buttonholes | 9 + 2 eyelets |
| Twin Needle | Included |
| Maximum Speed Limit Adjustment | Yes |
| Needle Up/Down Function | Yes |
| Integrated Dual Feed System | No |
| Integrated Fabric Feed Lowering | Yes |
| Hook Movement | Smooth Rotary Action |
| Needle Positions | Left to Right |
| Tutorial CD / DVD | No |
| Voltage | 220-240 Volts |

Customer Reviews
Yes I do like my new husqvarna topaz 50 embroidery sewing machine and i have read the manual for it but not had the chance to have a play on it yet as at the same time i had a new computer to sort out and a table to de-clutter that is all done now so looking forward to using it. I would highly recommend your company your service is as promised got it on the morning of the next day which was quite good and will order from you again thank you

Great machine I love it.. and a good deal in the Sales...and the staff in sewing machine sales are very helpful too great service highly recommendable

Why not share your review with others.