Pfaff Creative 3.0 Sewing and Embroidery Machine
1
Review
Average rating 5.0 out of 5 Stars.
It is a combined machine for doing embroidery but can also be used as a sewing machine. View each stitch in full colour on screen. The Creative 3.0 has some of the most exquisite designs and can embroider designs up to 26cm in size
Free extension table worth £89
FREE delivery by DPD
, order
Delivery: 1 Working Day(s) (Sat, Sun options)
Expected Delivery Date is Monday, October 25th

Click to buy or view finance options.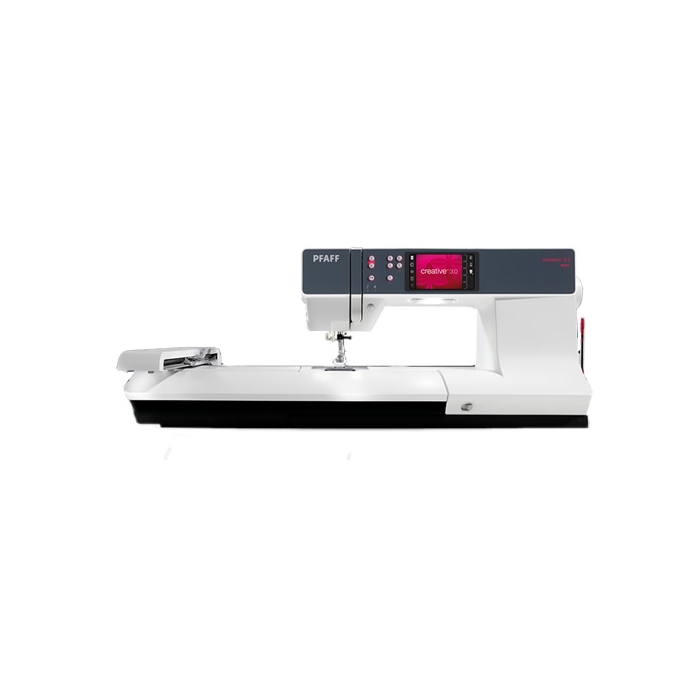 Why choose the Pfaff Creative 3.0 from us?




Introducing the Creative 3.0 by Pfaff. It is a combined sewing machine which comes with an embroidery unit and hoops to allow some amazing unique embroidery combination designs to your own fashions and home decorations that show off your personal style. The Pfaff Creative 3.0 will produce top quality stitching and has a nice easy to view colour high resolution graphic touch screen to show designs in full colour and stitches in real size. It uses the new platform the quilters and embroiders love. The sewing bed size to the right of the needle is 250mm. The whole area is lit well by bright LED lights.
The whole idea of the creative range is to give the user a sewing machine which is capable of providing perfection in every stitch, it's only limit is the user. Using the Creative 3.0 you can soon understand what this means. Choose from over 250 beautiful stitches. Patterns can be sew in high quality at 9mm wide. That's not all, the exclusive "Stitch Creator" opens the ability to create your very own stitches again up to 9mm wide for really unique embellishments.




Nothing can perform as well as Pfaff's original IDT. Dual fabric feeding system guarantees absolutely even fabric feed from both top and bottom.


If your like me always looking for inspiration, to master new skills and opportunities to express your personal style. I need a sewing machine that meets my current needs with the ability to further develop my creativity in the future. I love embroidery of the Pfaff Creative 3.0 sewing machine and almost unlimited possibilities it represents.
Upper and lower thread tension is controlled by its internal computer, the machine will even tell you when you are about to run out of thread. It uses it's built-in thread cutter to automatically cut both top and bottom threads. Download updates and new stitches as they are developed, then use the USB to import embroidery designs. This Pfaff can read and sew .vp3 embroidery pattern files.
Sewing Benefits:
View its sewing stitches by opening the stitch chart below. However what it does not show it that this creative 3 has 4 built-in fonts to enhance your next project. The Pfaff Creative 3.0 can taper on all 9mm Decorative Stitches - Taper the begin and/or end of any stitch, and choose from many different angles for unlimited opportunities.
Patchwork Program - Use Patchwork Program to remember the seam length to repeat over and over. This can be used with both utility and decorative stitches.
Single Stitch Program - Set exact number of stitches or sequence repeats you wish to sew.
Mirror Image of Stitches - Flip the stitch side to side and/or end to end for even more possibilities.
Stitch Positioning - Moves complete stitch right or left to easily align decorative stitches.
Stitch Density - Density (not the same as stitch lenght) can be increased or decreased without affecting stitch length by controlling the distance between the stitch points.
Automatic Presser Foot Lift - Raises the presser foot instantly when the needle is set to stop down and/or at the end of a seam after a thread snip.
Free-Motion Modes - Three modes for free-motion quilting, thread painting or darning. Select the best mode for your specific technique.
Plus another bunch of fascinating features to enhance your next sewing project. (read our downloads)
Embroidery Benefits:
When doing embroidery you simply need to attach the unit, place your project in the hoop and select one of 157 fantastic designs, or use one of the two in-built fonts - in three different sizes. Still not happy on how it looks on-screen? Edit and customise the design; mirror or rotate by 1 degree increments, add another design, enlarge or reduce its size, change thread colours. When your ready sew your unique design out, use the large hoop at 26cm x 20 cm design size.
Basic Precise Positioning - Easily match your design to a specific point on your fabric.
Cut Jump Stitches - Cuts embroidery jump stitches automatically, pulling threads to the back side.
Embroidery Zoom Possibilities - Makes customizing designs easier as you can view on the much larger and in colour on the screen. Simple and precise.
Hoop Positions - Move the hoop to correct position for changing the bobbin, cutting jump stitches, trimming an applique or finding the centre of the design.
Two Windows software programs are included:
QuickFont Program - Use your computer and QuickFont Program to create embroidery fonts from any TrueType font.
Program for Viewing and Organizing Designs - Organize design files saved on your computer, turn designs into image files, print catalogues and more

Accessory included. Standard foot with IDT, Fancy stitch foot with IDT, Fancy stitch foot, Blind hem foot with IDT, Zipper foot with IDT, Sensormatic buttonhole foot, Manual buttonhole foot, Sensormatic free-motion embroidery foot, Rolled hem foot with IDT, 1/4" Quilting Foot with IDT, Hard protective cover, Instruction manual, plus needles and more. for embroidery two hoops Square 120x120 and Large 260x200 hoop plus a embroidery kit including 5 large embroidery threads, wadding, stabiliser and fabric to get you started.
Specification

| | |
| --- | --- |
| UPC | 7393033080679 |
| Manufacturer | Pfaff |
| Model Number | Creative 3.0 |
| Type | Sewing & Embroidery |
| Promotion | Free extension table worth £89 |
| Warranty | Manufacturers 5 Year, Our 10 Year Extended Warranty Applies |
| Weight Kg | 9.0Kg |
| Size (Height, Width, Depth) | H32cm x W49cm |
| Variable Electronic Speed Control | Yes |
| Bobbin Access | Top Loading |
| Transparent bobbin cover Bobbin Cover | Yes |
| Hard Carrying or Storage Cover | Yes |
| Automatically Tensions Thread | Yes |
| Integrated Needle Threader | Yes |
| Thread End Cutting | Automatic |
| Number of Stitch Selections | 250 |
| Popular Stitch Functions | Straight, Zig-Zag, Multi Zigzag, Blind Hem, Stretch Blind Hem, Rolled Hem, Straight Stretch, Overlock Stretch, Scallop, Ric Rac, Honeycomb, Herringbone, Gathering, Applique, Sew-On Buttons, Quilting Stitches, Basting Stitch, Closed Overedge, Plus decorative patterns |
| Formation of Buttonholes | 1-Step Fully Automatic |
| Variety of Buttonholes | 12 |
| Twin Needle | Optional |
| Maximum Speed Limit Adjustment | Yes |
| Needle Up/Down Function | Yes |
| Integrated Dual Feed System | Yes |
| Integrated Fabric Feed Lowering | Yes |
| Hook Movement | Smooth Rotary Action |
| Needle Positions | Left / Right / Centre |
| Tutorial CD / DVD | No |
| Voltage | Dual Voltage 110-240 Volts |

Customer Reviews
I am loving my machine, it is so very clever and very user friendly. The advice and service that I have received from Sewing Machine Sales has been excellent, many thanks.

Why not share your review with others.