Baby Lock Acclaim Overlocker
Air threading is a revolution in overlocking! This easy-to-use Baby Lock Acclaim includes Revoultion-Air Threading and Wave stitch, plus adjustable manual tensions that allow for perfect stitches on any type of fabric.
Not only air threading! But Also Needle threading!
FREE delivery by DPD
, order
Delivery: 1 Working Day(s) (Sat, Sun options)
Expected Delivery Date is Tuesday, January 25th

Click to buy or view finance options.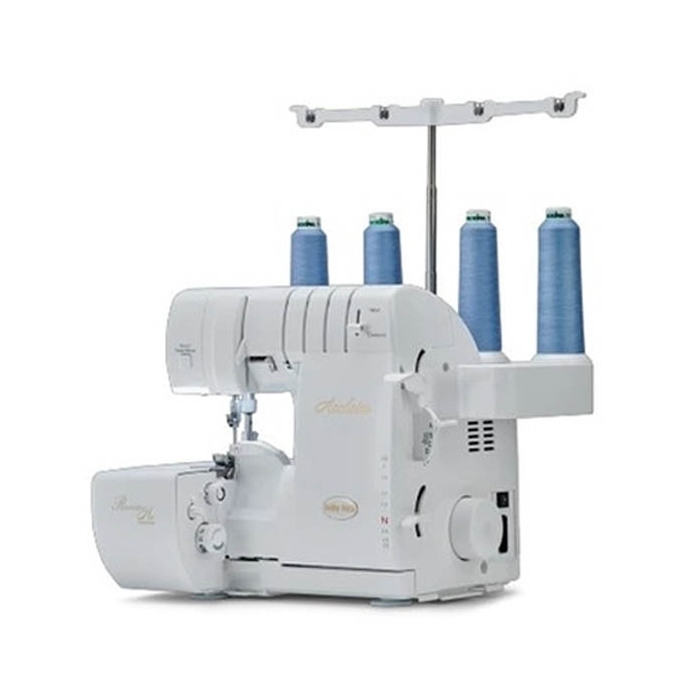 Why choose the Baby Lock Acclaim from us?




We only supply Baby Lock machines to UK customers, Baby Lock are not for International sales.
Overlocking changes the way you sew. The Baby Lock Acclaim changes the way you overlock...! It the first in the Babylock range with Revolution-Air threading system for needles and loopers and also the Wave Stitch.

Baby Lock has put overlock serging in a whole new light to make it a friendly and effortless way for everyone who wants to sew. You've got it made with the Baby Lock Acclaim sergers. Because of the new patents it seams perfect. Baby Lock decided to completely redesign the serger, which is why patents were necessary. This machine is so revolutionary, its almost unfair to call it a overlock surger

REVOLUTION-AIR THREADING - It completely eliminates all of the difficulties with threading an overlock.The Acclaim has the ability to air thread needles and loopers, just the twist of a level and the press of a button and your threaded up ready to go. The New needle threading system is so much fun, the revoultion-air sytem literally sucks the thread through the needle, you don't even have to get close up. It does the job for you.
The Babylock Acclaim has the Automatic Thread Delivery (ATD) system. The problems found with thread tension, the complications with changing stitch length and widh, the headaches with heavy, bulky or sheer fabrics, and the wavy seams, the puckering, the stretching. The Acclaim takes the guesswork out of selecting machine and tension settings.

Baby Lock Acclaim is the worlds first overlocker with "Reviolution-Air Air Threading" and "Automatic Thread Delivery". One twist of a lever and push of a button automatically and instantly jet airs thread through the tubular loopers. turn the lever the other way and bring down the rubberised needle threader, push the button and effortlessly thread the needles. So simple, so fast, so easy

The Acclaim handles special and decorative threads as easily as standard cone threads, which means you can effortlessly embellish your creation with the fanciest and finest threads. The Acclaim also has the decorative wave stitch.

The patented tubular looper threading and needle threading systems protect and control each thread as it travels through the machine. And, best of all, the Baby Lock Acclaim eliminates threading confusion because it threads in any order.

Built In Needle Threader
Needle threading is quick and easy. A turn of a lever and push of a button automatically threads the eye of each needle

Differential Feed Adjustment
Complete fabric manipulation is possible on the Acclaim because of Baby Lock's full featured differential feed. The feed system works with all fabrics and in multiple sewing applications. It prevents seams from waving, fabrics from stretching and wovens from puckering. Yet, it delivers a true 2 to 1 ratio for gathering.

Heavy Duty Cutting System
No matter what the fabric weight, the Acclaim blades cut through it like butter. A twist of a dial engages and disengages the blade. Lock the blade and it becomes a sewing guide. Unlock it and it trims the fabrics as you sew. The Acclaim also has an extra high 6mm Presser foot lift height.

Stitch Length and Rolled Hem Dial
A single dial delivers automatic rolled hems, rolled edges and stitch length adjustments. A turn of this dial switches the Acclaim from three thread stitching to a narrow rolled hem. Long and short stitch lengths can be dialled without stopping the machine for any stitch, 4, 3, or 2 thread, flatlock or rolled hem. Customize the stitch length to fit every sewing project, from overedging to seaming as well as decorative overlocking

Features:
Instant looper "Revolution-Air Threading"
Instant Needle "Revolution-Air Threading"
Full-Featured Differential Feed
Micromatic Twin Cam Tension System
4/3/2 Thread Serging
Heavy-Duty Cutting System
Vertical Needle Penetration
Rolled Hemming with 3 or 2 Threads
Dial Adjustable Stitch Width: 1.5mm to 7.5mm
Dial Adjustable Stitch Length: 0mm to 4mm
Presser Foot Pressure Adjustment
Adjust presser foot pressure for any thickness of fabric

Accessories Included:
Threading guide
Lint brush/Needle tool
Needle pack
Screwdrivers
Tweezers
Spare blade
Looper threader
Dust cover
Spool caps
Sponge discs
Thread nets
Allen key
Cone holders
Specification

| | |
| --- | --- |
| Manufacturer | Baby Lock |
| Model Number | Acclaim |
| Type | Overlocker |
| Promotion | Not only air threading! But Also Needle threading! |
| Warranty | Manufacturers 2 Year, Our 10 Year Extended Warranty Applies |
| Weight Kg | 8.5 |
| Size (Height, Width, Depth) | H33 cm x W36 cm |
| Variable Electronic Speed Control | Yes |
| Tutorial CD / DVD | No |
| Jet Air Threading | Yes |
| Lay In Threading | Yes |
| Auto Tension Release | Yes |
| Auto Looper Threader | Yes |
| Colour-Coded Threading | Yes |
| LCD Screen | No |
| Sleeve Arm | No |
| Rolled Hem | Yes, by Lever |
| Differential Feed | Yes |
| Stitch Functions | 2 Thread, 3 Thread, 4 Thread |

Why not share your review with others.