Baby Lock Enlighten BLE3ATW-2 Overlocker
This revolutionary Babylock Enlighten serger / overlocker features the latest in threading technology, ExtraordinAir Threading. With just one push of a button, ExtraordinAir takes all your thread through all the loopers at once, instantly, with a gust of air. Plus, expand your creative options with the exclusive Wave stitch.
Pre Order Now. Delivery date to be confirmed, order

Click to buy or view finance options.
IMPORTANT NOTICE: OUT OF STOCK - BACK IN STOCK SHORTLY
Due to high demand this model is only available to pre-order.
Pre-ordering is essential to book the earliest delivery timeslot.
The stock due timescale may be subject to change more info.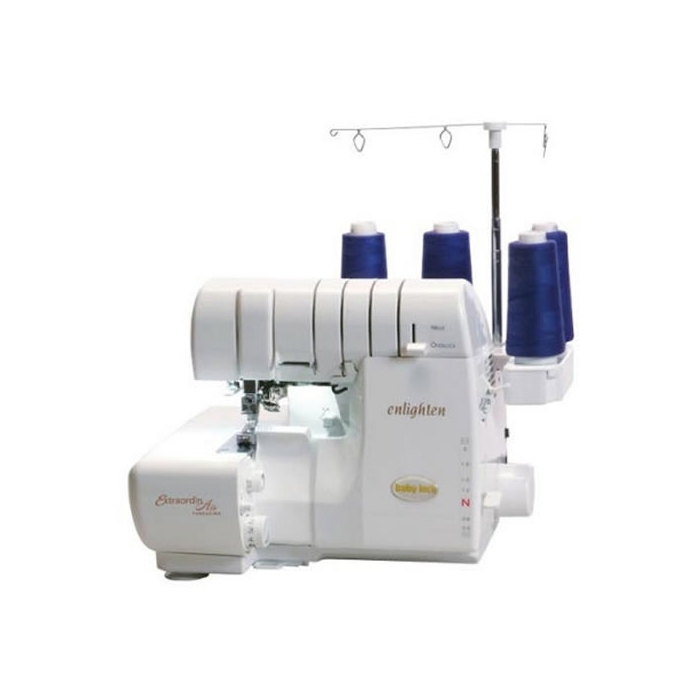 Why choose the Baby Lock Enlighten BLE3ATW-2 from us?




We only supply Baby Lock machines to UK customers, Baby Lock are not for International sales.
The Baby Lock Enlighten WAVE has the convenience and innovation you would expect from a Baby Lock along with a one-of-a-kind WAVE stitch that expands your decorative stitch selections.
The Enlighten BLE3ATW-2 has new technology, the revolutionary ExtraordinAir threading has you overlocking in a breeze while the Automatic Thread Delivery System and differential feed remind you why you love to overlock with a Baby Lock. We're talking about an entirely new way of overlocking without tensions.

That's right. BabyLock has thrown away the tension knobs. Gone with the tension knobs is the frustration of understanding perfect tension settings and the confusion of what tension knob to turn has been eliminated. In place of thread tension is Imagine's unique, patented "Automatic Thread Delivery" system.

ATD Threading System
ATD delivers a balanced stitch on any fabric with any type of thread. All you have to do is set the Imagine to the type of stitch you want and overlock. Imagine that!
Switching from 4 to 3 to 2 thread and on to rolled hemming couldn't be easier. All it takes is one simple dial to change from automatic rolled hems, to a rolled edge, to full stitch length. Another feature exclusive to Baby Lock is the vertical needle. It's designed to avoid needle deflection and to improve needle penetration on all fabrics. And Imagine's differential feed delivers a true 2 to 1 gathering ratio, eliminates puckering in fabric and makes complete fabric manipulation possible. The tubular thread paths protect the thread as it passes through the machine for carefree overlocking.
The Baby Lock Enlighten, so user friendly that a sewing novice can use it.

WAVE Embroidered edges
The Wave Stitch (not to be confused with the "fluted" lettuce leaf finish) gives an attractive wavy finish to the edge of your fabrics. The stitch is formed by the machine automatically increasing and decreasing the looper tensions. You can achieve a wave stitch up to one inch long. Perfect coverage in a matching thread or by one or two contrasting shades, the patented Wave stitch opens your world to more decorative stitches for more creativity.

Instant ExtraordinAir Threading
Of course, the Enlighten also has Baby Lock's exclusive "Instant ExtraordinAir Threading" to go along with its ATD. One touch of a button and the thread is jet-aired through the tubular loopers.

It handles speciality and decorative threads as easily as standard cone threads, which means you can effortlessly embellish your creation with the fanciest and finest threads.

The patented tubular looper system protects and controls each thread as it travels through the machine. And, best of all, the Baby Lock Enlighten eliminates threading confusion because it threads in any order.

Built In Needle Threader
Needle threading is quick and easy. A touch of a lever automatically threads the eye of each needle.

Differential Feed Adjustment
Complete fabric manipulation is possible on the Imagine because of Baby Lock's full featured differential feed. The feed system works with all fabrics and in multiple sewing applications. It prevents seams from waving, fabrics from stretching and wovens from puckering. Yet, it delivers a true 2 to 1 ratio for gathering.

Heavy Duty Cutting System
No matter what the fabric weight, the Enlighten blades cut through it like butter. A twist of a dial engages and disengages the blade. Lock the blade and it becomes a sewing guide. Unlock it and it trims the fabrics as you sew.

Stitch Length/Rolled Hem Dial
A single dial delivers automatic rolled hems, rolled edges and stitch length adjustments. A turn of this dial switches the Enlighten from three thread stitching to a narrow rolled hem. Long and short stitch lengths can be dialled without stopping the machine for any stitch, 4 ,3 ,2  thread, flatlock or rolled hem. Customize the stitch length to fit every sewing project, from overedging to seaming as well as decorative overlocking.

Main Features:
Japanese quality
4 Thread
Use with 2, 3 or 4 threads
ExtraordinAir threading
Automatic tensions
Tubular threading
Differential feed
Needle threader
Quick change rolled hem
Adjustable foot pressure
Adjustable cutting width
Specification

| | |
| --- | --- |
| UPC | 0780414637640 |
| Manufacturer | Baby Lock |
| Model Number | Enlighten BLE3ATW-2 |
| Type | Overlocker |
| Warranty | Manufacturers 2 Year, Our 10 Year Extended Warranty Applies |
| Weight Kg | 9.5 |
| Size (Height, Width, Depth) | H29 cm x W35 cm |
| Variable Electronic Speed Control | Yes |
| Tutorial CD / DVD | No |
| Jet Air Threading | Yes |
| Lay In Threading | Yes |
| Auto Tension Release | Yes |
| Auto Looper Threader | Yes |
| Colour-Coded Threading | Yes |
| LCD Screen | No |
| Sleeve Arm | No |
| Rolled Hem | Yes, by Lever |
| Differential Feed | Yes |
| Stitch Functions | 2 Thread, 3 Thread, 4 Thread |

Customer Reviews
Delivered promptly. Love the machine so far . Great finish. May now be able to get rid of bulky 30 year old overlocker!
Only grip with machine is that is has a very flimsy thread tension piece on top back of machine that fell over and partly broke within 10 mins of using machine! Not a good design feature.
Libby

I only just received my new machine two days ago. It was effortless to order and delivery was exactly timed as my info email stated. No problems.

I had been watching instructional videos on you tube all day and felt confident to try it out. I was dreading it a bit as I always dreaded threading on my old overlocker.

Threading was SO easy I was sure that I could not have done it properly.

After 3 years struggling with every threading of my old- completely non-automatic machine- threading was painless. Both Loopers and needles.

It felt strange not to be adjusting any tension wheels before sewing but I stuck a random scrap of twill fabric through with my settings for a 4 thread, wide overlock.

The result was perfection. I keep looking at the little scrap and marvelling!

It has only been 2 days- and I love it already.



I have owned this overlocker for less than a week but am impressed so far. The threading is a breeze and no twiddling with tension wheels. Easy to use and a professional finish. It was ordered last Friday and arrived Monday (the next working day ) as expected.

Why not share your review with others.