Baby Lock Victory Overlocker
1
Review
Average rating 5.0 out of 5 Stars.
Can you imagine how easy serging could be if you didnt have to thread the machine? Look no further than the Babylock Victory - Baby Lock's most popular overlocker.
AVAILABLE TO PRE-ORDER + 0% Finance Option
Pre Order Now. Delivery date to be confirmed, order

Click to buy or view finance options.
IMPORTANT NOTICE: OUT OF STOCK - BACK IN STOCK SHORTLY
Due to high demand this model is only available to pre-order.
Pre-ordering is essential to book the earliest delivery timeslot.
The stock due timescale may be subject to change more info.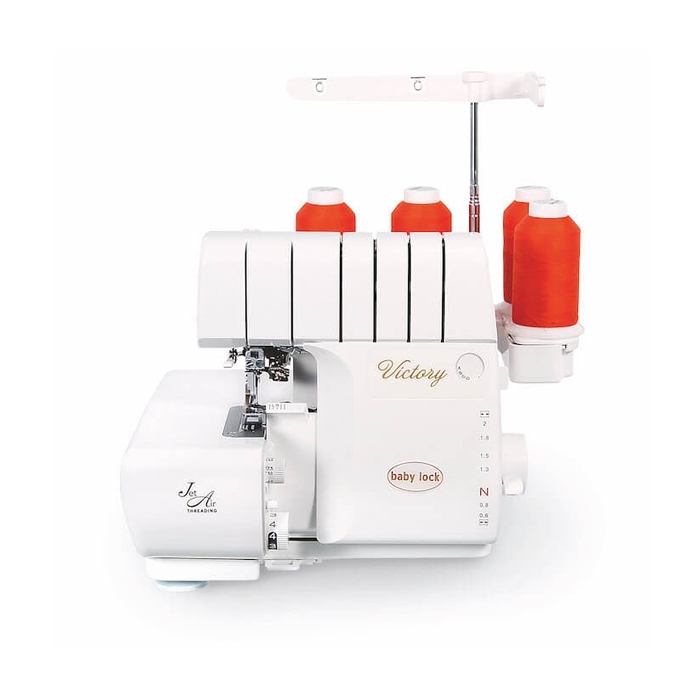 Why choose the Baby Lock Victory BLES3 from us?




We only supply Baby Lock machines to UK customers, Baby Lock are not for International sales.
The Baby Lock Victory is a hassle free overlock machine, threading could not be made easier with intergrated needle threading and intigrated jet air threading. With Air threading you only need to press a button, turn the hand wheel until the thread system is engaged, select which looper you want to thread, insert the thread into the threading port and press the lever hey presto that's it the looper is threaded! repeat the process for the other looper and you're ready to go.
Lighting is greatly improved ont he new Babylock Victory with LED lighting and clever design increasing visibility. The working space of the Victory overlocker is uncomplicated and offer very little distraction for the job at hand.
The victory has a single dial to preset tensions, there no need to continually adjust just select the correct setting and the machine will adjust and set itself automatically ensureing excellent quality due to the patented "Automatic Thread Delivery" system.

ATD Threading System
ATD delivers a balanced stitch on any fabric with any type of thread. All you have to do is set the Imagine to the type of stitch you want and overlock. Imagine that!
Switching from 4 to 3 to 2 thread and on to rolled hemming couldn't be easier. All it takes is one simple dial to change from automatic rolled hems, to a rolled edge, to full stitch length.
Another feature exclusive to Baby Lock is the vertical needle. It's designed to avoid needle deflection and to improve needle penetration on all fabrics. And Victory's differential feed delivers a true 2 to 1 gathering ratio, eliminates puckering in fabric and makes complete fabric manipulation possible. The tubular thread paths protect the thread as it passes through the machine for carefree overlocking.
The Baby Lock Imagine, so user friendly that a sewing novice can use it.

Instant Jet Air Threading
Of course, the Imagine also has Baby Lock's exclusive "Instant Jet-Air Treading" to go along with its ATD. One touch of a lever and the thread is jet-aired through the tubular loopers.

The Victory handles speciality and decorative threads as easily as standard cone threads, which means you can effortlessly embellish your creation with the fanciest and finest threads.

The patented tubular looper system protects and controls each thread as it travels through the machine. And, best of all, the Baby Lock Victory eliminates threading confusion because it threads in any order.

Built In Needle Threader
Needle threading is quick and easy. A touch of a lever automatically threads the eye of each needle.

Differential Feed Adjustment
Complete fabric manipulation is possible on the Imagine because of Baby Lock's full featured differential feed. The feed system works with all fabrics and in multiple sewing applications. It prevents seams from waving, fabrics from stretching and wovens from puckering. Yet, it delivers a true 2 to 1 ratio for gathering.

Heavy Duty Cutting System
No matter what the fabric weight, the Victory blades cut through it like butter. A twist of a dial engages and disengages the blade. Lock the blade and it becomes a sewing guide. Unlock it and it trims the fabrics as you sew.

Stitch Length/Rolled Hem Dial
A single dial delivers automatic rolled hems, rolled edges and stitch length adjustments. A turn of this dial switches the Imagine from three thread stitching to a narrow rolled hem. Long and short stitch lengths can be dialled without stopping the machine for any stitch, 4 ,3 ,2 thread, flatlock or rolled hem. Customize the stitch length to fit every sewing project, from overedging to seaming as well as decorative overlocking.

Main Features:
Japanese quality
4 Thread
Use with 2, 3 or 4 threads
Jet air threading
Automatic tensions
Tubular threading
Differential feed
Needle threader
Quick change rolled hem
Adjustable foot pressure
Adjustable cutting width
Specification

| | |
| --- | --- |
| Manufacturer | Baby Lock |
| Model Number | Victory BLES3 |
| Type | Overlocker |
| Promotion | AVAILABLE TO PRE-ORDER + 0% Finance Option |
| Warranty | Manufacturers 2 Year, Our 10 Year Extended Warranty Applies |
| Weight Kg | 9 |
| Size (Height, Width, Depth) | H33 cm x W30 cm |
| Variable Electronic Speed Control | Yes |
| Tutorial CD / DVD | No |
| Jet Air Threading | Yes |
| Lay In Threading | Yes |
| Auto Tension Release | Yes |
| Auto Looper Threader | Yes |
| Colour-Coded Threading | Yes |
| LCD Screen | No |
| Sleeve Arm | No |
| Rolled Hem | Yes, by Lever |
| Differential Feed | Yes |
| Stitch Functions | 2 Thread, 3 Thread, 4 Thread |

Customer Reviews
I spent many hours deciding which was the right overlocker for me as I decided to step up from a more basic machine. The ability to compare different models on the web page was useful. Ordering was straightforward and the machine arrived almost immediately. It's a compact machine - seems to take up less space than my previous machine ( which is always a bonus in a small workspace) but it's solidly built and has an uncluttered feel) I had a quick go threading up - wow - what a difference - no need for a magnifier and tweezers anymore! It's quieter and vibrates less - again a more superior machine. I opted for the Victory as I don't really need lots of fancy stitches - the manual is quite weighty but there is a laminated quick guide which is really useful. And peace of mind with such an expensive product, is the 10 year guarantee that is on offer. I am now looking to up grade some of my other machines and will definitely use you again.

Why not share your review with others.