Baby Lock Desire Overlocker (BLE5-3) Including Accessories
Baby Lock Desire (BLE5-3) overlocker is a 2, 3, 4 & 5 thread coverlock machine with super fast air threading which is a breeze to use
AVAILABLE TO PRE-ORDER + 0% Finance Option
Sorry, temporarily Out-Of-Stock
Please use the link above to sign up for new stock update. We will email you the moment it comes back in to stock.

Click to buy or view finance options.
IMPORTANT NOTICE: OUT OF STOCK - BACK IN STOCK SHORTLY
Due to high demand this model is only available to pre-order.
Pre-ordering is essential to book the earliest delivery timeslot.
The stock due timescale may be subject to change more info.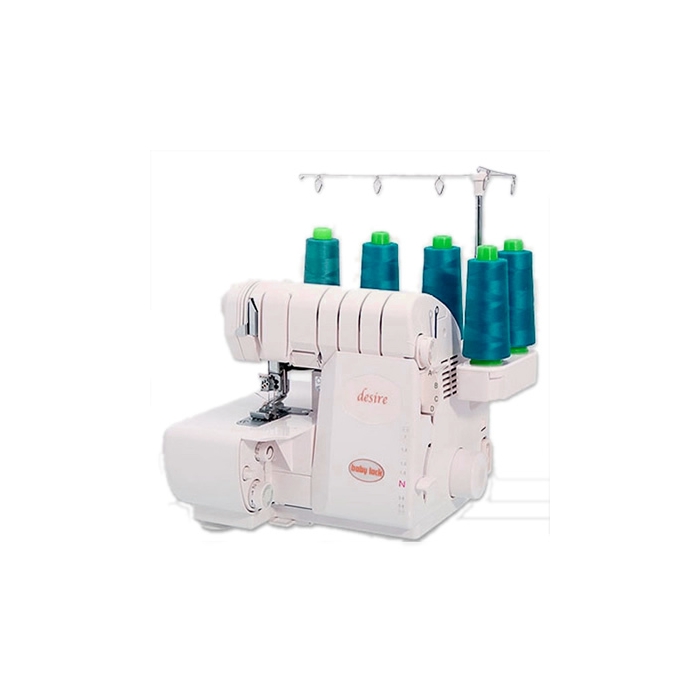 Why choose the Baby Lock Desire from us?




We only supply Baby Lock machines to UK customers, Baby Lock are not for International sales.
The New Baby Lock Desire overlocker and coverlock is a beautifully engineered 5 thread overlocker with a built-in coverstitch. The Desire will cope admirably with all weights of fabric from lightweights, jerseys and multiple layers, etc, in the same professional manner as other Baby Lock Jet Air machines plus it also comes with many of the convenient time-saving features. Apart from the ingenius blast of air to thread the loopers, the automatic thread delivery management supply system means that you don`t have to worry about the tensions, no matter what fabric or thread combination.
Limited Offer - 6 piece Foot set worth over £150 included for FREE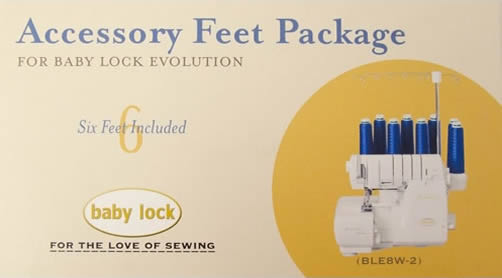 Change from overlock to coverstitch at the turn of a dial. A fully adjustable differential feed from 0.6 - 2.0:1 will help prevent unwanted lettuce leaf effects and puckering. The Desire overlocker is another example of Baby Lock's refined engineering with user-friendly controls and features to suit the professional and the novice alike.

And with JET AIR threading,  It eliminates the difficulties with threading an overlock. The problems found with thread tension, the complications with changing stitch length and width, the headaches with heavy, bulky or sheer fabrics, and the wavy seams, the puckering, the stretching. One-touch of a lever and the thread is jet-aired through the tubular loopers. The Baby Lock Desire handles specialty and decorative threads as easily as standard cone threads, which means you can effortlessly embellish your creation with the fanciest and finest threads.  The patented tubular looper system protects and controls each thread as it travels through the machine. And, best of all, the Baby Lock Imagine eliminates threading confusion because it threads in any order.

Stitch Length/Rolled Hem Dial A single dial delivers automatically rolled hems, rolled edges and stitch length adjustments. A turn of this dial switches the Desire from three thread stitching to a narrow rolled hem. Long and short stitch lengths can be dialed without stopping the machine for any stitch, 4-,3-,2- thread, flatlock or rolled hem. Customize the stitch length to fit every sewing project, from overedging to seaming as well as decorative overlocking.

Differential Feed Adjustment Complete fabric manipulation is possible on the Desire because of Baby Lock's full-featured differential feed. The feed system works with all fabrics and in multiple sewing applications. It prevents seams from waving, fabrics from stretching and wovens from puckering. Yet, it delivers a true 2 to 1 ratio for gathering.

Heavy Duty Cutting System No matter what the fabric weight, the blades cut through it like butter. A twist of a dial engages and disengages the blade. Lock the blade and it becomes a sewing guide. Unlock it and it trims the fabrics as you sew.
Specification

| | |
| --- | --- |
| Manufacturer | Baby Lock |
| Model Number | Desire |
| Type | Overlocker |
| Promotion | AVAILABLE TO PRE-ORDER + 0% Finance Option |
| Warranty | Manufacturers 2 Year, Our 10 Year Extended Warranty Applies |
| Weight Kg | 9 kg |
| Size (Height, Width, Depth) | H39 x W31 x D15 cm |
| Variable Electronic Speed Control | No |
| Tutorial CD / DVD | No |
| Jet Air Threading | Yes |
| Lay In Threading | Yes |
| Auto Tension Release | Yes |
| Auto Looper Threader | Yes |
| Colour-Coded Threading | Yes |
| LCD Screen | No |
| Sleeve Arm | No |
| Rolled Hem | Yes, by Lever |
| Differential Feed | Yes |
| Stitch Functions | 2 Thread, 3 Thread, 4 Thread, 5 Thread, 1 Thread Chain |

Customer Reviews
Absolutely superb service, delivery was great, my new overlocker well, OMG it's fabulous (Babylock. Desire 3). I'm a beginner too! Thanks also for the free gift of accessories. Highly recommend both company and overlocker.

The order was completed and machine received on the day specified. The machine is wonderful, and a big step up from my previous basic model. It is very easy to thread, but I had to watch a video on YouTube to understand the initial set up (a video link on this site would be very useful). So far, all is going well and I love it. I look forward to using it more (only received it 10 days ago), and will be happy to order from this company again. Four stars, as I need to use it more to test everything out before committing to 5 stars.

Not used it a lot yet but so far it's amazing and a big leap from my old basic model. It so easy to thread and produces a great finish.

I have had a great experience with Sewing Machine Sales company and I would highly recommend this company for their very efficient service and products. Many thanks and best wishes for your future projects!

Why not share your review with others.