Brother CV3440 Coverstitch Machine
1
Review
Average rating 5.0 out of 5 Stars.
Using the 4 stitch functions this cover stitch only machine you can master the professional stitches behind the latest looks, stretch your talents to the maximum using the Brother CV3440, it turns your every creation into a catwalk sensation


Price

£499.00


Today

£489.00
*LIMITED STOCK AVAILABLE*
FREE delivery by DPD
, order
Delivery: 1 Working Day(s) (Sat, Sun options)
Expected Delivery Date is Monday, September 20th

Click to buy or view finance options.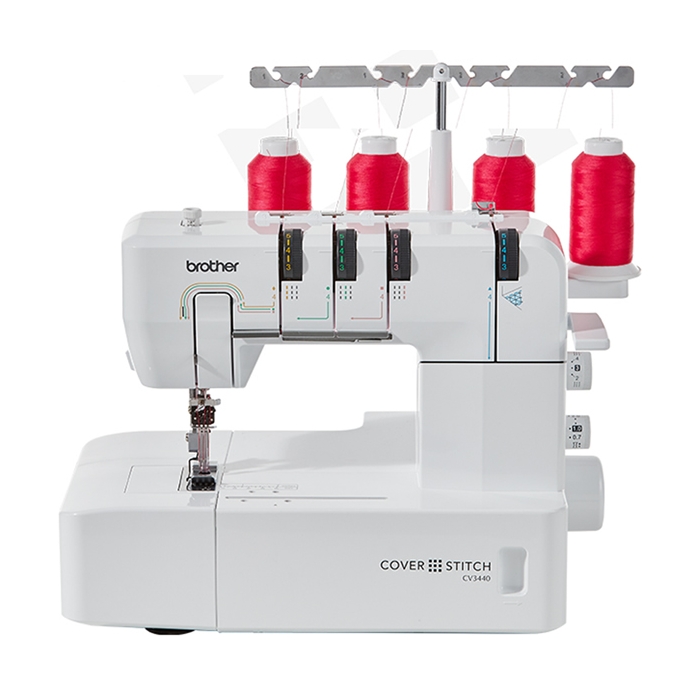 Why choose the Brother CV3440 from us?




The Brother CV3440 sews a single cover stitch with electronic control, it is a uniquely designed, dedicated cover stitch only machine with 4 thread, 3 needles and a wide triple cover hem stitch.

Its innovative design is based on the marriage of an industrial style cover hem machine and a convenient home sewing machine. The resulting union has produced a high speed, long arm, heavy duty cover hem machine, that looks and operates like a sewing machine.

The Brother 3440 cover stitch has been designed around a sewing machine rather than an overlocker. This means it's operation and threading is more like a sewing machine with all the dials conveniently located and not as complex to thread as a overlocker. It has a much larger arm space than competitor cover stitch models and it has a freearm / sleeve arm facility that is unique to this type of machine.

When you want to give your sewing that totally professional finish then the Brother CV3440 is the perfect addition to your sewing room. It's the perfect companion machine for home furnishings, quilting and garment making. It's a dedicated cover stitch machine, not an overlocker.

Lycra, jersey, knits, stretch, wool or any of today's figure-hugging fabrics are a breeze for this machine. Brother CV3440 knows what flexibility means. With a flick of a switch, you can automatically adjust the tightness of the looper thread to the type of a fabric you are sewing. Swap from the finest Lycra to the thickest tweed without fastidious setting changes. Stretch your creativity through flexibility.
Stitch Programs:
Triple Cover Stitch - Using 3 needles and 4 threads.
Narrow Cover hem - Using 2 needles and 3 threads.
Wide Cover hem - Using 2 outer needles and 3 threads.
Chain stitch - Using 1 needle and 1 thread.

Features:
Free arm
4-spool holders
Maximum speed of 1000 stitches / minute
Variable stitch length (2- 4 mm)
Differential feed (0.7 - 2)
Variable stitch width (3 - 6 mm)
Adjustable tension dials (0 - 9)
Automatic tension release
Built-in carrying handle
Looper disengages for easy threading
Colour-coded threading routes
Adjustable pressure foot
Snap-on presser feet
Telescopic metal thread antenna system
Built-in thread cutter

Standard Accessories:
Soft Cover
4 x Thread nets
4 x Spool Caps
Lint Brush
Hexagonal Driver
Needle Set
4 x Spool Mats
Electronic Foot Control
Instructional DVD.

The video below give a good oversight in to some of the applications that are possible using one of the new Brother cover stitch machines. If you need further help of advice, please get in touch, we are more than happy to help.
Specification

| | |
| --- | --- |
| UPC | 04977766780735 |
| Manufacturer | Brother |
| Model Number | CV3440 |
| Type | Overlock & Cover Hem |
| Promotion | *LIMITED STOCK AVAILABLE* |
| Warranty | 3 Years Full Manufacturers Warranty |
| Weight Kg | 10Kg |
| Size (Height, Width, Depth) | H41 cm x W30 x D34 cm |
| Variable Electronic Speed Control | Yes |
| Tutorial CD / DVD | No |
| Jet Air Threading | No |
| Lay In Threading | Yes |
| Auto Tension Release | Yes |
| Auto Looper Threader | Yes |
| Colour-Coded Threading | Yes |
| LCD Screen | No |
| Sleeve Arm | Yes |
| Rolled Hem | No |
| Differential Feed | Yes |
| Stitch Functions | 2 Thread, 3 Thread, 4 Thread |

Customer Reviews
I have only had this machine for a week and made one garment with it. The cover stitch is a really useful stitch to have when sewing jersey fabric and as I already own a separate sewing machine and overlocker (both bought from this shop!) I didn't feel I could justify a more expensive overlocker which also did cover stitch. I also wanted to have my machine set up and ready to use so that I could switch easily between machines and therefore not have to change settings etc. For me, this machine is reasonably priced and a great entry level machine. The machine can be set up to make both wide and narrow cover stitch. The instructions for threading are nowhere near as complicated as my overlocker and there is no fiddling in hard to reach places as the machine slides sections out at the push of a button to enable easy threading of the looper (underneath the sewing plate).
My early days have proved that this machine will produce a fabulous stitch to hem jersey and I even managed a neckline without the need to reinforce with interfacing! I may need to buy a seam guide to ensure that I stitch in the right place. Some more expensive machine already have this option but I haven't found it too difficult to use without one. Overall, for a professional finish to any garment, I would recommend this machine as good value for money and easy to use.

Why not share your review with others.