Pfaff Admire Air 5000 Overlocker
1
Review
Average rating 5.0 out of 5 Stars.
2/3/4 thread Pfaff Admire 5000 overlocker with a unique feature of having a built-in air threading system and also built-in needle threading system, that's for both needles and air threading for both loopers. What a difference it makes to the time saved trying to thread loopers the old fashioned way
LIMITED TIME OFFER - £130 off
FREE delivery by DPD
, order
Delivery: 1 Working Day(s) (Sat, Sun options)
Expected Delivery Date is Tuesday, January 25th

Click to buy or view finance options.
AIR THREADING SYSTEM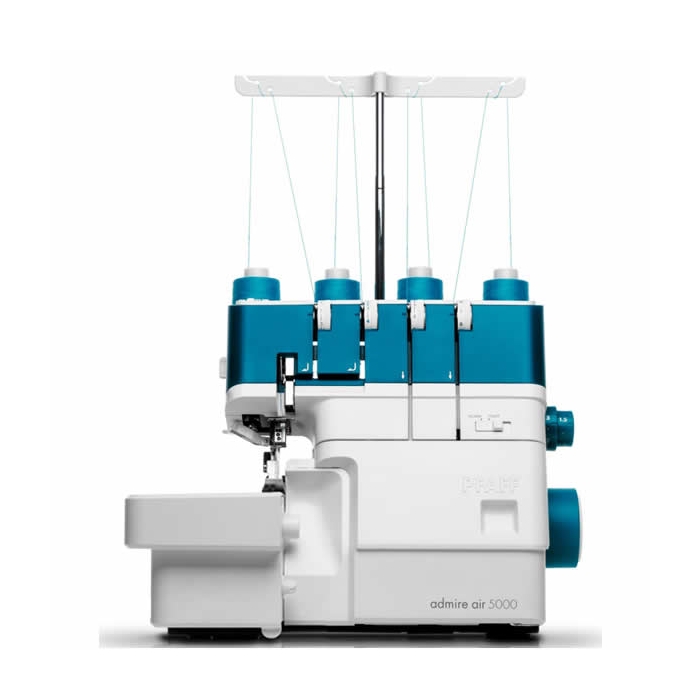 Why choose the Pfaff Admire Air 5000 from us?




A wonderful machine offering such great eas of use and fantastic stitch quality. The Admire Air 5000 by Pfaff is the first in the Pfaff range of overlock machines to have to advanced features which make this machine stand head and shoulders above the rest.
Air Threading
A feature we should all be familiar with now which is on some of the top end overlock machines which can get up to three times the price of the Admire Air 5000. Air threading technology is a great feature to have on an overlocker, I think it should be a standard across the entire range. The biggest fear about overlockers it threading the bottom part called the loopers, it can be a nightmare at times especially when purchasing a new machine. The one-touch Air thread system takes all your worries away, all you need to do is feed a small amount of thread into receivers and plunge the levers. Internally the lever is connected to bellows which suck the thread through a network of labyrinthian pipes and that's it, your thread appears if by magic through the loopers and you're almost ready to sew.
Needle Threaders
After threading the loopers the needles need threading, this is a little bit more fiddly than on a sewing machine as there is less space to manoeuvre around and there's often two needles very close together. Another fantastic aid the Admire Air has is built-in needle threaders capable of reaching both the left and right needles with ease.
Lay-in tension systems make it nice and neat to set up and super easy to adjust the tension until you get the desired effect that you're looking for.
Telescopic thread holder means that you get less tangling of thread and a much smoother feed so that the finished stitch is as neat as it can be with minimal faulting or wavering.
Differential Feed for those fabrics that like to stretch, twist and turn. Overfeed or underfeed the fabric being fed into the stitch to eliminated fabric distortion which allows you to sew even the most despicable of fabrics such as lycra.
Rolled Hems can be achieved on the Admire Air 5000 by changing just a few settings. Rolled hems are exclusively used to overlock the edges of fine material like chiffon and silk to stop it from fraying and can also be used to decoratively finish off the edge.
15 Stitches the Pfaff 5000 covers the full variety of 2/3&4 thread overlocking:

4-Thread Overlock Seams and seam finishing.
3-Thread Overlock, (Wide and Narrow) Seam finishing and decorative edges.
3-Thread Narrow EdgeFine, narrow hems and edging.
3-Thread Rolled EdgeRolled hems and edges.
3-Thread Picot EdgePicot edge finish for lightweight fabrics.
3-Thread Flatlock, (Wide and Narrow)Flat seams and decorative embellishment.
3-Thread Stretch OverlockSeams on super stretch fabric.
2-Thread Overedge, (Wide and Narrow)Overcasting for single fabric layer.
2-Thread Wrapped Overlock, (Wide and Narrow)Edge finish for lightweight fabrics.
2-Thread Rolled Edge Edging for lightweight fabrics.
2-Thread FlatlockFlat seams and decorative embellishment.

Accessories Included
2 x Screwdrivers
Minature spanner
Overlocker Tweezers
Set of Needles
Thread nets
Spool holder
Lint brush
Waste tray
Needle holder/converter pin
Upper cutter
Looper threading wire
Accessory box
Foot control
Dust Cover
Instruction manual
Specification

| | |
| --- | --- |
| UPC | 7393033103002 |
| Manufacturer | Pfaff |
| Model Number | Admire Air 5000 |
| Type | Overlocker |
| Promotion | LIMITED TIME OFFER - £130 off |
| Warranty | Manufacturers 5 Year, Our 10 Year Extended Warranty Applies |
| Weight Kg | 8.5Kg |
| Size (Height, Width, Depth) | H44 x W39 x D28 cm |
| Variable Electronic Speed Control | Yes |
| Tutorial CD / DVD | No |
| Jet Air Threading | Yes |
| Lay In Threading | Yes |
| Auto Tension Release | Yes |
| Auto Looper Threader | Yes |
| Colour-Coded Threading | Yes |
| LCD Screen | No |
| Sleeve Arm | No |
| Rolled Hem | Yes, by Lever |
| Differential Feed | Yes |
| Stitch Functions | 2 Thread, 3 Thread, 4 Thread |

Customer Reviews
I'm so pleased with the powerful motor and the simple threading using only air, it is so clever and far faster threading the loopers than my old overlock.

Why not share your review with others.