Pfaff Hobbylock 2.5 Overlocker
The Pfaff Hobbylock 2.5 is a high quality model and can cut and edge using 2, 3 and 4 thread overlocking, flat locking, rolled hem, narrow hem the list goes on. It is a strong well made overlocker which is built to last many years
Free 12 Threads + Scissors + Snips + Reverse tweezers worth £48
FREE delivery by DPD
, order
Delivery: 1 Working Day(s) (Sat, Sun options)
Expected Delivery Date is Monday, January 24th

Click to buy or view finance options.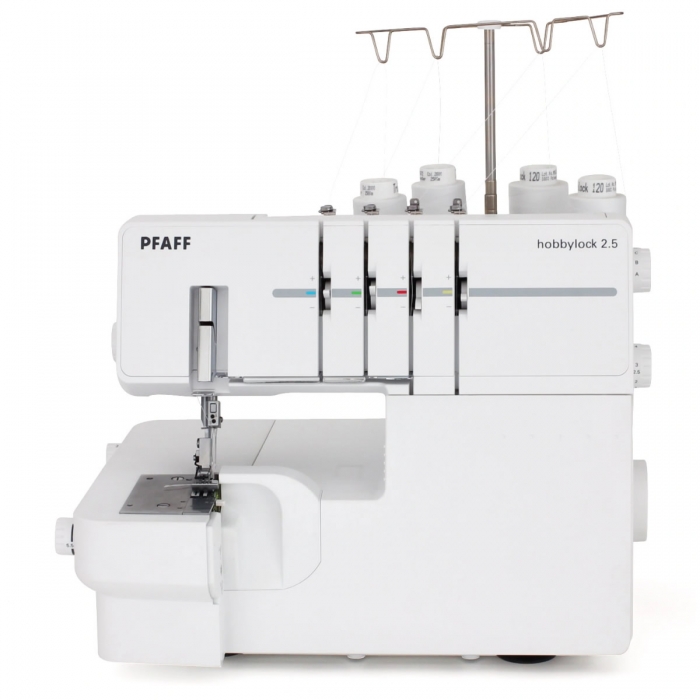 Why choose the Pfaff Hobbylock 2.5 from us?




Wow this machine is big and it's bright. Bright white with an even brighter daylight LED down light, making needle and foot area clearly view-able on the large flat fabric rest. This Pfaff hobbylock is packed with bonus features and little surprises, like the 15 stitch selection for any type of fabric.
When wanting to set the Pfaff hobbylock 2.5 to sew rolled hems, a simple push on the lever, sets the machine ready to sew neat rolled edges, that look particularly impressive on light weight fabrics and silk.
Stitch with 2, 3 or 4 threads. Set it to gather or stretch as you cut and sew the edges. But we like the process where by selecting your stitch also automatically adjusts the thread tension. 
Loopers are always awkward to thread, not so with this hobbylock 2.5, it uses a clever built-in looper threader.
When wanting to overlock with only 2 threads, usually a separate spreader attachment is needed. With this 2.5 model a simple press on the lever and the built-in spreader is in position and ready to sew with only 2 threads.
When coming to the end of a seam and lifting the presser foot, which automatically relies the thread tensions. Pull down on the looper cover to revel a handy threading diagram, in colour sequence which makes the lay in threading simpler.
As well as stitching the super delicate materials, this hobbylock 2.5 will sew thick denim as well and at speeds of up to 1200 stitches-per-minute. 
Included is the special electronic foot speed control, this helps stitch-bystitch control with full needle piercing power at all speeds.

Now lets see what we get for free, the standard accessories which are all stored in the accessory box are. Screwdriver, Knife blade (for the movable upper cutter), Thread unreeling discs (4), Thread spool nets (4), Oiler, Allen key, Tweezers, Cone holders (4), Dust cover, Lint brush, Waste tray, Needle threader, Needle pack.

There are plenty of additional feet for this machine such as:
Taping Foot, used to prevent stretching
Gathering Foot
Beading Foot
Piping Foot
Blind hem & Lace Foot
Elastic Foot
Cord Wavy edge foot

Benefits you get with this machine
15 different stitches
Huge work area
2, 3 or 4 thread
you can cut fabric, Build, and protect seams in no time at all
Roll the edge of fine material for a professional finish
you can do wide, narrow or flatlock for decoration
Fully Automatic tension system (also adjustable)
alter the length, density speed and feed
Coloured threading chart for quick easy threading
movable cutting blades
Adjustable foot pressure
Snap on changeable feet
Easy 2 thread conversion
No more mess, with the trim catcher
and the saving grace an instructional DVD
Specification

| | |
| --- | --- |
| UPC | 7393033076412 |
| Manufacturer | Pfaff |
| Model Number | Hobbylock 2.5 |
| Type | Overlocker |
| Promotion | Free 12 Threads + Scissors + Snips + Reverse tweezers worth £48 |
| Warranty | 5 Years Full Manufacturers Warranty |
| Weight Kg | 8.7Kg |
| Size (Height, Width, Depth) | H32 x W39 x D29 |
| Variable Electronic Speed Control | Yes |
| Tutorial CD / DVD | Yes |
| Jet Air Threading | No |
| Lay In Threading | Yes |
| Auto Tension Release | No |
| Auto Looper Threader | No |
| Colour-Coded Threading | Yes |
| LCD Screen | No |
| Sleeve Arm | No |
| Rolled Hem | Yes, by Lever |
| Differential Feed | Yes |
| Stitch Functions | 2 Thread, 3 Thread, 4 Thread |

Customer Reviews
great machine, I am still practicing with it. I think some classes wouldn't go a miss.

I cant rate the overlocker enough, bought it on recommendation of the sales staff, The machine its self is a dream to use, so easy (even to thread) with a very professional finish. I use it most days to make dog beds and will handle any fabric with ease. It has cut down the work for me as they are hand finished and look so much better. I would defiantly recommend the machine, staff and website :-)

Why not share your review with others.