Viking Husqvarna Opal 690Q Computerised Sewing Machine
It looks great in black, silver and grey. This is the new model in the Opal range. It's the 690Q and had been designed in a way that quilters will love. Two bright LED light globes just above the needle, plus another near the sewing bed keeps the long sleeve arm well lit
FREE sewing kit + extension table worth £110
FREE delivery by DPD
, order
Delivery: 1 Working Day(s) (Sat, Sun options)
Expected Delivery Date is Tuesday, August 3rd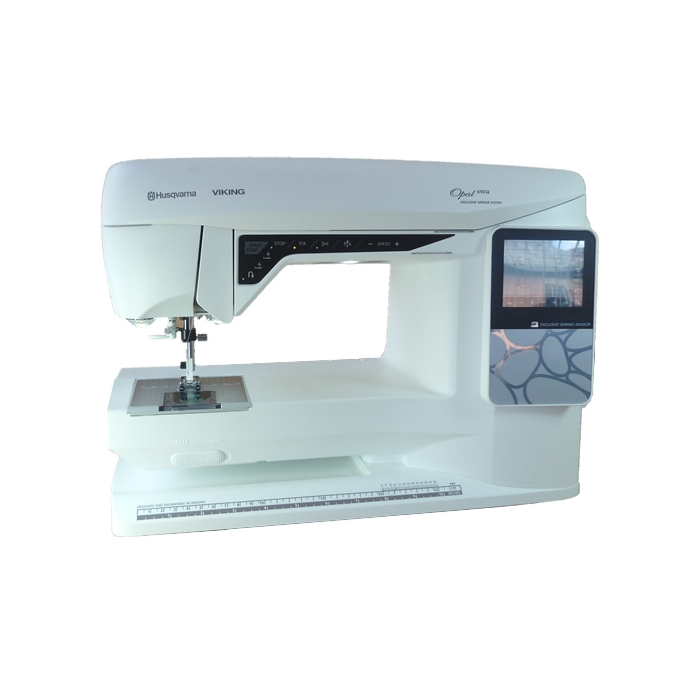 Why choose the Husqvarna Opal 690Q from us?




Not only is this a new model to the Opal range, but it is a sewing machine that will have most of the functions that make a sewing machine feel special. For instance, imagine cutting both the top and bottom thread at the touch of a button! Simple things like not having to reach for the scissors at the end of every seam, makes sewing more enjoyable.
The Husqvarna Opal 690Q is computerised. It has 208 stitches with a stitch width of 7mm. 565 stitches including letters and numbers. In fact their is a choice of 4 different font styles. When using the lettering, each name or phrase can be saved in to one of 12 memories giving a total of a 240 total stitch memory.
We love the fully automatic thread tension system. It works in conjunction with the stitch selected and the type of material that is being used. You can access the sewing advisor and tell it you would like to sew a blind hem on medium weight cotton and the machine will take care of the settings and produce professional invisible hems as a result.
The Opal 690Q is a sewing machine I would buy if I did not already have about 700 in our warehouse. In fact I do own one, in fact several, unfortunately they have to be sold. But seriously; I will be using this machine for my next sewing project.
It offers a fairly large 8 inch sewing surface to conveniently work on large projects. Have a good look at the images, one of the images shows a close up of the new LED lights. They look like globes that sit to the left and right of the machine needle bar and presser foot. I know many of our sewers like to use their machine late in to the night. Using the 690Q will not be a problem. It gives a huge well lit area all around the sewing bed.
Another feature is an exclusive one-step buttonhole foot sensor for you to make those perfect buttonholes you have always desired. Use the electronic control to slow it down for doing free-motion embroidery, 5 speed settings. Plus the speed is instantly variable by using the foot control.
It's loaded with 10 presser feet and accessories, including spare bobbins, spool cap, needles, brush, screw driver, felt pad, stylus, patchwork bar, lint brush and seam ripper. Additional assistance is available in the well illustrated manual which includes a step by step guide for twin needle usage. As well as regular feet for inserting zips, over-edging and decorative sewing. The 690q has 1/4" quilters seam foot, the clear view satin foot and the embroidery/darning foot fro free-motion stippling. Everything can be kept safe and secure under the hard plastic cover.
The Husqvarna Opal 690Q sews quality stitches that any quilter would be proud to show off. We are confident you will fall in love with the Opal and we offer a 30 day returns.
Specification

| | |
| --- | --- |
| UPC | 7393033086442 |
| Manufacturer | Husqvarna |
| Model Number | Opal 690Q |
| Type | Sewing Machine |
| Promotion | FREE sewing kit + extension table worth £110 |
| Warranty | Manufacturers 5 Year, Our 10 Year Extended Warranty Applies |
| Weight Kg | 8.5 |
| Size (Height, Width, Depth) | W 45cm x H 31cm |
| Variable Electronic Speed Control | Yes |
| Bobbin Access | Top Loading |
| Transparent bobbin cover Bobbin Cover | Yes |
| Hard Carrying or Storage Cover | Yes |
| Automatically Tensions Thread | Yes |
| Integrated Needle Threader | Yes |
| Thread End Cutting | Automatic |
| Number of Stitch Selections | 208 |
| Popular Stitch Functions | Straight, Zig-Zag, Multi Zigzag, Blind Hem, Stretch Blind Hem, Rolled Hem, Straight Stretch, Overlock Stretch, Scallop, Ric Rac, Honeycomb, Herringbone, Gathering, Applique, Sew-On Buttons, Quilting Stitches, Plus decorative patterns |
| Formation of Buttonholes | 1-Step Fully Automatic |
| Variety of Buttonholes | 7 |
| Twin Needle | Optional |
| Maximum Speed Limit Adjustment | Yes |
| Needle Up/Down Function | Yes |
| Integrated Dual Feed System | No |
| Integrated Fabric Feed Lowering | Yes |
| Hook Movement | Smooth Rotary Action |
| Needle Positions | Left to Right |
| Tutorial CD / DVD | No |
| Voltage | 220-240 Volts |

Customer Reviews
Great machine, love all the features it has. Well manufactured and good clear instructions. The service from sewing machine sales was quick and efficient. Have already recommended people to their site.

Great machine! Easy to use and many great features that my other machines don't have. I am really impressed.

Second machine I've bought from these guys and again exceptional service. I wouldn't buy from anyone else. Pleasure to do business with.

Bought in the Black Friday sale. Can't believe how good a deal. Having lots of fun with all the features.

Great machine. A delight to use and the stitching is 2nd to none. Working my way through all the stitches and have found you tube videos about this machine valuable.
Very helpful people at Sewing Machine Sales and great service. Would recommend.

Love it, love it, love it! Didn't think I would find a replacement for my beloved Bernina, but I have. So many features, sews beautifully. Great service from Sewing Machine Sales as well.

what a joy to use. this machine was an up grade for me and it has transformed my sewing and made me realise how poor my last machine was. I can't think of any negative points so far

Why not share your review with others.