Janome Atelier 3 Sewing Machine
With a longer bed size of 12", plus essential quilting feet included, the new Atelier 3 is sure to be a winning combination. Not to mention automatic thread cutting and automatic thread tensions!

Click to buy or view finance options.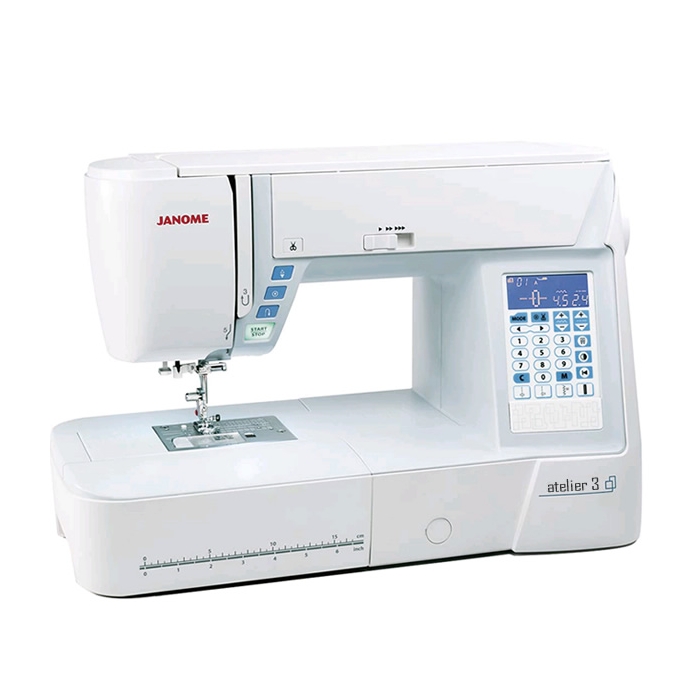 Why choose the Janome Atelier 3 from us?




Already a popular sewing machine in Europe where it is named the Janome Skyline, this UK version is the Atelier 3. It shines with lots of computerised time saving features. For example when loading the bobbin, you simply follow the groove with the thread end and hey-presto the thread end is trimmed off to the correct lengt.
Another features worth mentioning is the automatic top thread tensions. Set the tension dial to AUTO (the default setting) and start sewing. No matter what thickness of fabric or number of layers being sewn, the Janome Atelier 3 will produce each stitch with perfectly balanced thread tensions.
As one's sewing skills improve, additional add-ons are available to enhance the productivity of the Atelier 3 . A quilting kit, home decor kit and fashion sewing kit all add extra options to this fantastic sewing machine.
It is a powerful machine that can sew at 1,000 stitches per minute if required. The large sewing surface to the right of the needle is a massive 8.3" giving plenty room for large quilt projects or for making curtains.
As well as quilting, heirloom, satin, utility, stretch, buttonholes, applique and decorative stitches, the Atelier 3 can sew lettering in both upper-case and lower case and European accented and Cyrillic lettering. Each can be saved to memory, up to 50 stitches can be combined in to memory.
Safe storage area for accessories in the compartment of the extension table, it also has a removable shelf to hold bobbins and feet. Flip up the top cover to reveal the stitch selection printed on the underside of the cover. Gain access to winding the bobbins and loading the thread spool on to the horizontal spool pin. A secondary spool pin is included for twin needle sewing.
Atelier 3 has the electronic foot speed controller, so each stitch, no matter what speed your are sewing at, will get full motor power.
Other Features:
Computerised sewing machine.
Horizontal Full Rotary Hook.
Touch Panel with LCD screen.
Automatic thread cutter (top and bottom threads).
120 built-in stitches.
3 Styles of lettering
7mm stitch width
7 Styles of auto 1-step buttonholes
Twin needle setting.
To loading jam proof drop-in bobbin.
Adjustable stitch width and length.
Automatic thread tension.
Reverse Button.
Auto needle threader.
Adjustable needle positions.
Drop feed for freehand embroidery.
Maximum speed controller.
One touch slow function.
Needle up / down facility.
Auto-lock stitch feature.
Start / stop button.
Adjustable foot pressure.
Accessories:
Instructional DVD, 1/4" seam foot, zig-zag foot, zip foot, satin stitch foot, blind hemming foot, overcasting foot, 1-step buttonhole foot with fabric stabilizer plate, spare bobbins and needles with twin needle, spool holders, seam ripper, screwdriver, lint brush, foot control and power lead, semi-hard cover and instruction book.
Specification

| | |
| --- | --- |
| UPC | 5027843501032 |
| Manufacturer | Janome |
| Model Number | Atelier 3 |
| Type | Sewing Machine |
| Warranty | 2 Years Full Manufacturers Warranty |
| Weight Kg | 16 |
| Size (Height, Width, Depth) | W52 cm x H32 cm |
| Variable Electronic Speed Control | Yes |
| Bobbin Access | Top Loading |
| Transparent bobbin cover Bobbin Cover | Yes |
| Hard Carrying or Storage Cover | No |
| Automatically Tensions Thread | Yes |
| Integrated Needle Threader | Yes |
| Thread End Cutting | Automatic |
| Number of Stitch Selections | 100 |
| Popular Stitch Functions | Straight, Zig-Zag, Multi Zigzag, Blind Hem, Stretch Blind Hem, Rolled Hem, Straight Stretch, Overlock Stretch, Scallop, Ric Rac, Honeycomb, Herringbone, Gathering, Applique, Sew-On Buttons, Quilting Stitches, Basting Stitch, Closed Overedge, Plus decorative patterns |
| Formation of Buttonholes | 1-Step Fully Automatic |
| Variety of Buttonholes | 6 |
| Twin Needle | Included |
| Maximum Speed Limit Adjustment | Yes |
| Needle Up/Down Function | Yes |
| Integrated Dual Feed System | No |
| Integrated Fabric Feed Lowering | Yes |
| Hook Movement | Smooth Rotary Action |
| Needle Positions | Left / Right / Centre |
| Tutorial CD / DVD | Yes |
| Voltage | 220-240 Volts |

Customer Reviews
Impressive machine. Very quiet. Arrived next day after ordering, with no hassle. Can highly recommend both the machine and the company.

My old Janome is still running well after 35 years but I wanted a bigger machine for quilting. Advice from Sewing Machine Sales and a visit to the shop for a demo helped me in my decision to go for another Janome model.
I have been using it for a week and am impressed by its smooth quiet running, even with thick fabric. Features such as automatic tension and thread cutting, automated buttonholes and push-button stitch selection are already making a big difference to my sewing projects.
The instruction book is clear and easy to use, so I think even a beginner sewer could use this machine with confidence, especially in conjunction with the DVD.

Excellent service and speedy delivery. Machine as described

This machine is impressive, I am looking forward to putting it to practical use. At present I am trying everything out to see how it works. The website was straight forward and it was delivered on time the next day. Having bought this machine unseen, with no demonstration, I am very pleased with the purchase.

Fantastic machine, highly recommend it to anyone.
Great customer service

Received my machine yesterday. Was looking to replace my old Singer, and after much research I chose the Janome Atelier 3. I am very happy and wish I had ordered it ages ago. It sews beautifully, am looking forward to making many quilts with it. Your customer service is fabulous. Thank you so much, I shall be back to order a sewing table soon.


Oh WOW!! I thought I could only dream about owning this fabulous machine. My husband bought it for me as a surprise. Still can't believe it. This machine is an absolute joy to work with. Pity there are not more hours in the day to use it & practice ALL the many functions. I am continually looking for different things to make with it. Worth every penny. Very helpful staff. Speedy delivery as promised. Highly recommended!!

Why not share your review with others.