Janome 423s Sewing Machine
View all its stitches at a glance in an easy to understand format on the Janome 423s front panel, from there use the dial to select a pattern, simple one step buttonholes, stretch, overedging, blind hemming to name but a few. Popular machine in school!
*LIMITED STOCK AVAILABLE*
FREE delivery by DPD
, order
Delivery: 1 Working Day(s) (Sat, Sun options)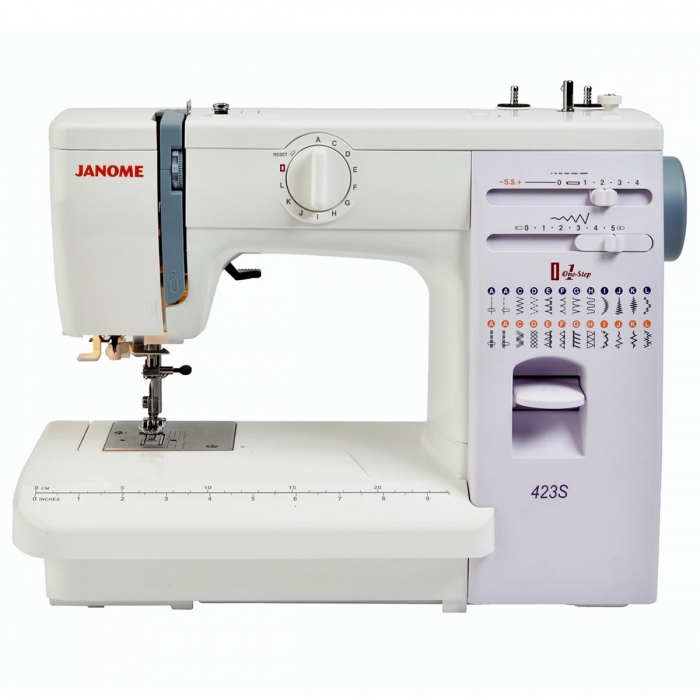 Why choose the Janome 423s from us?




It has 23 stitches including the automatic button hole as already mentioned, plus the ability to adjust the width and length while sewing using the slide controls. It sews a good satin stitch for the built-in scallop and diamond patterns. In addition the Janome 423s it is fitted with a needle threader and comes with a hard protective cover.
Yes, the 432s can sew in reverse by pushing the lever down, which locks the thread ends in place at the start and end of a seam. For darning and embroidery use the drop feed lever for some wonderful free-hand decorative effect. Twin needle work is also available, thanks to the twin vertical thread spool pins.
Bobbin is loaded from the front and when winding thread onto the bobbin it's auto declutch mechanism automatically disengaged the drive to the needle with a simple push of the winder.
It has a robust alloy bodied sewing machine which has no problem sewing multiple layers. It includes features you'd expect to find on more expensive machines, It will perform consistently on a wide range of fabrics. The optional accessory feet clip in to place when needing to change foot maybe to insert a zip or when hemming curtains.

Key Features:
23 Stitch selections
Front loading bobbin
Variable stitch length
Variable stitch width
1 step auto sizing buttonhole
Adjustable foot pressure
Built in needle threader
Drop feed facility
Stretch stitches
Satin stitches
Hard cover
Free arm storage compartment

It's accessories pack includes: Buttonhole Foot, Hemmer Foot, Zip Foot, General Purpose Zig-Zag Foot, Hem Guide, Seam ripper, Screw driver, Set of needles, Bobbins x 4, Hard cover, Foot control and instructions
Specification

| | |
| --- | --- |
| UPC | 5027843200027 |
| Manufacturer | Janome |
| Model Number | 423s |
| Type | Sewing Machine |
| Promotion | *LIMITED STOCK AVAILABLE* |
| Warranty | 2 Years Full Manufacturers Warranty |
| Weight Kg | 8 |
| Size (Height, Width, Depth) | W40 cm x H29 cm |
| Variable Electronic Speed Control | No |
| Bobbin Access | Front Loading |
| Transparent bobbin cover Bobbin Cover | No |
| Hard Carrying or Storage Cover | Yes |
| Automatically Tensions Thread | No |
| Integrated Needle Threader | Yes |
| Thread End Cutting | Manual |
| Number of Stitch Selections | 24 |
| Popular Stitch Functions | Straight, Zig-Zag, Multi Zigzag, Blind Hem, Stretch Blind Hem, Straight Stretch, Overlock Stretch, Scallop, Ric Rac, Applique, Sew-On Buttons |
| Formation of Buttonholes | 1-Step Fully Automatic |
| Variety of Buttonholes | 1 |
| Twin Needle | Optional |
| Maximum Speed Limit Adjustment | No |
| Needle Up/Down Function | No |
| Integrated Dual Feed System | No |
| Integrated Fabric Feed Lowering | Yes |
| Hook Movement | Oscillating Action |
| Needle Positions | Left / Centre |
| Tutorial CD / DVD | No |
| Voltage | 220-240 Volts |

Customer Reviews
I'm a total beginner and I love this machine. I think this is an amazing compromise for domestic sewing if you don't want to buy overlock because This machine has overlock stitches which are satisfying for me and my use (professionals will probably end up with getting overlock too though).

Machine has good stable construction, it feels really solid. So I feel it will last for years. After reading manual - very easy to use. I'm really satisfied with the purchase, especially because I got it on sale.

I have been pleased with this machine for the short time I've owned it. However, in trying to make buttonholes using the buttonhole attachment, I must be doing something wrong. I cannot get the machine to move forward. It just stays in one place and sews back and forth. I have gone over the instructions on pp. 20-21 of the instruction book for two days. I'm getting no where. Please help! [STAFF - please call us, we can quickly resolve your issue you over the phone.]

Fantastic machine build quality is excellent, more metal than plastic, buit to last, no gimmicks just a solid easy to use machine. Stitch length and width easily adjustable even whilst sewing. If your happy with the basic range of stitches but want a solid long lasting machine look no further.

It is one of the best machines I have ever used. It is made of solid metal and does a smooth job. It has a lot of features that I find come in handy very often personally. There is no bad points for me about this sewing machine: recommended from the bottom of my heart.

I have the 4618 machine and I am very impressed. It sews smoothly and quietly compared to most other machines I have used. I use mine for everyday repairs and quilting and so far I cant fault it. It is easy to use and I love the clean lines.

A very good straight foword, simple, and easy to use, no electronic communication, and very smote running, I know because I repair sewing machines

Great machine does what it says very quiet,very pleased with it

I have had a Janome 423 for 3 years and it is wonderful. Sews beautifully and consistently. Is easy to operate and I am such a fan. It is a wonderful machine for beginners and experienced sewers alike. I can find no faults with this machine.

Why not share your review with others.