Janome J3-20 Sewing Machine
Built in needle threader and automatic one-step button holes set this above many other machines at this price level, plus you get Janome quality with the J3-20 equal to some machines at twice its price
Including one-step auto buttonholes
FREE delivery by DPD
, order
Delivery: 1 Working Day(s) (Sat, Sun options)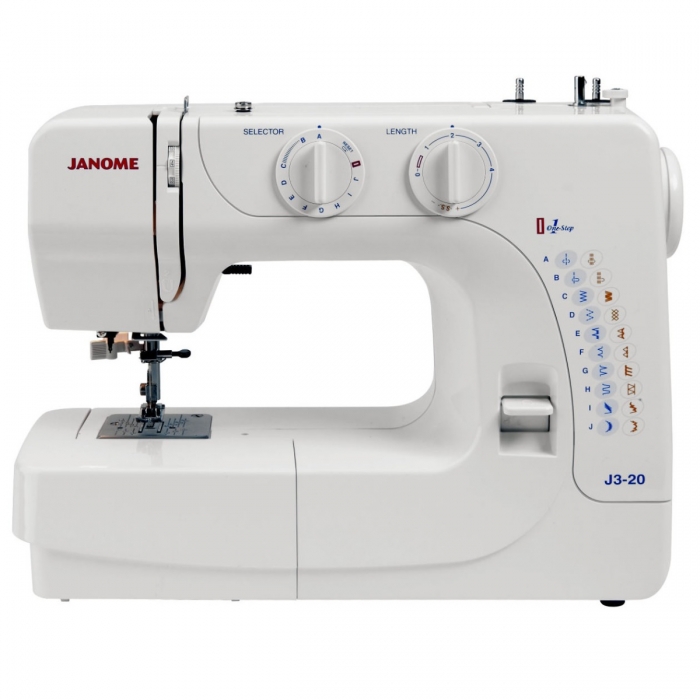 Why choose the Janome J3-20 from us?




It has 20 stitches including stretch and the button hole function in a one step as already mentioned which is far easier to use the 4-step type.
Using the built in handle the portable lightweight machine can be moved with ease from floor to table for your next sewing project, it would be a ideal for users needing a machine for home use alterations or even home deco because of its superior built quality.
By removing the detachable storage box, it coverts the machine for free arm sewing, it also allows loading the bobbin which is a front loading type, because the box is removed it gives good viewing with better access for fat figures when inserting the bobbin case.
As you start to advance your sewing skills it would also suit a serious home maker because it has loads of time saving features like the twin spool pins so decorative twin needle patterns can be sewn.
Easy to thread and operate, following numbered thread path gets you down to the needle where the built in needle threader gets the job done in seconds!
Its simplicity itself to select a stitch, it uses the ABC stitch selection method, simple turn the dial, adjust width and length to your required setting and away you go. Choose from overlock and straight stretch stitch which are the most commonly used, there is 10 stretch stitches. Extra high foot lifter allows for many thicknesses to be sewn.
Main Features:
20 stitch selections
Reverse lever
Drop feed facility
Easy declutch bobbin winder
2 needle positions
Front loading bobbin
Variable stitch length
Variable zig zag width
1 step auto sizing buttonhole
Needle threader
Stretch stitches
Satin stitches

Standard Accessories: Zig Zag Foot, Zipper Foot, Buttonhole Foot, Blind Hem Foot, Satin Stitch, Foot, Screwdriver, Set of Needles, Seam Ripper, Bobbins, Soft Cover, Manual and Foot Control
Specification

| | |
| --- | --- |
| UPC | 5027843100921 |
| Manufacturer | Janome |
| Model Number | J3-20 |
| Type | Sewing Machine |
| Promotion | Including one-step auto buttonholes |
| Warranty | 2 Years Full Manufacturers Warranty |
| Weight Kg | 7 |
| Size (Height, Width, Depth) | W39 cm x H29 cm |
| Variable Electronic Speed Control | No |
| Bobbin Access | Front Loading |
| Transparent bobbin cover Bobbin Cover | No |
| Hard Carrying or Storage Cover | No |
| Automatically Tensions Thread | No |
| Integrated Needle Threader | Yes |
| Thread End Cutting | Manual |
| Number of Stitch Selections | 20 |
| Popular Stitch Functions | Straight, Zig-Zag, Multi Zigzag, Blind Hem, Stretch Blind Hem, Straight Stretch, Overlock Stretch, Scallop, Ric Rac, Honeycomb, Applique, Sew-On Buttons |
| Formation of Buttonholes | 4-Step Sequence |
| Variety of Buttonholes | 1 |
| Twin Needle | Optional |
| Maximum Speed Limit Adjustment | No |
| Needle Up/Down Function | No |
| Integrated Dual Feed System | No |
| Integrated Fabric Feed Lowering | Yes |
| Hook Movement | Oscillating Action |
| Needle Positions | Centre Only |
| Tutorial CD / DVD | No |
| Voltage | 220-240 Volts |

Customer Reviews
Very pleased with this machine. Couldn't wait to get it. Runs smoothly and quietly. Very easy to use. Good Value for money. Would deffinately recommend it.

Purchased for completing school textile project during lockdown. Excellent for the purpose. Light to handle, quiet, and foolproof. Not too many superfluous stitches and gadgets. All the basic requirements are there and work well. Excellent quality for a reasonable price.

So pleased with this machine. Not too noisy, easy to use. Comes with a great range of feet, in particular the one step buttonhole foot is excellent. I actually got this model as a free upgrade from the J3-18 but I definitely think its good value.

I think this machine is great value, and easy to use very happy with it

Why not share your review with others.