Singer Heavy Duty 5523 Sewing Machine
The perfect work horse for the domestic market without the size of an industrial so maybe more like a pit pony. Small compact and powerful with a good array of stitches and featured found on a household machine, suitable for anything from denim to satin, or leather to jersey, this Singer 5523 will be a valuable tool for any project.


Price

£319.00


Today

£279.00
Free £50 Bundle + 10 Year Warranty & FREE UK Delivery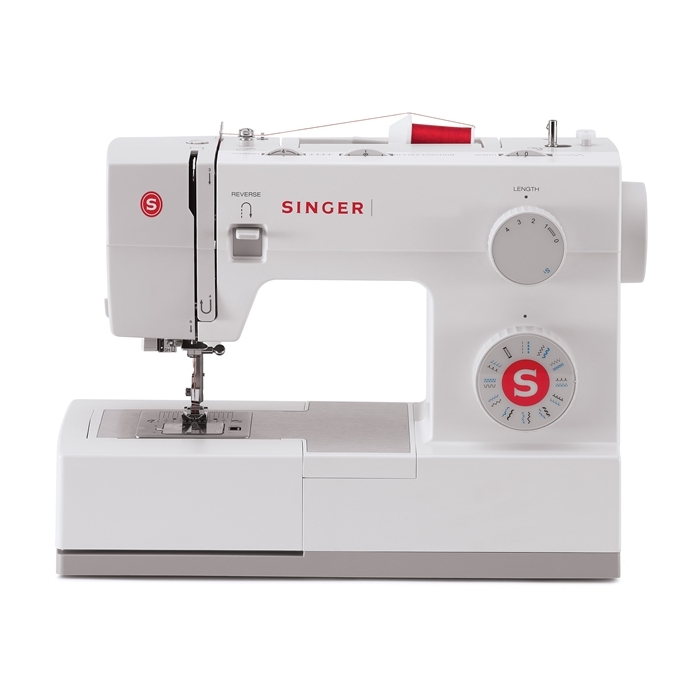 Why choose the Singer Heavy Duty 5523 from us?




Released in June 2019 the Singer Heavy Duty 5523 Sewing Machine compliments the already prolific Singer Heavy Duty sewing machine range. it's fresh white design brings somethng different to the range without compromise. The Singer 5523 have a very stron cast aluminium body to support its superior sewing power and very strong motor. Faster than a standard sewing machine and without many of the bells and whistles, this machine is a utility machine and it is here to do the job, where power, speed and recision is required.
The Singer Heavy Dutys sewing machines have been around for years now and have a fantastic reputation, they are by far the most popular machine sold in the UK outselling its closes rival by almost double. The Singer 5523 Heavy Duty although it is touted as a utility machine it still has a huge array of stitches and features not found on a straight stitch industrial machine. The 5523 boast 23 stitches including Zig-Zag, Blindhem, Stretch stitches and Buttonholes as well as a built in light and auto needle threader. The Singer 5523 Sewing machine is perfect for a busy environment to learn with and develop as a machinist.

Top loading jam proof bobbin, easy changable domestic sewing machine needle clamp and simple lay in threading system. This machine has all the benefits of a Heavy Duty machine but with the ease of a standard domestic machine, it is so simple to use.

Built-In Stretch Stitches
Specially designed stitches that add strength and flexibility to seams, especially useful when sewing on knitwear and superstretch fabrics.

Adjustable Stitch Length and Width
Each stitch function can be adjusted to personalize length or width.

One-Step Automatic Buttonholes
Buttonhole sewing is a one step simple process, providing reliable results.

3 Needle Positions
Needle position can be changed for individual projects, left, centre or right such as inserting zippers or cording and topstitching.

Top Drop-in Bobbin
As well as the loading bobbin the hook unit which carries the thread is rotary system making for bets stitching results at faster speeds.

Automatic Needle Threader
After effortlessly threading the machine this feature automatically threads the eye of the needle!

Automatic Bobbin Winding Clutch
Needle bar automatically disengages when winding the bobbin, making bobbin winding safer.

6-Segment Feeding System
This is a specially designed feed dog that ensures that the fabric is picked up and supported from the front of the presser foot to the rear. This makes for much more accurate feeding.

Box Feed
This is a feed dog motion that moves the feed dogs in a box motion, rather than the historic arc motion. Box motion assures perfect feeding throughout the entire feed process, as the 6-point feed dogs are always in perfect and equal contact with the fabric and presser foot.

Aluminium Frame
The internal skeleton of the Singer Heavy Duty is metal. This rigid support holds all the mechanisms in perfect alignment for perfect, skip-free sewing.

Electronic Foot Speed Controller
A control system that senses when additional power is required to maintain speed through thick or changing fabric conditions. This feature is most useful when sewing through multiple (6-8) layers of fabric. Guarantees consistent sewing speed with no jump starts from super slow to super fast stitching.

On Board Storage
Storage area means accessories are always easily accessible.

Features:
23 Stitch Patterns
1,100 Stitches per Minute
Fully Automatic 1-Step Buttonhole
Built-In Automatic Needle Threader
Top Drop-in Bobbin
Strong Rotary Hook Unit
Stainless Steel Bed Plate
Adjustable Presser Foot Pressure
Adjustable Stitch Length & Width
Drop Feed for free motion embroidery
Heavy Duty Metal Internal Frame for strength and reliability
High Presser Foot Lift
Included Accessories: General All Purpose Foot, Zipper Foot, Buttonhole Foot, Button Sewing Foot, Seam Ripper/Brush, Quilting/Edge Guide, Needles, Spool Holders, Bobbins, Screwdriver, Spool Pin, Spool Felt, Soft Cover, Foot Pedal, Power Cord, Instruction Manual
Specification

| | |
| --- | --- |
| UPC | 00374318831794 |
| Manufacturer | Singer |
| Model Number | Heavy Duty 5523 |
| Type | Sewing Machine |
| Promotion | Free £50 Bundle + 10 Year Warranty & FREE UK Delivery |
| Warranty | Extended Warranty 10 Years Parts and Labour |
| Weight Kg | 8.5 |
| Size (Height, Width, Depth) | W41 cm x H29 cm |
| Variable Electronic Speed Control | Yes |
| Bobbin Access | Top Loading |
| Transparent bobbin cover Bobbin Cover | Yes |
| Hard Carrying or Storage Cover | No |
| Automatically Tensions Thread | No |
| Integrated Needle Threader | Yes |
| Thread End Cutting | Manual |
| Number of Stitch Selections | 23 |
| Popular Stitch Functions | Straight, Zig-Zag, Multi Zigzag, Blind Hem, Stretch Blind Hem, Straight Stretch, Overlock Stretch, Scallop, Ric Rac, Honeycomb, Herringbone, Gathering, Applique, Sew-On Buttons, Quilting Stitches, Closed Overedge |
| Formation of Buttonholes | 1-Step Fully Automatic |
| Variety of Buttonholes | 1 |
| Twin Needle | Optional |
| Maximum Speed Limit Adjustment | No |
| Needle Up/Down Function | No |
| Integrated Dual Feed System | No |
| Integrated Fabric Feed Lowering | Yes |
| Hook Movement | Smooth Rotary Action |
| Needle Positions | Left / Right / Centre |
| Tutorial CD / DVD | No |
| Voltage | 220-240 Volts |

Customer Reviews
Amazing service and super machine.
I ordered on the 23/12 and received the machine on the 24/12.
Such an easy machine to use, feels really sturdy and sews really quickly!
I wanted a basic machine for sewing woven fabrics and free motion sewing, as my other machine tends to eat some of my work. But this is so much better than I had expected, really smooth sewing.
Thank you so much I'm really happy I found your site.

Delivery was fast, ordered Saturday evening received on the Monday. I was looking for a robust machine with a good stitch for a variety of fabrics & this fitted my requirement perfectly. I have no hesitation in recommending both Sewing Machine Sales & the singer Heavy duty sewing machine. Thank you!

Impressed by the fast delivery even during the lockdown period. The price was the best I could find on-line. The machine is amazing. I was looking for a good all-rounder machine. I used it a couple of times and is really happy with my purchase. Highly recommended.

Impressed with fast delivery and very impressed with the machine. You cannot tell it is ex-display apart from the box it came in which had obviously been re-sealed. Otherwise I tested the machine on all types of stitches and button holes. Now I should be able to stitch through layers of denim when turning up jeans!

Machine came within 1 day. Quality excellent. Just what I was looking for. Very reasonably priced. Definitely recommend.

Why not share your review with others.