Janome Continental M7 Sewing Machine
From dressmakers to quilters, whether an expert or beginner, professional or just a passionate sewer, the Janome Continental M7 will suit you. With a HUGE long arm machine this machine is ideal for large heavy-duty projects. Its also strong and fairly weighty at 14Kg with a full metal body.
FREE delivery by DPD
, order
Delivery: 1 Working Day(s) (Sat, Sun options)
Expected Delivery Date is Monday, September 20th

Click to buy or view finance options.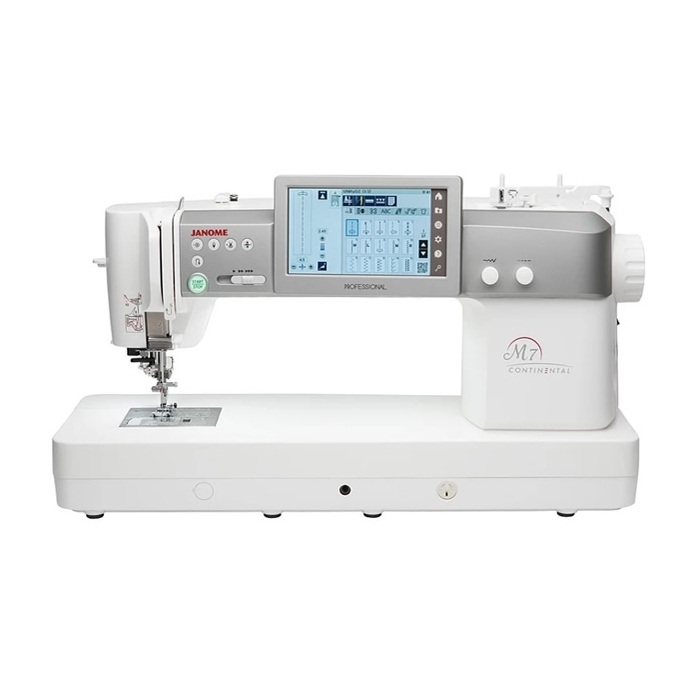 Why choose the Janome M7 Continental from us?




A truly MASSIVE new model from Janome. Quality has never been delivered in such an impressive machine. With features that will truly expand your creativity, the Janome Continental M7 is a perfect model for both personal and professional quilters.
With a huge selection of more than 400 absolutely beautiful, creative utility and decorative stitches, including 12 buttonholes, up to 9mm wide, you will never run out of inspiration or ideas as the M7 also has a stitch composer so you can design your own stitches. For a smooth and organized work area when working with large amounts of fabrics, this machine comes with an incredible large 13.5" sewing area, illuminated by 9 LED lights in four places. To make your sewing experience even more enjoyable, this machine is controlled by a large and informative LCD touch screen; with this feature, you will be able to select the designs and sewing options at the click of a button. This machine never fails to give a professional looking buttonhole stitch, regardless of the fabric type. 
A new feature for the Janome M7 is the AcuSpark tutorial APP. To use the App simply scan the QR code in the bottom right-hand side of the screen; here you will be provided with more information on the stitch you have selected, where to use it, how to get the best from it and preferred machine setting etc. This built-in tutorial system will ensure you unleash the full potential of your new machine. The M7 also has a Quilt Block Advisor offering guidance and support to create the most fantastic quilt blocks using on-screen support.
Other than a collection of 400 exquisite decorative design and buttonhole stitches, the M7 also offers an option of 5 alphabets, characters and numbers to make your sewing project more personalized. At 1300 stitches per minute, you get to see the results fast. The M7 is fitted with an industrial standard DC motor which makes it incredibly powerful yet quiet. With its taper feature, you can now sew tightly into those corners through multiple layers with confidence.  Its high quality AcuFeed dual feed system gives you a smooth and even, 9mm stitch result. Additionally, the Janome M7 is 17.81 inches all metal, seamless flat sewing bed, provides a huge platform to support your biggest sewing projects.
Other Features
* Auto Tension
* Ruler work mode
* Snap-on Presser Feet
* Adjustable Knee Lift
* Advanced Plate Markings
* Easy Bobbin Winder
* Optical Bobbin Monitoring
* Auto De-Clutch Bobbin Winding
* Independent Bobbin Winder
* Full-colour HD touch Screen
* Dual Vertical Thread stand
* 9mm Stitch Width
* 5mm Stitch Length
* 1,300 Stitches per minute
* Extension Table with storage draw
All in all, with this machine you get luxury, speed, power and precision all in one. This machine can give any creative mind a boost. Perfect results, smooth functionality, and a wide range of high-quality features are what you get with Janome M7 Continental Sewing Machine.
STITCH FUNCTIONS
400 stitches upto 9 mm decorative stitches and 12 buttonholes, 5 alphabets, including upper and lower case letters, numbers and symbols.
LARGE SEWING SPACE
The sewing area to the right of the needle is 13.5 inches, perfect for sewing big projects.
FULL-COLOUR HD TOUCH SCREEN
View presser foot, stitch width, stitch length and sewing information on this easy to read screen.
LED LIGHTS
Nine bright lights illuminate the entire sewing area.
NEEDLE THREADER
Threading the needle is quick and easy.
START/STOP – SEW WITHOUT THE FOOT CONTROL
Makes sewing long seams and free-motion easy.
THREAD SNIPS
Automatically cut top and bobbin thread at the touch of a button.
ELECTRONIC THREAD TENSION
Needle thread tension is set electronically – makes sewing simple.
SEPARATE BOBBIN WINDING MOTOR
Easily wind a bobbin while sewing.
TOP AND BOBBIN THREAD SENSOR
Alert you when the bobbin is running low and/or when the needle thread is broken or runs out.
TWIN NEEDLE PROGRAM
With the touch of a button to prevent needle breakage when using a twin needle.
MIRROR IMAGE
Flip the stitch side-to-side for more possibilities.
EXTRA HIGH PRESSER FOOT LIFT
Raises the presser foot to its highest position so that thick fabrics can be placed easily under the presser foot.
NEEDLE UP/DOWN
Touch a button to set your needle to automatically stop up or down in the fabric when you lift your foot from the foot control. Ideal for pivoting, appliqué and quilting Just tap the foot control to shift between up/ down position.
FEED DOG DROP
lowers the feed dogs for special techniques like free-motion quilting and embroidery and button sewing.
SPEED RANGES
Adjust your sewing speed for specialty threads, techniques or personal taste.
TWO BUILT-IN SPOOL PINS AND INDUSTRIAL STYLE THREAD HOLDER
For twin needle sewing, specialty sewing, and bobbin winding while sewing.
KNEELIFT
Use your knee to lift the foot of the machine making for professional sewing technique.
PRECISE
The SBS Dual Feed System guarantees absolutely even fabric feed from top and bottom. A unique selection of perfectly stitched high-quality 9 mm stitches will inspire new ideas.

Accessories included.. Automatic buttonhole foot, Zipper foot, Zig-Zag foot, Blind Hem foot, Satin stitch foot, Fancy stitch foot, Rolled hem foot, Straight Stitch foot, 1/4" seam foot, Invisible Zip Foot, Echo Quilting Foot, Patchwork edge guide, Quilting Feet, AcuFeed Foot, Open-toe Free-motion Foot, Free-motion foot, Ruler Foot, Couching Foot, Set of needles, Bobbins pack, 6 spool caps, Thread nets, Screwdrivers, Stylus, Additional Needle Plates, Instruction book, Foot control, Extension Table
Specification

| | |
| --- | --- |
| UPC | 05027843502244 |
| Manufacturer | Janome |
| Model Number | M7 Continental |
| Type | Sewing Machine |
| Warranty | 2 Years Full Manufacturers Warranty |
| Weight Kg | 12kg |
| Size (Height, Width, Depth) | H38 x W66 x D23 cm |
| Variable Electronic Speed Control | Yes |
| Bobbin Access | Top Loading |
| Transparent bobbin cover Bobbin Cover | Yes |
| Hard Carrying or Storage Cover | No |
| Automatically Tensions Thread | Yes |
| Integrated Needle Threader | Automatic Touch Button |
| Thread End Cutting | Automatic |
| Number of Stitch Selections | 400 |
| Popular Stitch Functions | Straight, Zig-Zag, Multi Zigzag, Blind Hem, Stretch Blind Hem, Rolled Hem, Straight Stretch, Scallop, Ric Rac, Honeycomb, Herringbone, Gathering, Applique, Sew-On Buttons, Quilting Stitches, Basting Stitch, Plus decorative patterns |
| Formation of Buttonholes | 1-Step Fully Automatic |
| Variety of Buttonholes | 12 |
| Twin Needle | Optional |
| Maximum Speed Limit Adjustment | Yes |
| Needle Up/Down Function | Yes |
| Integrated Dual Feed System | Yes |
| Integrated Fabric Feed Lowering | Yes |
| Hook Movement | Smooth Rotary Action |
| Needle Positions | Left / Right / Centre |
| Tutorial CD / DVD | No |
| Voltage | Dual Voltage 110-240 Volts |

Why not share your review with others.