Pfaff Expression 710 Sewing Machine
With a great new look and extra functions the Pfaff Expression 710 is a fantastic computerised sewing machine. It is loaded with new features and 25% extra stitches, touch screen, lettering and thread cutter


Price

£1,299.00


Today

£1,250.00
SAVE £50 + Free 3-IN-1 Magnifying lamp worth £79
FREE delivery by DPD
, order
Delivery: 1 Working Day(s) (Sat, Sun options)

Click to buy or view finance options.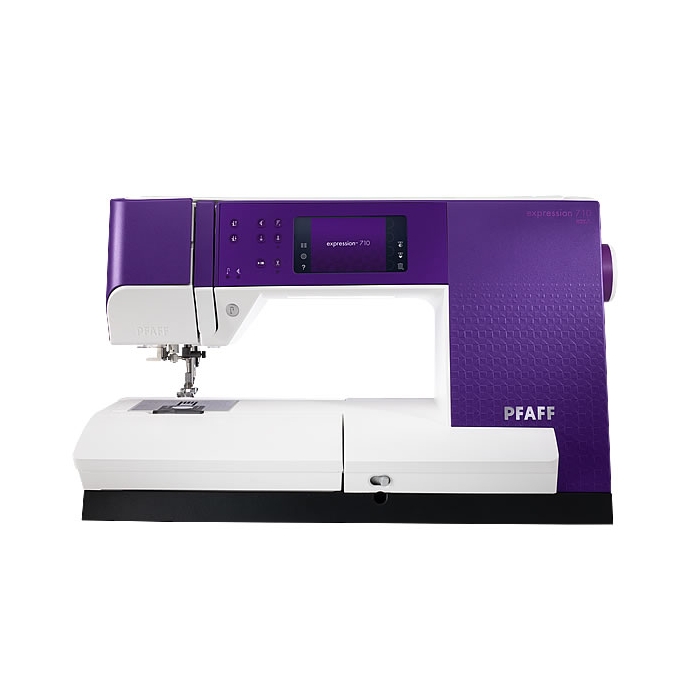 Why choose the Pfaff Expression 710 from us?




With nearly the same spec as the previous quilt expression 4.2 model, this new Expression 710 by Pfaff is a winner on it's styling and it's high level of specification,  including IDT, larger sewing bed, automatic presser foot lifter, 9 mm decorative stitches, alphabets, thread cutter and more.. Read on.
It's a precise stitcher, with 37 needle positions, that may sound like overkill, but when your sewing a seam, edge stitching, stitching-in the ditch or inserting a zip and have the fabric in place under the foot ready to sew, then at the last moment you realise that if the needle was to sew 1.5 mm to the left of where you were originally going to start and your zip insertion would look more actuate, a quick press and 3 or 4 needle position adjustments are done. So no need to remove and re align the zip/garment then reposition it. Simple things make a huge difference and that's where Pfaff Expression 710 excels.
LED lightin now illuminates the nearly 10" sewing bed to the right of the needle, so thats more than enough space for large amounts of fabric or batting. As if 3 built in fonts and 247 decorative and utility stitches were not enough, you can taper all decorative 9 mm stitches, mirror image, change the start position or stitch density or use the twin needle mode. Some of the more interesting stitches include basting, eyelets, keyhole buttonholes, denim bartack, hand look authentic quilt, stippling, cross stitch and block and script lettering.
A straight stitch plate as well as 9 accessory feet are included. A removable tray and rubber bobbin holder is located in the sleeve are extension table which is the perfect place to store feet, spare needles and accessories.
Once you have used a sewing machine with automatic thread cutting you will never want to be without it.  Other features we love the Expression 710 for are,
Colour touch-screen,
Three free-motion modes,
Sensormatic buttonholes,
Electronic self adjusting top thread tensions,
Automatic presser foot lifter,
Needle up/down,
Start/Stop button,
Immediate tie-off,
Reverse sewing,
Thread snips,
Built-in needle threader,
Adjustable max speed settings,
Jam proof top loading bobbin,
Bobbin thread run short sensor,
Personal stitch memory and recall function,
Bobbin winding directly from the needle,
Updates via USB stick.

Perfectly formed stitches is what the Pfaff brand stands for...
The IDT is the perfect answer to a walking foot at your finger tips...no screwdriver needed nor any awkward attachments. Simply push down the unique IDT, which sits in position in the centre of the presser foot; it doesn't matter which foot, zipper, stitch-in-the-ditch, 1/4" seam foot etc the IDT top feeding system places itself directly in the centre/rear position therefore giving perfect fabric feeding no matter what type of material you're stitching.
Accessories included:
Std zigzag foot
Fancy stitch foot with IDT
Fancy stitch foot without IDT
Blind hemming foot
Zipper foot
Sensormatic buttonhole foot
Manual buttonhole foot
Embroidery Sensormatic free-motion foot
1/4" Quilting foot
Stylus
Thread net
Patchwork quilt guide
Felt pad
Screwdriver
Seam ripper
Lint brush
Spool caps
Multi-purpose tool
Spare bobbins
Spare needles
Twin needle
Foot control
Power lead
Hard plastic cover
Instruction manual




Specification

| | |
| --- | --- |
| UPC | 7393033101893 |
| Manufacturer | Pfaff |
| Model Number | Expression 710 |
| Type | Sewing Machine |
| Promotion | SAVE £50 + Free 3-IN-1 Magnifying lamp worth £79 |
| Warranty | Manufacturers 5 Year, Our 10 Year Extended Warranty Applies |
| Weight Kg | 9.0Kg |
| Size (Height, Width, Depth) | H32cm x W49cm |
| Variable Electronic Speed Control | Yes |
| Bobbin Access | Top Loading |
| Transparent bobbin cover Bobbin Cover | Yes |
| Hard Carrying or Storage Cover | Yes |
| Automatically Tensions Thread | No |
| Integrated Needle Threader | Yes |
| Thread End Cutting | Automatic |
| Number of Stitch Selections | 247 |
| Popular Stitch Functions | Straight, Zig-Zag, Multi Zigzag, Blind Hem, Stretch Blind Hem, Rolled Hem, Straight Stretch, Overlock Stretch, Scallop, Ric Rac, Honeycomb, Herringbone, Gathering, Applique, Sew-On Buttons, Quilting Stitches, Basting Stitch, Closed Overedge, Plus decorative patterns |
| Formation of Buttonholes | 1-Step Fully Automatic |
| Variety of Buttonholes | 9 |
| Twin Needle | Included |
| Maximum Speed Limit Adjustment | Yes |
| Needle Up/Down Function | Yes |
| Integrated Dual Feed System | Yes |
| Integrated Fabric Feed Lowering | Yes |
| Hook Movement | Smooth Rotary Action |
| Needle Positions | Left / Right / Centre |
| Tutorial CD / DVD | No |
| Voltage | Dual Voltage 110-240 Volts |

Customer Reviews
After much reviewing of many sewing machines I decided on this one, I have had it now for a couple of weeks so still getting used to it , I am very pleased so far, this machine is just what I wanted to sew the many different fabrics I use from cotton to denim it has many great features that I will use , the instruction book is well set out so if I need to refer to it I can quickly, this machine is slightly noisy but not a problem to me as I work by myself, overall an excellent purchase and the speedy delivery a bonus , so I look forward to many happy of sewing.

Only had the machine a few days but so far easy to use . Good sturdy quality machine. Delivered within 24 hours of placing order.

So far very pleased. Need to read manual carefully, but once the sewing processes are understood, very easy to use. I was keen to get a machine with top feed,as this produces a better quality seam (less puckering etc). There are lots of embroidery options, and patchwork ones as well - I am primarily a dressmaker, and it makes that a lot easier - no tangling of sewing threads, automatic thread cut and tie off, and excellent lighting. Definitely recommend. Also delivery fast, and good price.

Why not share your review with others.