Pfaff Quilt Expression 720 Sewing Machine
Perfection starts here. It is a wonderful machine and looks fantastic. Introducing the new Pfaff Quilt Expression 720 with colour touch screen and over 400 stitch option, ribbon stitches and even a stitch creator.
£100 Gift Voucher + Free 3-IN-1 Magnifying lamp + Sewing Threads Set -Total Worth £200
FREE delivery by DPD
, order
Delivery: 1 Working Day(s) (Sat, Sun options)
Expected Delivery Date is Thursday, October 21st

Click to buy or view finance options.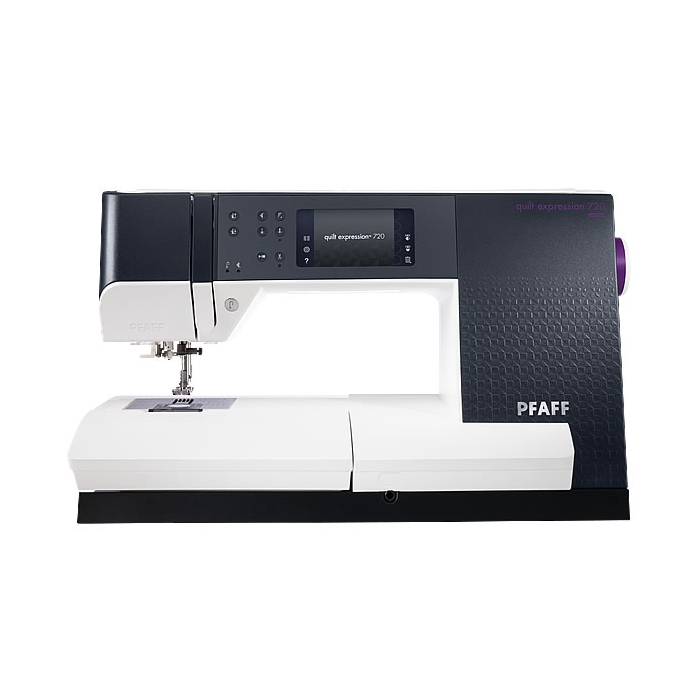 Why choose the Pfaff Quilt Expression 720 from us?




In the past all the research and development that went in to producing the Pfaff Expression range was all about reliability, quality, robustness and stitch perfection, and there was nothing wrong with that but as a result, the Expression range always looked a little bland. Things have changed however with the NEW Pfaff Quilt Expression 720, not only is it a perfect stitcher with unique functions, it's a fabulous looker with a three dimensional panel tapering smoothly catching the light. It really has to be seen and touched rather than viewing a photo.
Now with the full colour touch screen you can view the stitches in real size and see all the sewing information you need on the 70 x 53 mm colour screen. The Pfaff Quilt Expression 720 also benefits from the larger sewing bed which is illuminated by a set of LED's. The electronic thread cutter will save time when coming to the end of a seam or when making quilt blocks.
A bountiful selection of 400+ stitch programs is available, some up to 52 mm wide using the maxi-stitches.  Including 4 fonts in both upper and lower case to personalize projects, lettering and stitch strings of up to 99 sequences can be saved in to the machine's memory.
When 428 patterns are not enough, you can use the stitch creator to customize your very own stitches up to 9 mm wide and view them on screen before you sew a stitch.
Another fantastic way to edit the built in stitches is to use one of the  9mm wide patterns, then select the tapering function to gradually increase or decrease the width to create fantastic effects.
As one would expect from a quilting machine, Pfaff's IDT dual feed system means no separate attachments are needed and it's always ready when needed on delicate, slippery and stretchy fabric or at the other end of the scale giving superior fabric feeding on multiple layers like Denham or brocade.
Its a computerised machine using a fast processor, warning when your bobbin thread in running low. You can sew with the Pfaff 720 as normal using it's foot control or disconnect it and start/stop the machine, using a button. There are no problems with tension as again the computer measures the correct amount of thread for each specific stitch to give fantastic stitch quality on every fabric type.
I know how much quilters love to do free-motion stippling and the Quilt Expression 720 has a program for that too. Pfaff have thought of everything and now you have a setting to automatically raise the presser foot as soon as you lift your foot from the foot control to stop the machine. Use the IDT and extra high foot lifter if needed when sewing multiple layers.
What makes the Quilt Expression 720 special?



It uses the original Integrated Dual Feed - Absolutely even feed of fabric from the top and bottom. The IDT system is ideal for the quilter and sewer. This system works with any stitch forward or reverse at any stitch length or width. The original IDT system from Pfaff is built right into the machine. No need to attach any accessories and It can be easily be disengaged when needed.

 
Two new models are at the leading edge of the expression range by Pfaff. They both offer German design, high quality and reliability. This is the Quilt Expression 720 sewing machine which is the far further upgraded version of the older 4.2 model. The 720 is already destined to be very sort after by quilting enthusiasts.
Accessories: - Knee lift unit, Patchwork edge guide, Sensormatic Buttonhole foot, Manual Buttonhole foot , Zipper foot, Zig-Zag foot, Blind Hem foot, Satin stitch foot, Fancy stitch foot, 1/4" quilting foot, Free hand embroidery foot, Rolled hem foot 3mm, Edge guide, Seam ripper, Set of needles, 4 x Bobbins, Lint brush, 3 x Spool caps, Button sewing tool, Thread net, Bulb remover, Screwdriver, Electronic foot speed control, Hard Plastic cover and Instructions
Specification

| | |
| --- | --- |
| UPC | 7393033101930 |
| Manufacturer | Pfaff |
| Model Number | Quilt Expression 720 |
| Type | Sewing Machine |
| Promotion | £100 Gift Voucher + Free 3-IN-1 Magnifying lamp + Sewing Threads Set -Total Worth £200 |
| Warranty | Manufacturers 5 Year, Our 10 Year Extended Warranty Applies |
| Weight Kg | 9.0Kg |
| Size (Height, Width, Depth) | H32cm x W49cm |
| Variable Electronic Speed Control | Yes |
| Bobbin Access | Top Loading |
| Transparent bobbin cover Bobbin Cover | Yes |
| Hard Carrying or Storage Cover | Yes |
| Automatically Tensions Thread | Yes |
| Integrated Needle Threader | Yes |
| Thread End Cutting | Manual |
| Number of Stitch Selections | 428 |
| Popular Stitch Functions | Straight, Zig-Zag, Multi Zigzag, Blind Hem, Stretch Blind Hem, Rolled Hem, Straight Stretch, Overlock Stretch, Scallop, Ric Rac, Honeycomb, Herringbone, Gathering, Applique, Sew-On Buttons, Quilting Stitches, Basting Stitch, Closed Overedge, Plus decorative patterns |
| Formation of Buttonholes | 1-Step Fully Automatic |
| Variety of Buttonholes | 9 |
| Twin Needle | Included |
| Maximum Speed Limit Adjustment | Yes |
| Needle Up/Down Function | Yes |
| Integrated Dual Feed System | Yes |
| Integrated Fabric Feed Lowering | Yes |
| Hook Movement | Smooth Rotary Action |
| Needle Positions | Left / Right / Centre |
| Tutorial CD / DVD | No |
| Voltage | 220-240 Volts |

Customer Reviews
I have only had time to use it once since it was delivered one day after i ordering. I did find it packed well. I'm happy with my new Pfaff, it sews better than my old 1522, It's a bit heavier also. The stitch looks perfect just as it should be.

I have wanted a pfaff for a very long time. Quite a few of my friends have Pfaffs. I've made one thing so far, and I really love the knee lift, sissor cutter. I love the stitches and the quietness. Truly a great machine.
PFAFF4.2 super fast delivery.

Fantastic machine. Upgraded from older Pfaff and does every thing I require and more. Would recommend to any serious quilter

It's still early days with this machine but overall I am very impressed. It has been bought to replace my Pfaff 1473CD and in most respects the new machine performs much better, especially when creating buttonholes and on decorative stitching. However, I find it tricky to accurately position the needle with the foot in the up position and if I put the foot down I can't move the fabric!!!!!!! perhaps the 'auto foot' is not always such a good thing. The only other problem that I have is that the automatic thread cutting does not always work. Since this was a feature that I was looking forward to using when making quilts I may have to refer back to the suppliers on this one. Trying to insert the 'plug' when using the buttonhole foot can be tricky but a small mirror was all that was needed to solve the problem. Despite my reservations I have no hesitation in awarding the machine 5 stars and I look forward to many years working with it.

After a lot of searching for a new sewing machine, I found the Pfaff range and went for the expression 4.2. I'm very pleased that I made the right choice and I've only had a trial run so far. I'm going to need to experiment some more to get the hang of it. Customer service was very helpful too as I had a little problem with my payment.

Excellent machine. I had always used Pfaff but was foolhardy and veered away to another manufactirer...a huge and expensive mistake! Back to Pfaff. The machine is well built and I would recommend it .

I spent a long time researching the various quilting machines and eventually decided on the Pfaff Quilt Expression 4.2. Delivery was very quick and once I had unpacked it I went through the manual. I also found 2 excellent clips on You Tube that go through the functionality in detail. I would strongly recommend looking for the clips. I have now sewed a few things and I absolutely love the machine!!!! Especially love the scissors, stop/start locking stitch and the super easy needle threading. Would definitely recommend it. I had a Pfaff machine in the past and it is still going strong after 20 years.

Love my new machine, I'm still getting used to it and still haven't tried all the stitches. Very quiet and can be very fast but fortunately for me also can be set to varying speeds. I've only used it for dressmaking as yet but the extra space under the arm is brilliant. Also good is the thread cutter, keep finding a reason to use it! I'm still finding it strange not to lift the leg but press a button, and speaking of which it is better if you place it in the light so you can see the buttons clearly. but it went through 4 thicknesses of canvas stiffening without juddering as my old janome used to do and the automatic tension is so much easier. So I'm glad I went for this machine rather than the Janome 6660p which was my other consideration. All over a well made stable machine.
Oh and good service from Sewing machine sales who answered my queries very promptly.

As someone new to patchwork I was looking for a machine that was easy to use and had everything I needed. This surpassed all expectations, a great machine that makes quilting a joy!

A wonderfully versatile machine. I do a lot of sewing and patchwork/quilting including free motion and it runs beautifully with very even stitches even when doing the free motion. You will need the straight stitch plate and also having the quilt table will make your quilt items easier to handle. Easy to maintain with good access to the bobbin area to remove the lint build-up. The feet are easy to change and the IDT just drops down behind the feet. This is a great accessory if you are doing bridal or heirloom sewing like I do as it means greater fabric control on those high sheen or sheer fabrics. Great buttonhole facility with lots to choose from and very quick to complete. Scissors, start/stop and needle threading are also a must for any quilter.

Why not share your review with others.