Silver Viscount 197 Sewing Machine
WOW, The easy-to-read display and computerised functions make sewing simpler and more enjoyable when creating new and original projects. 197 stitch patterns, including 7 automatic one-step buttonholes and an alphabet


Price

£359.00


Today

£299.00
Free £49 Premium Foot Kit + 197 stitches + alphabets + Bundle Offers
FREE delivery by DPD
, order
Delivery: 1 Working Day(s) (Sat, Sun options)
Expected Delivery Date is Monday, December 6th

Click to buy or view finance options.
Its high spec model with an unbeatable deal & price!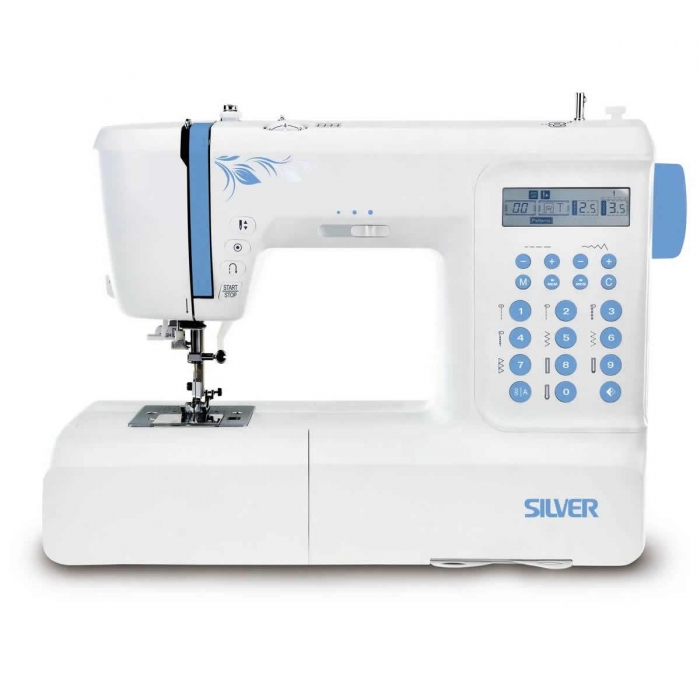 Why choose the Silver 197 from us?




The excellent 197 offers superior quality throughout. Popular with schools and colleges for its robustness and amazing reliability the Silver Viscount 197 computerised sewing machine is also admired for its smooth, quiet and powerful performance. It never fails to impress even the most experienced sewing machine user.

The fully computerised Silver 197 sewing machine is packed full of features including a large LCD information screen, memory banks for multiple stitch characters and alphabets, 197 stitch patterns, including 7 automatic one-step buttonholes and an alphabets including numbers, "UPPERCASE" and "lowercase" letters. Plus a huge accessory compartment, neatly split into 2 sections hidden inside the sleeve arm extension which neatly stores all accessories.
The Silver 197 has been around for years, however we would say it is a truly impressive sewing machine representing great value and a perfect stitcher... so why change a product that performs very very well...!

UTILITY, DECORATIVE, SATIN, DARNING, and EYELET stitches. 7 styles of one-step automatic buttonholes including eyelets. 1 alphabets with upper case, lower case, symbols and numerals.

Elongation function
Satin stitches can be elongated up to five times.

Mirror function
Mirror image varies the performance.

Twin needle function
Twin needle sewing halves the width of stitch patterns and delivers high performance.

Accessories Included
1. All purpose foot (T)
2. Zipper foot (I)
3. Buttonhole foot (D)
4. Overcasting foot (E)
5. Blind hem foot (F)
6. Satin stitch foot (A)
7. Button sewing foot
8. Bobbin (3x)
9. Spool holder (Large)
10.Spool holder (Small)
11.Spool pin felt
12.Second spool pin
13.Screwdriver (L & S)
14.Edge/quilting guide
15.Brush/ Seam ripper
16.Needle (3x)
Soft Dust Cover
Power Cord
Electronic Foot Control
Instruction Book
Warranty Information
Specification

| | |
| --- | --- |
| UPC | 00700461247685 |
| Manufacturer | Silver |
| Model Number | 197 |
| Type | Sewing Machine |
| Promotion | Free £49 Premium Foot Kit + 197 stitches + alphabets + Bundle Offers |
| Warranty | Extended Warranty 10 Years Parts and Labour |
| Weight Kg | 8.5 |
| Size (Height, Width, Depth) | W38 cm x H22 cm |
| Variable Electronic Speed Control | Yes |
| Bobbin Access | Top Loading |
| Transparent bobbin cover Bobbin Cover | Yes |
| Hard Carrying or Storage Cover | No |
| Automatically Tensions Thread | No |
| Integrated Needle Threader | Yes |
| Thread End Cutting | Manual |
| Number of Stitch Selections | 197 |
| Popular Stitch Functions | Straight, Zig-Zag, Multi Zigzag, Blind Hem, Stretch Blind Hem, Rolled Hem, Straight Stretch, Overlock Stretch, Scallop, Honeycomb, Herringbone, Applique, Sew-On Buttons, Quilting Stitches, Plus decorative patterns |
| Formation of Buttonholes | 1-Step Fully Automatic |
| Variety of Buttonholes | 7 |
| Twin Needle | Included |
| Maximum Speed Limit Adjustment | Yes |
| Needle Up/Down Function | Yes |
| Integrated Dual Feed System | No |
| Integrated Fabric Feed Lowering | Yes |
| Hook Movement | Smooth Rotary Action |
| Needle Positions | Left / Right / Centre |
| Tutorial CD / DVD | No |
| Voltage | 220-240 Volts |

Customer Reviews
I had borrowed a friend's Silver 2001 Sewing Machine as I'd been having problems with another make of machine. I wanted to make Self Binding Blankets for our new Grandchild. I really liked the smoothness of the Silver 2001 machine and therefore looked to buy one of the same make. I am new to Computerised sewing and still have a lot to learn and explore with the Silver 197. The performance of the machine is smooth and it is quiet .I love the fact that I can use a slower speed and have more control of what I am sewing but also to use faster speeds when I gain more confidence!. At the moment I am enjoying using the machine to make some cushion covers. I am looking forward to getting more creative with this lovely machine. Customer service was excellent.

New to sewing but loving every second of it and this machine is fantastic I'm slowly getting the hang of things and can't wait to try all the accessories well worth the purchase

What a fantastic machine for the money! Really easy to use with so many stitches. Then to top it all, I got a free set of feet and extension table. I'm loving it! I had some trouble with the automatic needle threader but the company sorted it all out for me with the help of Silver. Service and communication has been brilliant. And there was I wondering if it would be okay buying from the other end of the country. Hell yes, it was!

I ordered my 197 Silver sewing Saturday it was sent Monday received it this morning I have quite a number of sewing machines but this is my favourite so far lovely quiet machine plenty stitches very good quality and FREE extension table I just love I highly recommend Sewing Machine Sales for their service Anne

Bought this machine from recommendation. Thrilled with it. I do a lot of patchwork, quilting and dressmaking. Will make my sewing a lot easier. Excellent service ordered one day arrived the next. Will definitely recommend.

I am more then happy with silver viscount. Excellent service
Fast deliver hassle free and great price plus a free gift.who would not be happy. Would recommend this machine to everyone.
I love it and it is everything one could ask for.

Fantastic machine. Great service delivery was next day. Machine is quiet. And has lots of different stitches. great value for money. looked around before I brought it. This was the best price .

I had a very efficient service from Sewing Machine Sales, I ordered on Sunday afternoon and my new machine arrived on Tuesday. I am delighted with my choice of Silver 197. I have had a much more basic Silver machine for the last 8 years and have been happy with it but now I am retired I have more time and wanted to be more adventurous with my sewing. This machine is amazing, and I would recommend it 100%. The price was right too; I feel I have got a lot of machine for just less than £350, I am sure you can tell I am very happy with mu purchase!

This is a very good machine! It looks great it works very well and the tension is set to 'Spot On' so the stitches are even, top and bobbin. It's more quiet than any of the other 15 machines I have had, modern or vintage. It is light enough for me to be able to easily lift and carry; I have MS. It's easy to thread and the needle threader is a huge bonus! I've made clothing, accessories and soft furnishing already! I've gathered, put zips in, placed buttonholes, narrow hemmed, overcasted, put in elastic and blind hemmed. I've gone through 8 layers of fabric, interfacing and handbag foam with professional looking results.
The needle can be moved sideways up to 14 places for accurate topstitching. I used some of the embroidery stitches on some bag handles I made and they look fab! The needle up/down button is really useful as I tend to sew while watching Netflix, (other online film sites are available) I was only able to spend a certain amount on a sewing machine but I feel as though I spent a lot more, this is one of my lifetime best buy's so far! I spent more on laptops (that I ended up sending back), than on this machine!
I too have had an issue with the bobbin thread nesting and it turned out that I threaded wrongly whilst engrossed in watching whatever was showing on my laptop (the one I kept)! So yes, I'm hooked!
I find it quiet because I keep the top flap open, otherwise, the needle bar hits it while sewing thus increasing the machines noise. This could be a con for some but I only close it when I stop sewing for the day and put the cover on!

Absolutely love this machine! It's fabulous! I did loads of research before purchasing and have yet to read a bad review on either the machine or sewingmachinesales.co.uk, i kept coming back to this one (197) - service and delivery were excellent. I've only had it a few weeks so haven't done loads but so far so good - it's very straight forward and easy to use - I've definitely made the right decision!

Why not share your review with others.