Silver Viscount CH03 WIFI Sewing & Embroidery Machine
If you are looking for a compact sewing and embroidery machine, then Silver CH03 is a steel at the moment. Whether you are experienced or just starting out, you will be able to achieve professional results with this capable stand alone combination machine. With bonus CD and extra designs it will ensure your sewing and embroidery projects will have a personal, unique and professional finish


Price

£999.00


Today

£899.00
FREE £50 Sewing Pack + Wifi + APP + PC Software
FREE delivery by DPD
, order
Delivery: 1 Working Day(s) (Sat, Sun options)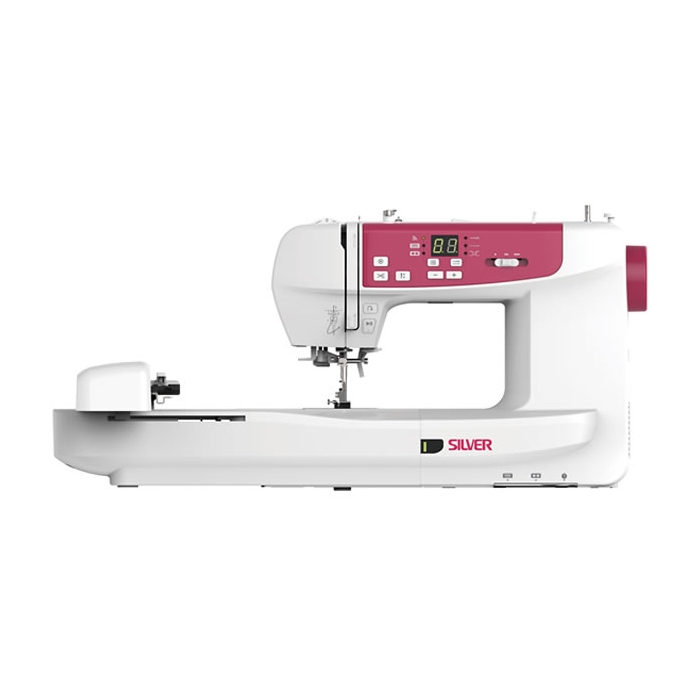 Why choose the Silver CH03 Wifi from us?




The all new affordable Sewing & Embroidery with fantastic features the Silver Viscount CH03 Wifi computerised sewing and embroidery machine touts other machines with its possibilities.  The Wifi CH03 model from Silver is a sewing machine, also an embroidery machine and its new built-in wifi connection makes the transfer of designs from PC, Tablet or Smartphone into the machine very quickly and easily.
SEWING MACHINE SALES EXCLUSIVE OFFER - BUY FROM US AND WE WILL INCLUDE THE FOLLOWING FOR FREE
Bonus CD containing Instruction Videos, 100 Extra Embroidery patterns and Embroidery Software.

Silvers exclusive Stitch Pro App allows wifi direct connectivity, your machine doesn't need to connect to a home wifi network so it won't slow your broadband. The  programme allows you to Select and Import pattern files, Edit Objects such as move, resize, change colour, combine, rotate etc. You can also monitor Embroidery Status with real time notifications being sent direct from your machine to your device to keep you update, you can also watch from your phone the design as it is being stitched out. Allows users to edit, import unlimited different embroidery patterns and check the current embroidery status.
CH03 Sewing mode 
Choose form 130 stitch functions for a variety of sewing tasks, it's not only a embroidery machine, but also a good quality computer sewing machine in it's own right. The automatic button holes even keyhole type, basting stitch, stretch stitch, overlocking, quilting, decorative and satin stitches combine with touch button under-bed top and bottom thread cutter, needle up/down, needle threader, max speed control slider and quick set bobbin together make a top sewing machine at this price.... However there's more, lots more..!
CH03 Embroidery mode
Add professional style embroidery to projects for friends and family, its creative and has 70 in App embroidery designs plus a bonus CD with an extra 100 designs. The machine comes with Two hoops (Small 50x70mm & Large 120x180mm). Also the machine comes with FREE EZ Design Software. Add text from 2 built in Embroidery fonts in upper and lower case including numbers and symbols Combine designs from several categories such as Floral, Animal, Totem, Christmas and many more. There's also built in frames.
Embroideries pdf (opens in new window) built-in the CH03.
Embroideries pdf (opens in new window) included in the software, plus an extra 100 not shown.
Features:
130 regular stitches
Stitch memory
Wifi Connectivity
70 in App embroidery designs
BONUS 100 Designs included
Compatible with .zhs embroidery design format
Easy to use in app instructions
Tutorial videos included
Can be used with or without foot control
FAST bobbin winding system
Built-in top and bottom thread cutter
Super bright LED light
BONUS EZ Design Software (Windows based)
Quick set bobbin
12 x 18cm Embroidery area
800 Stitches per minute (Sewing)
650 Stitches per minute (Embroidery)
Compact size and with Embroidery Unit
7 Point feed
Accessories Included:
1.All purpose foot
2.Zipper foot
3.Buttonhole foot
4.Satin stitch foot
5.Button sewing foot
6.Blind hem foot
7.Overcasting foot
8.Darning/ Embroidery foot
9.Bobbin (3x)
10.Edge/ quilting guide
11.Spool holder (Large)
12.Spool holder (Small)
13.Spool pin felt
14.Second spool pin
15.Pack of needles
16.L-screwdriver
17.Screwdriver
18.Seam ripper/ brush
19.Thread net
20.Embroidery set (120x180mm)
21.Embroidery set (50x70mm)
22.DVD
23.Straight stitch plate
Specification

| | |
| --- | --- |
| Manufacturer | Silver |
| Model Number | CH03 Wifi |
| Type | Sewing & Embroidery |
| Promotion | FREE £50 Sewing Pack + Wifi + APP + PC Software |
| Warranty | Manufacturers 2 Year, Our 10 Year Extended Warranty Applies |
| Weight Kg | 9.5 |
| Size (Height, Width, Depth) | W39 cm x H30 cm |
| Variable Electronic Speed Control | Yes |
| Bobbin Access | Top Loading |
| Transparent bobbin cover Bobbin Cover | Yes |
| Hard Carrying or Storage Cover | No |
| Automatically Tensions Thread | Yes |
| Integrated Needle Threader | Yes |
| Thread End Cutting | Automatic |
| Number of Stitch Selections | 130 |
| Popular Stitch Functions | Straight, Zig-Zag, Multi Zigzag, Blind Hem, Stretch Blind Hem, Rolled Hem, Straight Stretch, Overlock Stretch, Scallop, Ric Rac, Honeycomb, Herringbone, Gathering, Applique, Sew-On Buttons, Quilting Stitches, Plus decorative patterns |
| Formation of Buttonholes | 1-Step Fully Automatic |
| Variety of Buttonholes | 6 |
| Twin Needle | Optional |
| Maximum Speed Limit Adjustment | Yes |
| Needle Up/Down Function | Yes |
| Integrated Dual Feed System | No |
| Integrated Fabric Feed Lowering | Yes |
| Hook Movement | Smooth Rotary Action |
| Needle Positions | Left / Right / Centre |
| Tutorial CD / DVD | Yes |
| Voltage | 220-240 Volts |

Customer Reviews
Fantastic machine!
Did a lot of research before purchasing this sewing/embroidery machine, so glad I did as I cannot fault this machine, its brilliant for an embroidery beginner like me... and it sews like a dream.

This is a superb machine. I have only just received this machine and haven't yet explored all its facilities, but what I have are great. The instruction manual is a must but is fairly easy to follow. I've even been able to create my own design and sew successfully. I read a review before I bought this machine and the writer says it is addictive. She was right. :0)

I had never used a machine for embroidery before - what an eye-opener. My old standard machine was just about worn out from the miles of dress-making that I do, and I wanted to embellish some of my work with embroidery. I did a lot of on-line research and found that the Silver CH03 was the perfect machine for me. I have had it just a week but already love what it can do. I don't know if I will ever use all the stitches available, but to have the variety and the option of downloading further embroidery designs is so exciting. Like anything new it takes a bit of getting used to but I don't foresee any problems. I am also very new to the push button start/stop - amazing! I am disabled and cannot walk much. My legs get very weak and I can see that this button will mean I can carry on sewing even if I can't use the pedal. I can thoroughly recommend this machine and wish I'd bought one a long time ago.

I have been sewing for several years and found that this machine is perfect for all my needs, in both sewing and embroidery. It is quite easy to use for the beginner and experienced sewers. The embroidery part is excellent. I would not hesitate in recommending this machine to all levels of experience.

LOVE LOVE LOVE IT! I have only ever used a very simple sewing machine before, but I am finding my feet with this machine very quick, the instructions booklets are very easy to follow. I was blown away by how many embroidery patterns I have been given and accessories! My only mention is when buying this make sure it has what you need included, I've had to buy a walking foot for quilting and free motion foot for free motion quilting, as they didn't come with the machine.

Love my machine. Its so easy to use.

What a great machine! It took 3 working days to get to me but well worth the wait. Nice lightweight machine. Easy instructions to follow. Nice stitching. Can't praise it enough.

This Machine is totally awesome - easy to use straight out of the box and produces excellent stitching both in sew mode and embroidery mode - I wish I had one of these years ago.

Customer Service was excellent and I would recommend to ALL of my friends

Great little machine delivery was 2 days after I ordered ,sews beautiful had a go on the embroidery unit, was given some old embroidery designs I wasn't expecting them to work well happy that they did it.

Excellent machine and service. Shame I couldn't find my discount code after buying an overlocker recently! Small in dimensions, but huge in number of features. I can't stop using it!

Why not share your review with others.