Singer 2273 Sewing Machine
At the top of the tradition range, the Singer 2273 has one big benefit over its lesser counterparts, it has a built-in fully automatic button hole in a one step sequence and solid construction but still only weighs in at 9kg


Price

£219.00


Today

£189.00
FREE £30 Bundle + 10 Year Warranty & FREE UK Delivery
FREE delivery by DPD
, order
Delivery: 1 Working Day(s) (Sat, Sun options)
Expected Delivery Date is Monday, December 6th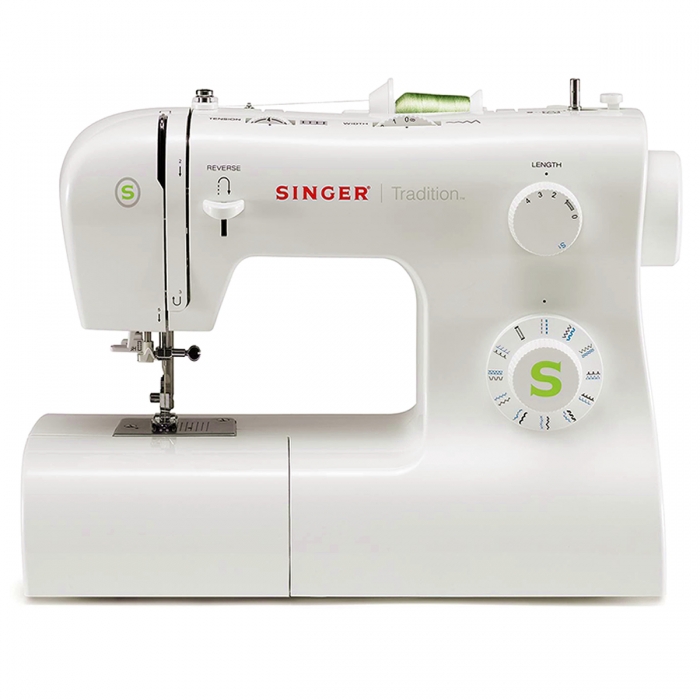 Why choose the Singer 2273 from us?




With tradition styling and a modern look, it has been designed with simplicity in mind and its features show it is one of the best sellers in the tradition range. An automatic needle threader makes it simple to thread and it's strong with an Alloy body meaning it'll last for years. In fact the Singer 2273 has been a success and has many time saving features to make stitching simple and fun.
Added functions like 1 step automatic button hole, may not sound much, but let me explain. Often when needing to sew a button hole, 9 times out of 10 you will have to sew more than one, thats where the automatic button hole function comes into play. Pop the button into the back of the special foot and every buttonhole will be the exact same size as the first.
Simple yet very user friendly, light weight with easy to carry handle and soft cover, the bobbin loads from the front and the thread spool is horizontal  for better smoother thread delivery, giving the ability to use many different sized spools of thread.
Accessories are stored in the removable extension rest, the accessories include:
One-step automatic button hole foot,
Zipper foot,
Zigzag foot,
Button sewing on foot,
Two spool caps,
Bobbins and needle pack,
Feed dog cover,
Lint brush,
Seam ripper,
Machine dust cover,
Foot controller, 
Step-by-step instruction book.
The Singer 2273 Tradition has 23 stitch functions and loaded with other options allowing free-motion embroidery with the edition of the correct foot for the project in hand, quilt stitch, crescent stitch and lovely satin stitch, for decorative applique by using the electronic foot control, which guarantees consistent sewing speed with no jump starts.
Specification

| | |
| --- | --- |
| UPC | 374318824000 |
| Manufacturer | Singer |
| Model Number | 2273 |
| Type | Sewing Machine |
| Promotion | FREE £30 Bundle + 10 Year Warranty & FREE UK Delivery |
| Warranty | Extended Warranty 10 Years Parts and Labour |
| Weight Kg | 7 |
| Size (Height, Width, Depth) | W38 cm x H22 cm |
| Variable Electronic Speed Control | Yes |
| Bobbin Access | Front Loading |
| Transparent bobbin cover Bobbin Cover | No |
| Hard Carrying or Storage Cover | No |
| Automatically Tensions Thread | No |
| Integrated Needle Threader | Yes |
| Thread End Cutting | Manual |
| Number of Stitch Selections | 23 |
| Popular Stitch Functions | Straight, Zig-Zag, Multi Zigzag, Blind Hem, Stretch Blind Hem, Straight Stretch, Overlock Stretch, Scallop, Ric Rac, Honeycomb, Herringbone, Applique, Sew-On Buttons |
| Formation of Buttonholes | 1-Step Fully Automatic |
| Variety of Buttonholes | 1 |
| Twin Needle | Optional |
| Maximum Speed Limit Adjustment | No |
| Needle Up/Down Function | No |
| Integrated Dual Feed System | No |
| Integrated Fabric Feed Lowering | Yes |
| Hook Movement | Oscillating Action |
| Needle Positions | Left / Centre |
| Tutorial CD / DVD | No |
| Voltage | 220-240 Volts |

Customer Reviews
After researching what would be both a good starter and intermediate machine (as I hopefully improve) I opted for this Singer 2273.

I watched many YouTube tutorials and began my sewing journey. I am over the moon and loving this machine. Sturdy, smooth, nice size with a great automatic needle threader (YouTube helped me here too).

It was delivered in UNDER 24 hours, I received it on a Sunday! Thank you very much Sewing Machine Sales, I am so happy and have made 3 items already, even my other half was impressed, doesn't look like I've made them haha! A*

Happy with my Singer Sewing Machine purchase. A really good price for a machine that meets my needs with great service from this supplier.

Not tried it yet but looks good

The 2273 Singer sewing machine is brilliant, it came very well packed in a good strong box. I can recommend this machine.

This is a birthday gift, so unable to review the machine itself. But the ordering process was easy, the delivery expedient.

Excellent sewing machine, great service with speedy delivery.

Very happy with the sales service. I ordered and received the machine within 24 hrs. Great little machine and perfect for what I need it for and a good upgrade from my singer 1507. I would definitely recommend .

Great little machine and well wort the money

really well made sturdy machine. Some of the components in my last machine were made of plastic. Not so with this machine, they are metal. Finish is great, and the knobs etc. are easy to see and use

Lovely machine, better than I expected. Great service.

Why not share your review with others.