Singer Simple 3232 Sewing Machine
1
Review
Average rating 5.0 out of 5 Stars.
Ideal as a machine to pull out and use, it has simple operation, so much so Singer have named it the 3232 Simple. It looks great and stitches very well for a sewing machine of this quality. It uses clip-on type feet and has a built-in needle threader


Price

£249.00


Today

£199.99
Lightweight model
FREE delivery by DPD
, order
Delivery: 1 Working Day(s) (Sat, Sun options)
Expected Delivery Date is Monday, January 24th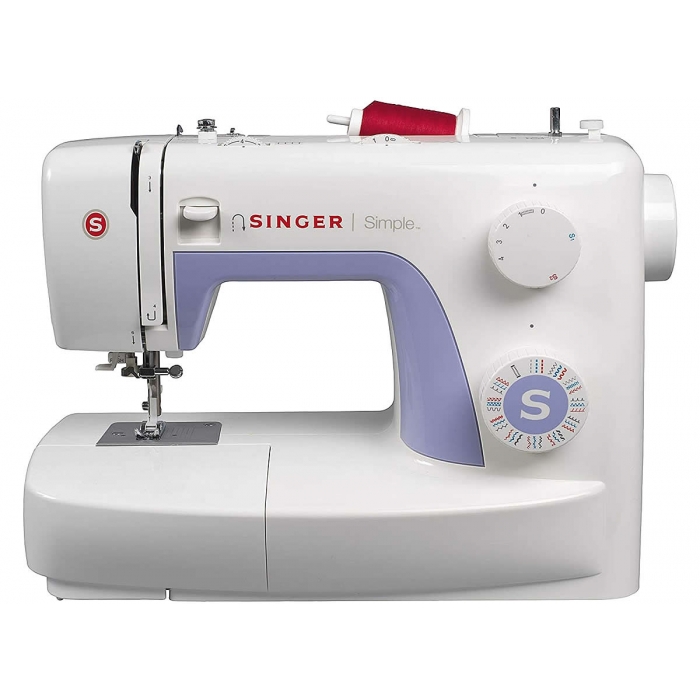 Why choose the Singer Simple 3232 from us?




The Singer Simple 3232 is a compact strong sewing machine. You can stick it back in it cubby hole once you are done and admire your stitching, perfect for the odd job and the bigger projects. With loads of stitches on this machine you will be able to tackle most household sewing projects with this little treat. Perfect for home deco, dressmaking and crafts the 3232 is an ideal robust utility mechanical machine with an aluminum internal frame.
It's all in the name the Singer 3232 has that's right you guessed it, 34 stitches is what you get? Including a 1-step buttonhole. For every utility stitch you have there is a stretch/decorative stitch to select as well and with 11 different stitch patterns to choose from you are spoilt for choice when is comes to compact variety.
There are a few handy features which will help with the setup and operation of this machine such as the cleverly depicted and easy to follow threading guide on the machine along with the automatic needle threader no more stressing over threading the fine eye of a sewing machine needle any more.
Adjustable stitch width and length for stitch customisation and I would not be without the handy built-in needle threader to save time and effort while threading the needle eye.
A slide off free arm extension and accessory storage box to hide away all of the accessories that come with this machine, 4 x utility presser feet and attachments, darning plate, bobbins spool pins, needles, screwdrivers and brushed which can all be covered up nicely under the included dust cover. 


Accessories Included:
All-Purpose Foot.
Zipper Foot.
Buttonhole Foot.
Button Sewing Foot.
Seam Ripper with Lint Brush.
Edge/Quilting Guide.
Needles.
Thread Spool Caps.
Bobbins.
Screwdriver.
Darning Plate.
Soft-Sided Dust Cover.
Machine Intro DVD.
Instruction Manual with Stitch Guide.
Foot Control.
Power Cord.
Specification

| | |
| --- | --- |
| UPC | 0374318838410 |
| Manufacturer | Singer |
| Model Number | Simple 3232 |
| Type | Sewing Machine |
| Promotion | Lightweight model |
| Warranty | Extended Warranty 10 Years Parts and Labour |
| Weight Kg | 7 |
| Size (Height, Width, Depth) | W41 cm x H32 cm |
| Variable Electronic Speed Control | Yes |
| Bobbin Access | Front Loading |
| Transparent bobbin cover Bobbin Cover | Yes |
| Hard Carrying or Storage Cover | No |
| Automatically Tensions Thread | Yes |
| Integrated Needle Threader | Yes |
| Thread End Cutting | Manual |
| Number of Stitch Selections | 32 |
| Popular Stitch Functions | Straight, Zig-Zag, Multi Zigzag, Blind Hem, Stretch Blind Hem, Straight Stretch, Overlock Stretch, Scallop, Ric Rac, Gathering, Applique, Sew-On Buttons, Closed Overedge |
| Formation of Buttonholes | 1-Step Fully Automatic |
| Variety of Buttonholes | 1 |
| Twin Needle | Optional |
| Maximum Speed Limit Adjustment | No |
| Needle Up/Down Function | No |
| Integrated Dual Feed System | No |
| Integrated Fabric Feed Lowering | No |
| Hook Movement | Oscillating Action |
| Needle Positions | Left / Right / Centre |
| Tutorial CD / DVD | No |
| Voltage | 220-240 Volts |

Customer Reviews
A great little machine, light and easy to use.

Why not share your review with others.