Janome J3-18 Sewing Machine
A good choice as a basic sewing machine for general use, the Janome J3-18 is the first in the J3 range. This machine has the same built quality as a £700 Janome! but less features as you would expect.
*LIMITED STOCK AVAILABLE*
FREE delivery by DPD
, order
Delivery: 1 Working Day(s) (Sat, Sun options)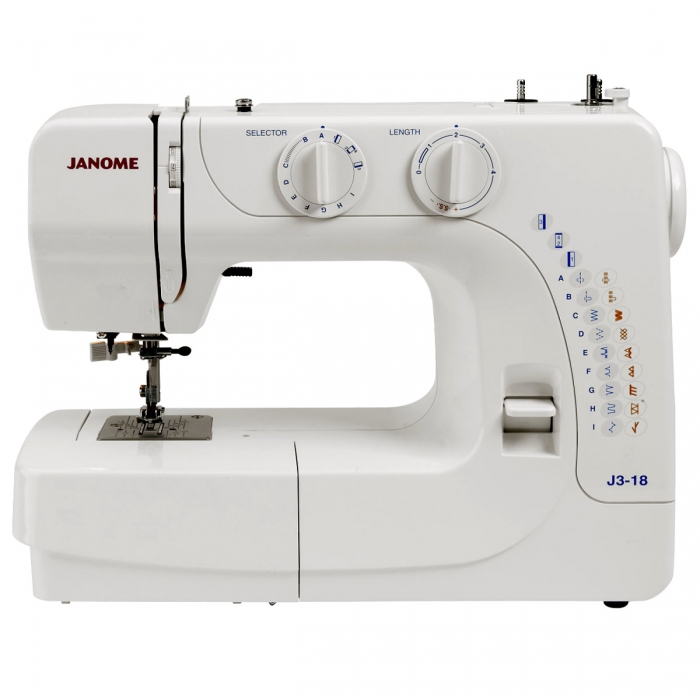 Why choose the Janome J3-18 from us?




Its a  lightweight portables sewing machine with a choice of eighteen stitches including button holes and eight stretch stitches for modern stretch type materials. We like is the patterns are imprinted on the machine front, so to select a pattern is as easy as "ABC" using one of the two dials, the other dial adjusts the stitch width.
As commonplace with all the J3 series is a front loading bobbin case which easily converts to free arm by removing the detachable storage box.
Sew an automatic buttonhole in a 4 step sequence, straight stitch, variable zig zag stitch and two spool pins to allow twin needle sewing, it not only makes an ideal starter basic machine because it is so easy to use but would also suit the serious hobby sewer.

Threading is no longer a burden, follow numbered thread path gets you down to the needle where the built in automatic needle threader gets the job done in seconds. When having to sew through many layers like you would when quilting, the extra high foot lifter comes in handy as does the clip-on feet for quick foot changing.
All this plus quick foot change, a reverse stitch lever, a one-hand thread cutter and drop feed facility for free hand embroidery, all add up to make this lightweight Janome J3-18 a great starter machine.
The convenient free arm allows easy access to difficult areas and is ideal for sewing sleeves and trouser legs.
The extra height foot lifter increases the height of the foot and allows for extra bulky fabrics
The Janome J3-18 has 2 handy pull up/push down spool pins for ease of use and safe storage. And because there are 2, you can really be creative using twin needles.
Easy to thread and operate, this 2 dial machine is simplicity itself. Sew an automatic buttonhole in a 4 step sequence, straight stitch, variable zig zag stitch or one of the other stitches using the stitch selector and choose the most appropriate stitch length using the stitch length dial. There are also 18 stretch stitches to choose from.
It is supplied with a soft cover, instruction manual, foot control and accessory pack, needles, bobbins, screw driver, button hole foot and zag zag foot and weight is only 7kg, light enough to lift on to a table.
Key Features:
18 stitch selections
Variable stitch length
Variable zig zag width
4 step buttonhole
Needle threader
Drop feed facility
Included Accessories:
Zig Zag Foot
Buttonhole Foot
Screwdriver
Set of Needles
Seam Ripper
Bobbins
Soft cover
Foot Control
Instriction Manual
Specification

| | |
| --- | --- |
| UPC | 5027843100914 |
| Manufacturer | Janome |
| Model Number | J3-18 |
| Type | Sewing Machine |
| Promotion | *LIMITED STOCK AVAILABLE* |
| Warranty | 2 Years Full Manufacturers Warranty |
| Weight Kg | 7 |
| Size (Height, Width, Depth) | W39 cm x H29 cm |
| Variable Electronic Speed Control | No |
| Bobbin Access | Front Loading |
| Transparent bobbin cover Bobbin Cover | No |
| Hard Carrying or Storage Cover | No |
| Automatically Tensions Thread | No |
| Integrated Needle Threader | Yes |
| Thread End Cutting | Manual |
| Number of Stitch Selections | 18 |
| Popular Stitch Functions | Straight, Zig-Zag, Multi Zigzag, Blind Hem, Stretch Blind Hem, Straight Stretch, Overlock Stretch, Scallop, Ric Rac, Honeycomb, Applique, Sew-On Buttons |
| Formation of Buttonholes | 4-Step Sequence |
| Variety of Buttonholes | 1 |
| Twin Needle | Optional |
| Maximum Speed Limit Adjustment | No |
| Needle Up/Down Function | No |
| Integrated Dual Feed System | No |
| Integrated Fabric Feed Lowering | Yes |
| Hook Movement | Oscillating Action |
| Needle Positions | Centre Only |
| Tutorial CD / DVD | No |
| Voltage | 220-240 Volts |

Customer Reviews
At the moment I can only review the service given as the machine was bought as a gift and has not as yet been given but if it is anything like the service and delivery it will be 5 star. I will add to this review when my daughter (a novice) has used the machine.

I upgraded to the J3-18 after owning a previous Janome for eight years. This machine is very easy to use and the instructions are well written and clear. I find the needle thread especially useful and the motor is very quiet. It arrived within the specified time and communication from this Company was first class. I would highly recommend this sewing machine and Company.

Service was good, apart from the foot ordered was not delivered with the machine, disappointing as was needed for a class the following day. They did deliver the next day which was to late.
Although a problem would use them again.

I ordered this machine but actually there was an offer for a free upgrade to the J3-20 so I took that instead. Super happy with it! Great one step buttonhole feature, lots of extra machine feet, easy to use. Excellent service!

This sewing machine is exactly what I expected, a simple easy to use design for the sewing needs of a first time sewing machine user;-) Others have said its heavy I've not found this to be the case, very portable with the carry handle, really easy to set up too;-) The delivery was on time and left in a safe location as I was out at the time, so no chasing it!! One very happy and satisfied costumer;-) I'll definitely be returning when needing accessories etc;-)

Thank you for your excellent service. Ordered on Tuesday lunchtime, received my sewing machine on Wednesday lunchtime. I find the machine easy to thread, operate and light to move from one room to another. It is a very good basic machine, just right for my type of sewing ability.

fab machine but I just struggle sometimes with the needle threader

Although I ordered this item for someone else I did recommend your site and the Sewing Machine as I bought one from you when I was living in Cyprus in June 2006. I still have that sewing machine and wouldn't part with it, I bought a Janome Jem. I ordered it and it arrived within a couple of days, what fantastic service, and your service is second to none.

Excellent machine, study, durable and simple to use. Support of staff brilliant, very helpful

Brilliant light weight machine, next day delivery as stated. Instructions very easy to follow for set up and easy to follow for basic sewing. I am a nocvice at using machines and have found this one great. My mother has a New Home 29 yrs old and has the same set up. I am a very happy customer, excellent service!!!!

Why not share your review with others.