Pfaff Creative 4.5 Sewing & Embroidery Machine
Latest 2021 model - powerful sewing machine with large embroidery unit. Combined, the Creative 4.5 is a very capable machine for sewing, embroidery, quilting and more.

Click to buy or view finance options.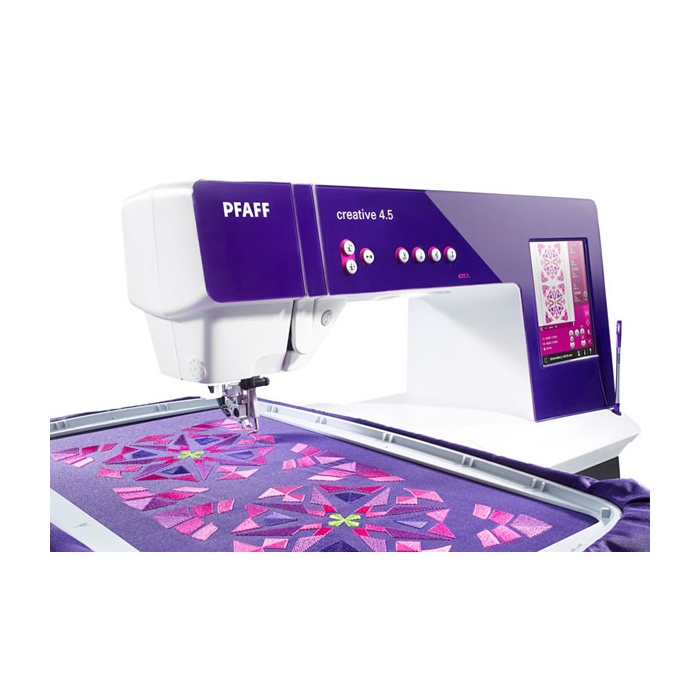 Why choose the Pfaff Creative 4.5 from us?




COVID-19 UPDATE:
While courier companies are making every effort to deliver within a standard operating time frame, this is not always possible. Deliveries may be delayed. more info.
As soon as you flick on the switch and wait 4 seconds, the synchronisers rotate and after a few movements of the needle bar, the vibrant colour touch screen blasts into life. You can really tell this is the Rolls Royce's of sewing machines. The new Pfaff Creative 4.5 has arrived. It boasts ribbon stitches, stitch creator, precise positioning and the long arm sewing bed that is becoming a must-have when stitching larger projects.
With the embroidery unit, together you have a fantastic piece of equipment, designed to sew all kinds of materials whether you are customising home furnishings, modifying clothes or creating something from scratch...this machine will fulfil your every desire.  With the embroidery unit it gives the option to embroider 270 beautiful designs. Each can be placed exactly where you want using Pfaff's precise positioning. It has also been designed to sew 30% faster thanks to exact tolerances and no error manufacturing techniques. Yes, it will cut the jump stitches between colour changes. Plus you can edit designs on screen. Editing options are: mirror, rotate, scale designs without changing stitch count, group design elements, edit or even single stitch edit, undo/redo function, change thread colours or sew in a continuous colour without a stop. A nice feature I like to use often is the built-in basting. This allows you to baste either around the hoop edge or around the design edge. Both will hold the fabric and stabilizer secure in the hoop so there is far less material movement whilst the design is being sewn. When buying the machine with the embroidery unit it gives the opportunity to use the Windows PC based design organiser software.
Pfaff's IDT feed system...
The IDT or Integrated Dual Tranportation system is an added bonus on this machine. This 'even feed' set up allows your fabric to be moved between the presser foot and the stitch plate, so thats both the top fabric and the bottom fabric in a synchronised motion to prevent uneven seams, puckering and slippage.
Without the embroidery unit, it offers a huge 480 stitch patterns, including maxi stitches up to 48mm wide. Regular sewing machines sew a 5 or 6mm wide stitch. Not so with the Creative 4.5, you can sew up top 9mm wide when stitching out decorative stitches. The new ribbon stitches are fantastic; watch the short video we made showing how to sew one of these new built-in ribbon stitches.
Using the stitch creator gives you the ability to build your very own 9mm wide decorative stitches. Imagine any stitch you have seen in the past or maybe a design that has been in your head for a long time, well now you have the ability to design it and sew it out yourself.!
The Creative 4.5 can also taper decorative patterns. It has specific patchwork programs that can even remember the exact seam length then repeat it over and over again. Sewing applique is easy too, the stitch density can be adjusted. 
Other computerised features include, both top and bobbin thread cutter, needle up/down, start/stop button, max speed controller, free-motion modes, stacking stitches, knee lifter, top and bobbin thread sensors, LED lights, automatic presser foot lifter, memory, accessory tray x 2.
Accessories include a good selection of feet:
Standard presser foot with IDT system 
Fancy stitch foot with IDT system 
Fancy stitch foot 
Blindhem foot 3 with IDT
Zipper foot with IDT system 
Sensormatic buttonhole foot 
Manual buttonhole foot 
Embroidery/Sensormatic free-motion foot 
Dynamic spring foot 1/4" quilting foot with IDT system 
Maxi-stitch foot
Edge guide
Other accessories include: Stylus, USB Embroidery stick, Screwdriver, Seam ripper, Brush, Spool caps, 10 x Bobbins, Knee-lift, Windows PC Software (downloadable), Foot control, Power cord, USB cord, Needles and Hard Cover
The Large Embroidery unit contains: Large embroidery unit, USB memory stick (storage for over 1000 designs), CD with over 100 beautiful designs, Three embroidery hoops, large hoop 360 x 200 mm, 240 x 150 mm, also square hoop 120 x 120 mm, Instruction manual and colour designs book, Hard protective cover and padded case for the large embroidery unit.
Specification

| | |
| --- | --- |
| UPC | 7393033088606 |
| Manufacturer | Pfaff |
| Model Number | Creative 4.5 |
| Type | Sewing & Embroidery |
| Warranty | 5 Years Full Manufacturers Warranty |
| Weight Kg | 10.0Kg |
| Size (Height, Width, Depth) | H32cm x W49cm |
| Variable Electronic Speed Control | Yes |
| Bobbin Access | Top Loading |
| Transparent bobbin cover Bobbin Cover | Yes |
| Hard Carrying or Storage Cover | Yes |
| Automatically Tensions Thread | Yes |
| Integrated Needle Threader | Yes |
| Thread End Cutting | Automatic |
| Number of Stitch Selections | 480 |
| Popular Stitch Functions | Straight, Zig-Zag, Multi Zigzag, Blind Hem, Stretch Blind Hem, Rolled Hem, Straight Stretch, Overlock Stretch, Scallop, Ric Rac, Honeycomb, Herringbone, Gathering, Applique, Sew-On Buttons, Quilting Stitches, Basting Stitch, Closed Overedge, Plus decorative patterns |
| Formation of Buttonholes | 1-Step Fully Automatic |
| Variety of Buttonholes | 15 |
| Twin Needle | Included |
| Maximum Speed Limit Adjustment | Yes |
| Needle Up/Down Function | Yes |
| Integrated Dual Feed System | Yes |
| Integrated Fabric Feed Lowering | Yes |
| Hook Movement | Smooth Rotary Action |
| Needle Positions | Left / Right / Centre |
| Tutorial CD / DVD | No |
| Voltage | Dual Voltage 110-240 Volts |

Customer Reviews
As others have said this is a dream of a machine, with a huge working space. I am still working through a stitch book, 2 weeks after purchase, as it can do so much. Great service from Sewing machine sales, Thank you.

This is a Dream machine, has so many functions that you could never be bored with it. I found it easy to work and the quality of it's work is the best I have seen. I also love that its area is massive to the last embroidery machine I owned. For me this IS my dream machine.

What is not to love about this magnificent machine. I am especially going to love the fact that the jump stitches in embroidery works are cut away--the most tedious of tasks facing anyone working on older machines. I love all the cutting-edge options of things it can do like crochet--would you have ever thought you could crochet on an embroidery machine? There is a cutwork program, too--it actually takes out all those little intricate pieces as it sews! All we are left to do, once the piece is completed, is snip a thread here and there--Hooray! It also does quilting, stippling, and many other tasks that were once left up to the creator of the project to complete by hand. All that and more, saying nothing of all the wonderful tasks it accomplishes on the non-embroidery side--one-step "automatic" buttonholes, even-feed option for perfect seams, and special care for bulky sewing projects, along with a myriad of options for embroidery without the embroidery attachment! It seems to be everything to everybody--the machine for which we have been looking for a long, long time!

Why not share your review with others.