Pfaff Creative Icon Sewing & Embroidery Machine
1
Review
Average rating 5.0 out of 5 Stars.
It's a revolution in sewing, new and larger than ever, Pfaff have the market leading Creative Icon ready to amaze, with it's tablet like screen...but hey...no stylus needed here! 69% larger sewing area together with some beautiful ribbon and floating stitches. WiFi connection and cloud embroidery design storage and smartphone digitizing app. This Pfaff Creative Icon most definitely has the WOW factor!


Price

£8,499.00


Today

£6,499.00
SAVE £2000 - Expected November/December
Pre Order Now. Delivery date to be confirmed, order

Click to buy or view finance options.
We have a limited number of these fantastic machines available with a huge saving.
Limited number available with £2000 OFF
Delivery timescale is approx November / December. Initial quantities are low so if you fancy one, please get your order in ASAP
Call 0191 2525825
IMPORTANT NOTICE:
Due to high demand this model is only available to pre-order.
Pre-ordering is essential to book the earliest delivery timeslot.
The stock due timescale may be subject to change more info.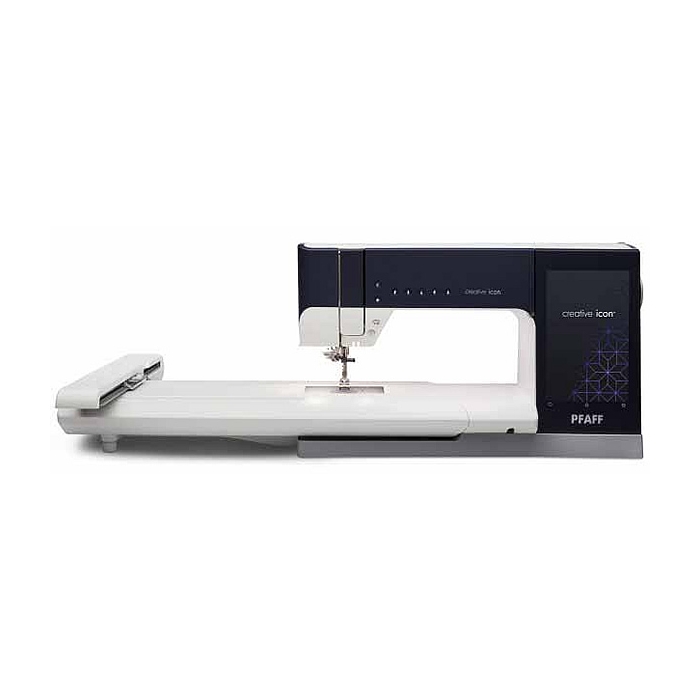 Why choose the Pfaff Creative ICON from us?




After it's launch in Las Vegas and dealer training around the world, there has been lots published about the tremendous Pfaff Creative Icon and now it is available here to purchase.
The wait has been worth while...simple improvements like the new feed dog, which now has 5 fabric feeding dogs in front of the needle, so even without the IDT being in place, the machine really does control the forward movement of the material very well indeed. Another new feature, the sewing enthusiast will love, is the press button needle threader and the telescopic thread guide enabling you to use larger thread cones.
Be sure to check out our videos coming shortly to this page… that reminds me, there is a range of tutorial videos you can bring up on screen whilst stitching and just like a regular youtube video, if needed, you can pause it as you are following the tutorial; its like having a teacher sitting next to you, helping when needed. The 'How to' videos include threading top and bobbin threads, setting up for embroidery, how to ribbon, radiant or the tremendous floating stitches. You can even search the help section just like you would on a regular website.
No need to use a stylus to navigate round the tablet like, 10.1", full colour screen, Pfaff have gone a step further and created the first tablet like screen. You can swipe, zoom, pinch and personalise the screen lay-out by changing background colour, turning grid on/off, moving menus, using metric or imperial measurements and even move the stitch manipulation window to a different place on screen. There's hundreds of on screen customisations possible.
For users like myself, I think adding the tablet like controls together with dropping icons and replacing with descriptive words, makes for easier navigation and a faster way of working on a sewing machine. Pfaff, it's a game changer!
In the past, selecting a sewing stitch used to entail looking for the small arrow, which may have been at the top or bottom of the screen. To switch between stitch menu pages, now a quick swipe of the screen is all that is needed… what a huge difference for the better in the user interface.
Its definately not a small sewing machine, infact it's probably one of the largest, with a huge 12.2" workspace to the right of the needle and 5.5" height gap, so it should be suitable of any quilting project. The chassis has been engineered for strength and the machine uses a counterbalance to reduce vibration. Because vibration has been reduced, the Creative Icon is much quieter when stitching at speed than past models.
Pfaff's exclusive ActivStitch and IDT system is still present but it has been enhanced, giving perfectly balanced stitches no matter how many layers or fabric thickness. IDT or Integrated Dual Transportation system remains one of Pfaff's most 'Iconic' features. Feeding fabric from top and bottom, the engagement of the IDT feed prevents sliding of fabric during stitching.
The rubberised accessory storage compartment in the slide off sleeve arm and the placement of the straight stitch plate, is a nice touch.
Use the Icon's WiFi connectivity together with a smart phone app (Apple or Android), available to Pfaff Icon owners, to get alerts, sewing status updates in real time, directly to their smart phone. Save or retrieve embroidery designs from "your" mySewnet cloud storage directly to the machine. The other app function ImageStitch we have found invaluable, when out and about or in the garden. Use your smartphone to take a picture and the ImageStitch app automatically digitizes to a .VP3 embroidery design file which can be saved to mySewnet. Later, when you return to your sewing room, it's ready to be sewn out using the Pfaff Creative Icon.
With over 800 stitches available, including 10 ribbon, 23 floating, 13 radiant, 30 stacking and 6 lace edge stitches... if they don't get your creative juices flowing, open up one of the stitches in stitch customiser and modify it directly on screen. It really has the… 'OMG it is amazing' factor!!!

All information written in this description is formed from our own experience and written in our own words solely for the knowledge and viewing of of our customers and not distribution or to be copied, shared or used for any other purpose. The above text and imagery remain the intellectual property of singer machines ltd trading as www.sewingmachinesales.co.uk for more info on our copyright policy please visit our terms and conditions.
Specification

| | |
| --- | --- |
| Manufacturer | Pfaff |
| Model Number | Creative ICON |
| Type | Sewing & Embroidery |
| Promotion | SAVE £2000 - Expected November/December |
| Warranty | 5 Years Full Manufacturers Warranty |
| Weight Kg | 15.5Kg |
| Size (Height, Width, Depth) | H32cm x W49cm |
| Variable Electronic Speed Control | Yes |
| Bobbin Access | Top Loading |
| Transparent bobbin cover Bobbin Cover | Yes |
| Hard Carrying or Storage Cover | Yes |
| Automatically Tensions Thread | Yes |
| Integrated Needle Threader | Yes |
| Thread End Cutting | Automatic |
| Number of Stitch Selections | 800+ |
| Popular Stitch Functions | Straight, Zig-Zag, Multi Zigzag, Blind Hem, Stretch Blind Hem, Rolled Hem, Straight Stretch, Overlock Stretch, Scallop, Ric Rac, Honeycomb, Herringbone, Gathering, Applique, Sew-On Buttons, Quilting Stitches, Basting Stitch, Closed Overedge, Plus decorative patterns |
| Formation of Buttonholes | 1-Step Fully Automatic |
| Variety of Buttonholes | 19 |
| Twin Needle | Included |
| Maximum Speed Limit Adjustment | Yes |
| Needle Up/Down Function | Yes |
| Integrated Dual Feed System | Yes |
| Integrated Fabric Feed Lowering | Yes |
| Hook Movement | Smooth Rotary Action |
| Needle Positions | Left / Right / Centre |
| Tutorial CD / DVD | No |
| Voltage | Dual Voltage 110-240 Volts |

Customer Reviews
This is an amazing sewing and embroidery machine. A lot of money to spend but after dithering for two years I am glad I made the decision to replace my old machine that was over 30 years old. My first ever machine was a Pfaff and I missed the IDT system when I replaced it with a Brother machine. I do a lot of quilting and using the Pfaff IDT system is so much better than a cumbersome walking foot that was always a bother to take on and off. The Pfaff Creative Icon also sails through the thicker layers of my quilting where numerous blocks meet - no more skipped stitches. I have not had the machine long so I am still learning how to use it but I am finding the in built manual and 'how to do it' tutorials very helpful as they have the correct info for what foot to use, and at a press on the screen the machine selects the correct stitch settings without having to do anything else. I don't need to explain all the features of this machine as you can get that on line from Pfaff, but as this is a very advanced machine I know it will be a long time before I get to grips with all its possibilities. So far, in the month I have had it I have done quilting, ordinary sewing, learnt how to do machine applique, designed my own embroidery stitch out, and my latest project involves free motion embroidery. The fact that I can leave the embroidery unit in place whilst sewing is a plus point too as my old machine did not allow that. The larger bobbin is also a plus. My only gripe is that there are still some extra feet I will be buying that I feel should be included as standard when you consider how much you are paying for this machine.
This machine has enabled me to fire up my imagination and take my mind off what is at the moment a very difficult and troubling time. If like me you are familiar with today's technology then learning to use this machine, despite how advanced it is should be straight forward. It took me a long time to decide on this machine, but I am happy that I did. The hardest part was having to wait for delivery as the machine was shipped from Germany. When it did arrive,( in two very large boxes) Pfaff had unfortunately sent the wrong embroidery unit but the problem was quickly sorted by the team this end, and the replacement arrived in just over a week.

Why not share your review with others.