Silver Reed SK840 Electronic Knitting Machine (Standard Gauge)
Needles are 4.5 mm apart and are classed as standard gauge. This SK840 is an electronic controlled machine and knits yarns up to and including 4 ply and some fine double knit yarns. With the additional software you can knit ANYTHING!


Price

£1,099.00


Today

£1,049.99
FREE INSTRUCTIONAL DVD INCLUDED!
FREE delivery by DPD
, order
Delivery: 1 Working Day(s) (Sat, Sun options)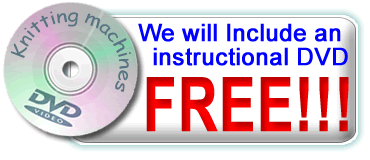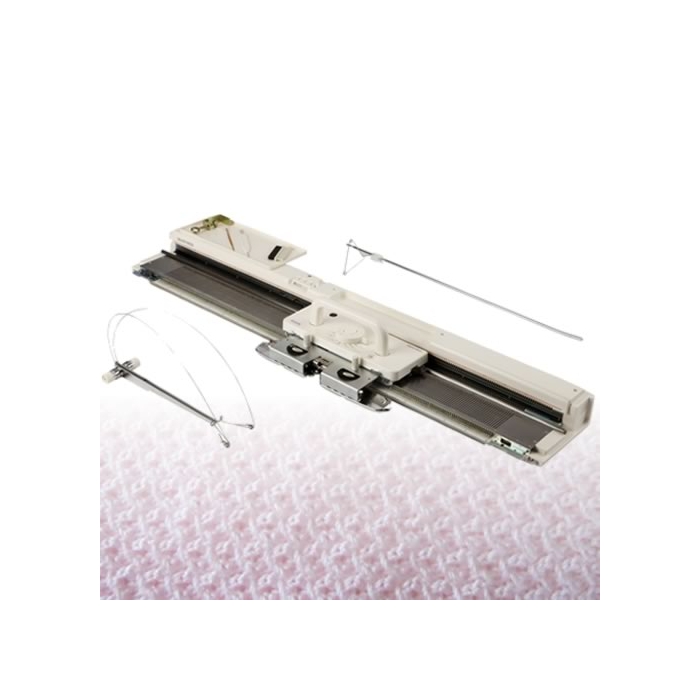 Why choose the Silver Reed SK840 from us?




This is top-of-the-line when it comes to knitting machines. It has everything; Silver Reed quality, reliability and most of all it is computerised, meaning, with the right accessories and Windows software you can knit just like the professionals.
Silver Reed SK840 is a 4.5mm standard gauge knitting machine with a metal bed of 200 needles allowing you to knit 3-ply, 4-ply and light weight DK yarns.
It uses clever internal electronics and gives the opportunity and innovations you never thought possible, with unlimited scope for unique fabric creation and high knitting speed.
Using the Silver Reed SK840 gives you an unparalleled ability to customise your knitting. No matter what your creative mind produces, you now have the ability to knit it within a few days.
To make the most of the SK840 you need Silverlink 5 and/or DesignaKnit 8.
DesignaKnit 9 (available separately)
Windows based software to run on your PC.
Used to design stitch patterns in multi colour, slip stitch, tuck stitch or texture. Also it has the ability to convert images and photos in to stitches.
It also includes lace tool for creating lace designs for use with a lace carriage.
You would need Silverlink 5 to upload the designs you have created to use with the SK840 or SK830 knitting machine.
Read more about the DesignaKnit 9 software.
SIlverlink 5 (available separately)
Links your PC to the SK840 or SK830 knitting machine.
Read more about the SilverLink 5 data/pattern transfer box.
SRP60N Ribber (available separately)
Another option often purchased with the SK840 is the ribber. Used to produce professionally knitted ribs or double Jacquard. Read more about the SRP60N ribber.
Accessories included with the SK840:
Accessory box which doubles and an handy tray for tools, 2 x Clamp, Transfer Tool 1-2, 1-3 and 2-3, Carriage Connection Cable, Point Cams, Needle Cams, Knit Contour Feeding Cam, Needle Pusher, 3 x Spare Needles, Latch Tool, Tapestry Needle, 3 x Cast-on Threads, Cleaning Brush, Oil, 2 x Claw Weight, 4 x Yarn Separator (Spoons), Carriage Fastener, Gauge Scale, Built-in Row Counter, Crochet hook as well as the tension post, arm and dual yarn guides.
Specification

| | |
| --- | --- |
| UPC | 610696778352 |
| Manufacturer | Silver Reed |
| Model Number | SK840 |
| Promotion | FREE INSTRUCTIONAL DVD INCLUDED! |
| Warranty | Full Manufacturers Warranty |
| Weight Kg | 14kg |
| Size (Height, Width, Depth) | 1.4m long |
| Hard Carrying or Storage Cover | Yes |
| Number of Stitch Selections | With the addition of software - unlimited |
| Tutorial CD / DVD | No |

Customer Reviews
It's early days yet since purchase, but so far I am more than pleased. The software connected first time and all works well.. Sewing Machine Sales were 'perfect' to buy from as usual.

It was not that quick to get used to the machine, if you want to save time, you definitely need to buy the accessories. I am not very familiar with the software yet, I guess it will take me some time too. I must say that the seller has a very good service.

I am very happy with my Silver Reed SK 840 and the accessories I bought. Good and fast service.

After an absence of 30 years from machine knitting my retirement from full time work seemed a good time to start again. My skills are rusty to say the least but theSK840 electronic is proving very forgiving, definitely worth the outlay. Ordering was easy delivery fast and as I bought the silver link at the same time the discount was appreciated. I did buy Softbyte direct though as I wanted the full knitting package release 9. Happy customer who will be back for the ribber once i am completely up on my skills with the 840.

Very pleased to replace my vintage knitting machine with the SK840, with its potential for computer control through DesignaKnit software. A minor criticism of Silver Reed (rather than Sewing Machine Sales) was that the manual hadn't been properly updated for the computer control- though this didn't get in the way of getting on with knitting. The price was good, especially with free postage. Quick delivery. Lots of Christmas presents produced.

Amazing machine, I'm still learning even though I can appreciate the quality and the functionality with the intarsia tool, colour changer and the software. Highly recommended!!

Bought many items in the past and just received my SK840, Fast delivery. I had a few issues but couldn't fault customer services. Issues sorted quickly and efficiently. Would definitely recommend.

Very Happy with my new machine and the way it had been packaged.

Absolutely amazing knitting machine. Sk840 - my best purchase!
Fast delivery.


I am very pleased with my purchase at Sewing Machine Sales. Fast delivery and good and friendly guidance. In addition, my Silver Reed SK-840 works perfectly :-)

Why not share your review with others.