Baby Lock Gloria BLETS8 Overlocker
1
Review
Average rating 5.0 out of 5 Stars.
The Biggest and best of it's kind, Introducing the new RevolutionAir needle threading system, the Baby Lock Gloria has 8 threads and over 80 stitch combinations and super fast air threading
0% Finance Option
FREE delivery by DPD
, order
Delivery: 1 Working Day(s) (Sat, Sun options)
Expected Delivery Date is Monday, September 20th

Click to buy or view finance options.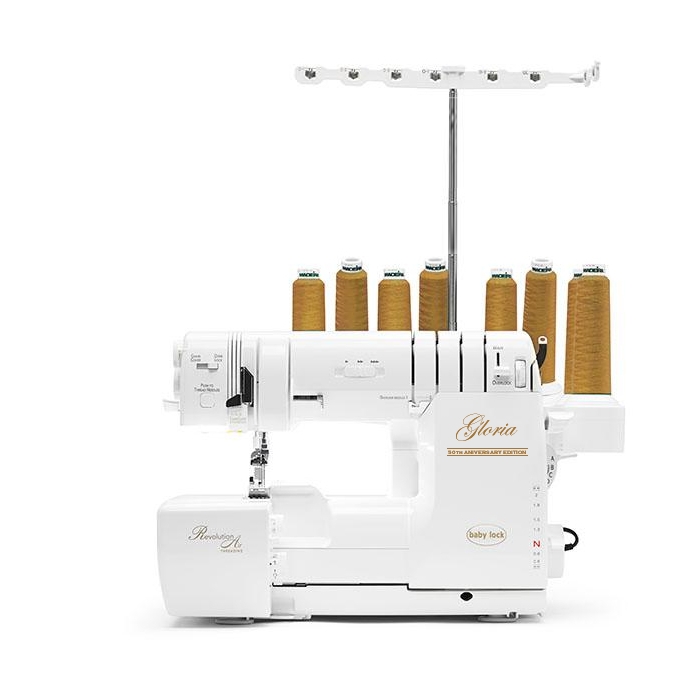 Why choose the Baby Lock Gloria from us?




We only supply Baby Lock machines to UK customers, Baby Lock are not for International sales.
The first thing that grabs your attention with the Babylock Gloria is its enormity. I thought the Ovation was big but it is dwarfed by the Gloria. The bed area of this machine is a whopping 9 inches from left to right (5" from needle to right) and an even bigger 11 inches front to back all of which is perfectly usable space. To make even better use of the space Babylock have moved the presser foot lifter to the side of the machine as opposed to its usual position behind the foot or in the throat of the machine. Like having larger work spaces on sewing machine extra lighting is required so the Gloria has 6 bright white LED bulbs, two positioned above the foot to the left and 1 above the foot to the right which reduces the shadows cast on the foot and needles allowing greater vision where the needles and knives come into contact with the fabric. The other bright LED lights are positioned over the bed area.
The first feature that everyone wants to check out immediately is the needle threader. The new RevolutionAir threading system is amazing. As is well known now with Babylock the self threading loopers make Babylock one of the only truly easy to thread overlockers. Simply feed an inch or so of thread into the looper threading ports, pull a few extra inches of thread off the spools so the thead can reach the loopers, ensure the machine is set to "Threading" turn the hand wheel until the threading tubes snap into place and push the button – Thats all, all loopers will be threaded in less than 1 second. That is it for the loopers, set the machine back to "Serging" and shut the hatches. Now this is a new feature never seen on a sewing machine or overlocker before. The RevolutionAir needle threading system, like the loopers this uses air pumps to suck the thread out of your finger tips and throught the eye of the needle. Select which needles you wish to thread either "Chain Cover" or "Overlock" pull down the needle threader using the lever on the left of the machine. Note the needle threader that actually comes into contact with the needle is made of rubber so it is going to be fantastically reliable and durable. Once the threader is in place dangle the thread in front of the needle as to tease it and press the threading button, the pump will suck continuously until you press the button again to give you control over the position of the thread. Boom that's it... Loopers and needles threaded and away you go.
To select the stitch simply use the Stitch Lever Selector on the right of the machine. Select the appropriate Stitch A, B, C or D. The tensions are automatically and perfectly balanced. Select if you wish to use a decorative Wave stitch or just ordinary overlocking. The only exception to the Auto Thread Tension is with the Chain/Cover stitch Looper tension Dial found next to the WAVE/OVERLOCK lever and the Chain/Cover stitch Needle tension dial next to the Chaincover/Overlock needle selector on the top left hand side of the machine. Both these dials work in conjunction to balance perfectly to your pleasing the Chain stitch. No tension adjustment is needed for most fabrics on the Baby Lock Gloria which makes almost every overlocking experience on this machine a triumph, however there may be that odd occasion where a combination of the thread you are using and the fabric you are working with don't conform to standard. Never fear you can fine tune the looper tension delivery system by simply turning one dial to ensure whatever obscurities you are working with can be overcome and result in a perfect finish every time.
For greater control of use the Gloria has a variable speed control slider and a knee lift so you don't even have to take your hands off your project. Usually I'm not a huge fan of having a variable speed control on an overlocker, partly because hardly any overlockers have them. Overlock machines in my opinion are Beasts that rip away at excess fabric and finish off rough ends so that they cannot come undone, all of this usually done at high speed. That in mind the Babylock Machines are so much more than a bog standard overlocker, you can tame this beast to sing and dance to your song. Never before has such beautiful work been exacted by an overlocker, stunning intricacies such as the wave stitch and overlocking curves with the optional Curve foot. Gone are the days where you lose control of an overlocker and it chews just a little bit too much fabric and a garment is ruined, keep in control and overcome adversities and triumph over the perils of using an overlocker with the Babylock Gloria.
It uses the very latest innovations and you can chain stitch or flat lock with as few as just 2 threads or go the whole hog and do a Triple Cover & 4 thread Overlock using all 8 threads and anywhere in between. Rolled hems are easy, by simply turning the stitch length dial which is very accessible, turn it to the rolled hem section and the stitch finger slides back allowing those finer fabrics to be precisely rolled and finished perfectly and ever decoratively by adjusting the differential feed lever to create a Lettuce Edge.
As one has come to expect from the prestige of owning a Baby Lock Machine and its renownd industrial heritage, the Gloria is quiet and smooth and when being used at full speed and it can overlock at an incredible 1500 stitches per minute and that's with using all 5 needles and 3 loopers.
Babylock Gloria key features at a glance!
RevolutionAir Threading.
Automatic Thread Delivery System (ATD).
The ability to continually chain off with coverstitch needles.
Overlocking options using 2 to 8 threads resulting in 87 stitch options, changing easily with a simple selection of A, B, C or D.
6 LED lights.
Maximum speed slider.
Exclusive wave stitch and reverse wave stitch.
Coverstitch options: using 3 needles (triple coverstitch), wide (7.5mm), narrow (3mm) and single chain stitch.
Automatic rolled hem stitch for a professional finish.
Overlock stitch functions to seam & encase fabric edges.
Flatlock stitch functions for seaming & decorative effects.
Tubular loopers keep threads out the way and prevent thread tangling.
Vertical needle system minimizes needle deflection.
Heavy duty cutting system cuts thick fabrics with ease.
Rolled hem adjustment with just a turn of a dial.
True 2 to 1 ratio differential feed, ranging from 0.6 to 2 mm.
Adjustable stitch width 2mm to 7.5mm on overlocking and up to 16mm using coverstitch and overlock combined.
Adjustable stitch length 0.75mm to 4mm.
Presser foot lifter on Side of machine or by Knee lift.
Easy to follow colour coded threading chart.
Snap on multi purpose foot with ribbon and tape guide.
Built in manual thread cutter.
Swing out accessory storage draw located under the spool holder.
Safety switches connected to front door and side cover.
Accessories included:
1. Instruction manual
2. Quick reference threading guide
3. Power cord
4. Foot control
5. Sewing table for chain/cover stitching
6. Guide fixing screws for sewing table
7. Package of assorted sized needles
8. Lint brush/needle insert tool
9. Manual Needle threader
10. Allen screwdriver
11. Tweezers
12. Upper cutting blade for replacement
13. Screwdriver
14. Looper threading tool
15. 8 x Thread nets
16. 8 x Spool caps with sponge
17. 8 x Spool caps
18. Machine cover
19. Mounting bolt with washer
20. 2 x Spool pin disks (large)
21. 8 x Cone holders
22. Knee lifter
23. Standard presser foot
24. RevolutionAir Needle Threading Guide
Specification

| | |
| --- | --- |
| UPC | 4250888746293 |
| Manufacturer | Baby Lock |
| Model Number | Gloria |
| Type | Overlock & Cover Hem |
| Promotion | 0% Finance Option |
| Warranty | Manufacturers 2 Year, Our 10 Year Extended Warranty Applies |
| Weight Kg | 13 |
| Size (Height, Width, Depth) | H60 cm x W49 cm |
| Variable Electronic Speed Control | Yes |
| Tutorial CD / DVD | No |
| Jet Air Threading | Yes |
| Lay In Threading | Yes |
| Auto Tension Release | Yes |
| Auto Looper Threader | Yes |
| Colour-Coded Threading | Yes |
| LCD Screen | No |
| Sleeve Arm | No |
| Rolled Hem | Yes, by Lever |
| Differential Feed | Yes |
| Stitch Functions | 2 Thread, 3 Thread, 4 Thread, 5 Thread, 6 Thread, 7 Thread, 8 Thread, 1 Thread Chain |

Customer Reviews
As a complete newcomer to overlockers I was wary about ordering while unable to access any tuition or live help due to lock down. I took the plunge and with some trepidation attempted to thread my new Gloria. Following the instructions, it took me about ten minutes to fully understand then it was all systems go with the 4 thread overlock. It really is that easy once you get over the fear. I'm still working on perfecting my technique for the simplest seams or edge finishing while I make scrubs for NHS workers. Time enough for more complex tasks when I have done those. Thus far, it's a fantastic machine and not nearly as terrifying as I thought.

Why not share your review with others.