Brother PR680W Industrial 6-Needle Embroidery Machine
If you dream of starting an embroidery business or expanding the possibilities of your home embroidery, then the new 6-needle PR680w embroidery machine is for you!
*BRAND NEW MODEL - PRE ORDER NOW!*
Pre Order Now. Delivery date to be confirmed, order

Click to buy or view finance options.
IMPORTANT NOTICE: OUT OF STOCK - BACK IN STOCK SHORTLY
Due to high demand this model is only available to pre-order.
Pre-ordering is essential to book the earliest delivery timeslot.
The stock due timescale may be subject to change more info.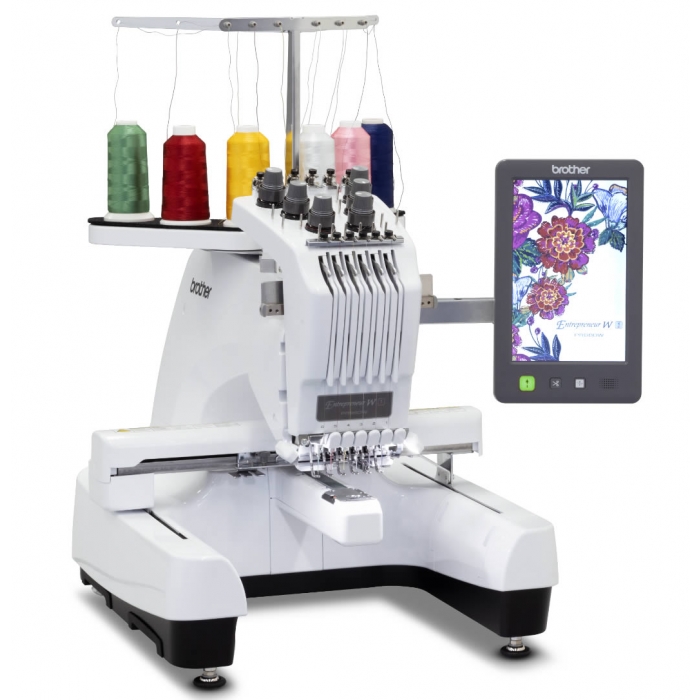 Why choose the Brother PR680 from us?




With new features over and above it's predecessor (PR670E) this new PR680W adds crosshair positioning, WiFi, new designs and more fonts. The wait is over!... the PR range of embroidery machine has been brought up to speed with Industrial standard acceleration. The new PR680 manufactured by Brother can accelerate from zero to 1000 stitches per minute in just 7 seconds. What that means is up to a 10% reduction in embroidery time that converts to greater efficiency, higher turnover and more profits.
Brother is a well known and trusted company who produce a wide range of sewing machines for both industrial and home fashion use. The PR-680w combines Brother's expertise from both of these markets. The resulting embroidery machine has many high end features, such as automatic needle threading, LED pointer for precise design positioning, many hoop options including the popular cap frame and now the additional shoe frame. It is user friendly with features such as built-in help on the full colour HD screen. This winning combination makes it ideal for use in education and for start up home business.
Wirelessly connected you stay in control, wherever you are. Keep track of your embroidery while your mobile with the My Stitch Monitor app from your mobile device. Send designs wirelessly from your PC to the PR680W with Design Database Transfer (Windows desktop devices only). You can also get machine updates automatically.
The Brother PR680W uses six needles to sew embroidery designs or motifs accurately. Can you imagine how much quicker this machine is over a single needle embroidery machine..! It's simple to use and we will teach you how to use it. Embroider caps, shirts, jackets, jeans, napkins, robes, hats or towels with business logos, school names, monograms, decorative motifs and more.
As one of our images shows the new LED crosshair pointer shows you precisely where the needle will drop. Making perfect pattern placement as easy as touching a few buttons on the LCD screen. Allowing you to position jobs faster and more accurately than ever.
The PR680 is equipped with a new frame sensors to allow the use of even more frame types such as the new magnetic, round frame kit and the clamp frame kits. The clamp frame kits make it easy to embroider shoes, football boots, inner jacket pockets, cuffs, gloves, bags and much more. The new magnetic frame hoops are unique to Brother PR series.
Using the on-screen editing functions you can built your very own custom designs and add lettering, select from one of the 50 built-in font styles available. You can download embroidery designs from the internet and sew them out on this machine. Simply plug your USB memory stick into the PR680 view the designs on its 10" HD LCD screen, then sew it out. It's easy to embroider names and words etc. now even on sports shoes as well baseball caps.
The touchscreen is an upgrade to the previous PR670 model, now you can view your creations in crisp, vivid colour and navigate easily with the scrolling menu and large, intuitive icons. There are 16.7+ MILLION possible colours and an adjustment feature that allows you to change the brightness of the screen.
The automatic colour change feature allows you to pre-program the correct thread colour sequence for the entire design. Create professional results in a compact, easy-to-use package. Embroider a wide variety of items such as shirts, jackets, jeans, totes or towels with business logos, school names, monograms, decorative motifs and more. This machine will stop snip its own thread ends, automatically thread its own needles.
Choose the ideal embroidery frame for the job from the four different sizes included with the PR-680 (200mm x 300mm, 130mm x 180mm, 100mm x 100mm, 40mm x 60mm).  
Other optional add-ons which are popular and often sold with the PR680; Brother digitizing software also the useful base ball cap frame and the cylinder frame, both have particular uses which give this embroidery machine the ability to grow with you as new requirements arise. Also popular is the heavy duty stand with it's roller wheels and storage for hoops etc.
New Features of the PR680w vs PR670e:
New LED needle position crosshair pointer
New WiFi ready, wireless data transfer or design files, images and software updates 
New Brother unique positioning function
New Expansion of upper thread tension adjustable range
New High speed needle bar case movement
New Usability improvement functions for business users - admin & safety locks
New Shortcut keys for better workflow
New 120 new embroidery patterns
New 13 new fonts
Key Features: 
10.1" High defination colour touchscreen
8" x 12" Embroidery area
Security lock modes customisable for different users
Link up to 10 PR's without cable to one PE Design 11 software installation
New Expansion of upper thread tension adjustable range
Realistic preview
Detailed zoom up to 200%
Rotate in 0.1 degree increnents
Drag and drop editing
Advanced natural lighting system
Additional USB port (3 in total)
Thread brake detection system
Up to 1000 stitches per minute embroidery speed
200 x 300mm embroidery area
8 sided design trace
Automatic needle threading
Automatic thread trimmer
50 built in Fonts
18 Monogramming font styles
140 Frame patterns
30 Buttonholes
50 Utility Stitches
Colour shuffling
Colour sorting
Basting function
Single letter editing
SD Card Slot
Built-in thread colour information
Design memory retention
Individual stitch back-up
On-screen design editing
24 Built in tutorial videos

More Built in Video Tutorials: 
Bobbin Instalation
Embroidery Pattern Selection
Embroidery Pattern Editing
Embroidery Frame Installation
Embroidery Area Check
Upper Threading
Needle Change
Cap Frame Installation (130x60)
Text Input & Editing
Grouping Pattern
Stitch Navigation
Colour Sorting
Pause Location Setting
Reversed Needle Bar Setting
Changing Pattern Colour
Maintenance & Oiling
Upgrade Procedure

Peace of mind...! Because of its low investment cost compared to other professional multi-needle embroidery machines and its ease of use, the PR680 is ideal for out-workers to make money while embroidering or for schools or use this machine as your own personal embroidery machine for superb quality embroidery results FAST..!
Presently we can offer 18 months 0% FINANCE OPTION and low rate 48 months finance starting as low as only £40 per a week..! Apply on-line by using the link and your new Brother PR680W could be with you in just a few days.
Are you thinking About Working for yourself
The Brother PR embroidery machines are essentially a standalone business, you buy on and that's it, your set all you need to do is find customers. Your customers could be anything from Schools and Colleges to Sports Clubs or Businesses. Purchasing Garments in bulk from a clothing manufacturer is easy and with the Brother PR embroidery machines embroidering them is also easy. Yes this machine is not cheap when compared to other domestic machine but compared to a multi head industrial embroidery machine this is way under budget. I like to think that the best way to think about the recouping the cost is by finding your first customer. Just one school, one business, one sports club is all it takes. Please take a look below for a general idea of possible costs and approximate profits to be made.
This is no gimmick customers of ours literally buy one of these machines and suddenly their working from themselves and what I tend to find is they come back for second Brother PR once business is booming it is honestly as simple as that.
Polo Shirt*

£

Caps*

£

Team Jackets*

£

Suggested retail price

15.00

Suggested retail

10.00

Suggested retail

50.00

Your wholsale price for a shirt

4.50

Your wholsale price for a Cap

2.50

Your wholsale price for a Jacket

25.00

supplies to personlize




(thread, Backing, etc)

0.50

Supplies to personlize




(thread, Backing, etc)

0.50

Supplies to personlize




(thread, Backing, etc)

1.00

Less your cost

5.00

Less your cost

3.00

Less your cost

26.00

Your Gross Profit

10.00

Your Gross Profit

7.00

Your Gross Profit

24.00
We also have fully trained engineers who service and repair the Brother PR machines nationwide. For more information regarding our service and repair prices don't hesitate to contact us.
As much as we would like to get this fabulous PR680w to you using our fast overnight shipping, this is simply not possible due to the box dimensions and weight. Delivery can take between 2 to 4 days.
Specification

| | |
| --- | --- |
| Manufacturer | Brother |
| Model Number | PR680 |
| Type | Embroidery Only |
| Promotion | *BRAND NEW MODEL - PRE ORDER NOW!* |
| Warranty | Full Manufacturers Warranty |
| Weight Kg | 37 |
| Size (Height, Width, Depth) | 51cm(W) x 58cm(D) x 58cm(H) |
| Variable Electronic Speed Control | No |
| Bobbin Access | Front Loading |
| Transparent bobbin cover Bobbin Cover | No |
| Hard Carrying or Storage Cover | No |
| Automatically Tensions Thread | No |
| Integrated Needle Threader | Yes |
| Thread End Cutting | Automatic |
| Number of Stitch Selections | 1800 |
| Popular Stitch Functions | Applique, Plus decorative patterns |
| Formation of Buttonholes | None |
| Variety of Buttonholes | 0 |
| Twin Needle | No |
| Maximum Speed Limit Adjustment | Yes |
| Needle Up/Down Function | Yes |
| Integrated Dual Feed System | No |
| Integrated Fabric Feed Lowering | Yes |
| Hook Movement | Smooth Rotary Action |
| Needle Positions | Centre Only |
| Tutorial CD / DVD | No |
| Voltage | 220-240 Volts |

Customer Reviews
excellent machine relatively easy enough to work. A no hassle sale ,good communications with duke helped in every way he could will defo be back.

Amazing Service plus outstanding machine. Glad we made the choice to purchase the PR670.

Why not share your review with others.