Bernina Bernette Funlock B44 Overlocker
The perfect companion to go with your sewing machine, the Bernette B44 Funlock neatly trims and finishes an edge, instantly rolls a hem just like the professionals. Overlock with speeds up to 1300 stitches per minute. Now available with special open front to allow easy access for threading as never seen before on an overlocker.
FREE £48 Bundle *Save £50 on this Strong and Robust model*
FREE delivery by DPD
, order
Delivery: 1 Working Day(s) (Sat, Sun options)
Expected Delivery Date is Tuesday, August 3rd

Click to buy or view finance options.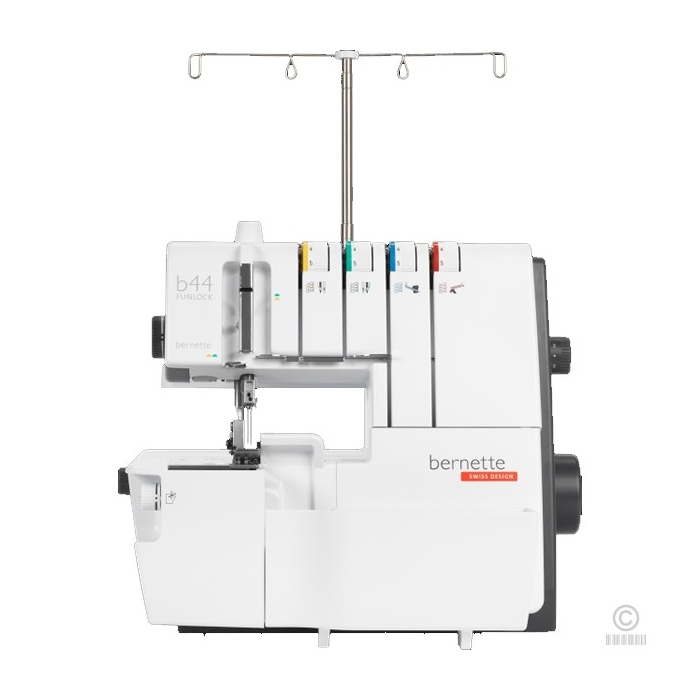 Why choose the Bernette b44 from us?




The Bernina Bernette Funlock B44, made from Swiss design, is renowned for its high quality. With a clean, crisp look and an easy to follow, colour marked threading system...what's not to like! 
There are 15 stitches to choose from in this machine which include 2, 3 or 4 threads. Smooth while running and It stitches fast too up to 1300 stitches per minute. Perfect rolled hems can be produced up to 1.5mm wide and normal stitch widths can easily be adjusted from 3 - 7 mm if required. Super neat rolled hems are quick to setup, no need to change the needle plate, just push the lever and start.
Inbuilt in to the Funlock B44 is a differential feed, which controls the feed dogs under the presser foot. This will prevent pulling and stretching and stop your fabric puckering whilst you are stitching. Ideal for gathering or use while overlocking stretch materials.
The Bernette B44 comes with a waste carrier and various accessories listed below, the most used accessories can be stored in the front looper cover.
The automatic tension release is handy, as soon as you lift the presser foot all 4 tension units release to give error free threading and also allows fabric and thread ends to be pulled out and cut, saving several inches of overlocking thread at the end of every seam.
A bright LED light assists you when you need it ensuring great visibility of the needles, foot and larger size sewing bed.
Bernette B44 Main Features:
15 Stitches
3-7mm Wide Overlock Stitches
1.5mm Rolled Hem Stitch
2/3/4 Thread Overlock Stitches
Easy Colour-Coded Thread Guides
Lay-In Threading
Auto Tensions Relese
Looper Cover Storage
Adjustable Differential Feed (Ratio 0.6-2.0)
Manual Needle Threader
LED Sewing Light
Maximum Speed 1300 SPM
Fabric Off-Cuts Catcher

Accessories:
Standard Overlock Presser Foot
Screwdriver (Large)
Oiler
Spool Net (4x)
Spare Upper Knife (Stationary)
Spool Cap (4x)
Brush
Needle Set
Needle Threader/Inserter
Allen Screwdriver (Small)
Tweezers
Upper Looper Converter (ULC)
Spool Stabilizer (4x)
Dust Cover
Waste Tray Collector
Foot Control
Manual
Specification

| | |
| --- | --- |
| UPC | 08800200209164 |
| Manufacturer | Bernette |
| Model Number | b44 |
| Type | Overlock & Cover Hem |
| Promotion | FREE £48 Bundle *Save £50 on this Strong and Robust model* |
| Warranty | Extended Warranty 10 Years Parts and Labour |
| Weight Kg | 8.5 |
| Size (Height, Width, Depth) | H32cm x W30cm |
| Variable Electronic Speed Control | Yes |
| Tutorial CD / DVD | No |
| Jet Air Threading | No |
| Lay In Threading | No |
| Auto Tension Release | No |
| Auto Looper Threader | No |
| Colour-Coded Threading | Yes |
| LCD Screen | No |
| Sleeve Arm | No |
| Rolled Hem | Yes, by Lever |
| Differential Feed | Yes |
| Stitch Functions | 2 Thread, 3 Thread, 4 Thread |

Why not share your review with others.