As will as the usual colour coded threading guide and differential feed for gathering and stretch fabrics this Janome 9300DX overlocker has easy lay-in threading and rolled hem built in at the touch of a button. Plus its a fast stitcher at speeds over 1300 spm.
*Free Gathering attachment worth £30*
FREE delivery by DPD
, order
Delivery: 1 Working Day(s) (Sat, Sun options)
Expected Delivery Date is Monday, October 25th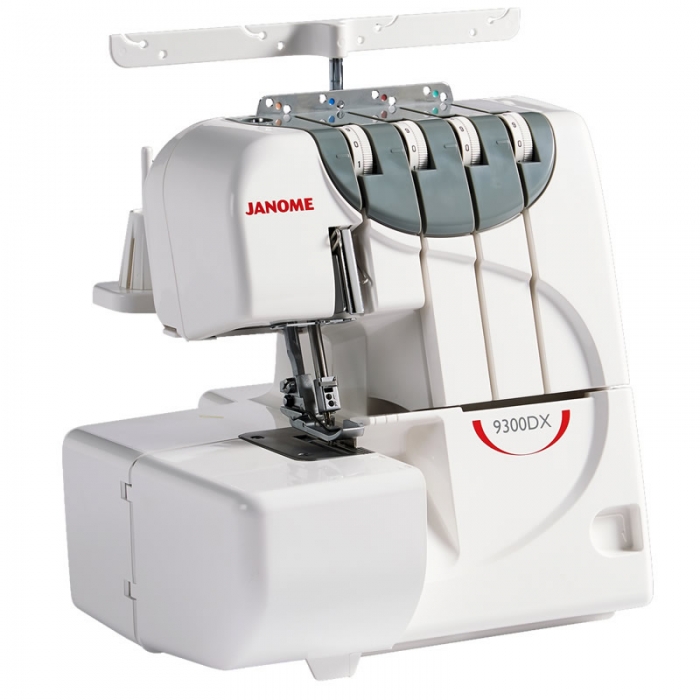 Why choose the Janome 9300DX from us?




Personally speaking, we like this 9300dx overlock machine and I'm sure you will too. Its quiet in use yet the Janome 9300DX will sew 1,300 stitches per minute.It is super smooth, with the easy "lay-in" threading system making threading a breeze and with differential feed, 3 or 4 thread overlock stitching, this Janome 9300dx overlocker is a best seller.

Just like the old version 9200D, the latest 9300DX overlock has 2 needles and 3 or 4 thread stitching capabilities. It's equipped with a differential feed (adjustable from .05 to 2.25) and an adjustable cutting width. This provides increased control for handling most types of fabrics and is essential for creative serger / overlock techniques.

Threading is simplified by colour-coded thread guides and a quick-threading lower looper. Simply lay the thread into the guide and then through the lower looper and when you lift the presser foot for rethreading, the thread tensions are automatically released so you can draw the thread smoothly.

Our Janome 9300dx overlocker comes pre threaded with white cones, ready to start stitching immediately from its box. Also included is an instructional CD/Video ensures that you'll be serging / overlocking with professional results in no time.
As an added bonus this week...we'll include a Gathering Attachment to enable you to get the very best looking ruffles and fancy edgings. This not to be missed accessory is one of our most popular. It trims, overlocks the edge of your fabric and gathers the fabric placed underneath the gatherer's arm.

Three or four thread overlock stitch for finishing edges, rolled and narrow hems, lettuce edge, flatlock, and other decorative effects.

Quick conversion for rolled hems, just mover the lever, no having to change the needle plate. Overlock functions cut, seam and finish all in one step for professional results.

The Janome 9300dx overlocker will overlock heavy fabrics like fleece, knits, terry cloth and cut off the raged edge at the same time.

Stitch length is adjustable from 1mm to 4mm via the stitch length dial at the side of the machine. The stitch cutting width is also adjustable, simple, turn the dial.

Features:
Electronic foot speed controller
Stitch length: 1 - 4mm
Cutting width: 2 - 5.7mm
Colour coded threading
Built-in rolled hem, at the touch of a button.
Flatlocking and decorative applications.
Movable knife, cut/trim off while stitching or not.
Large, long cloth bed to allow easy feeding of larger Items.
Adjustable differential feed mechanism to allow for gathering of fabric or sewing with stretch fabric.
Also includes instructional DVD

Professional Overlock Results Everytime:
4-Thread Overlock
3-Thread Overlock (regular)
3-Thread Overlock (wide)
Rolled Hem
Narrow Hem
Pin Tuck
Picot Edge
Decorative Overedge
Specification

| | |
| --- | --- |
| UPC | 5027843500028 |
| Manufacturer | Janome |
| Model Number | 9300DX |
| Type | Overlocker |
| Promotion | *Free Gathering attachment worth £30* |
| Warranty | 2 Years Full Manufacturers Warranty |
| Weight Kg | 8Kg |
| Size (Height, Width, Depth) | H31 cm x W31 cm |
| Variable Electronic Speed Control | Yes |
| Tutorial CD / DVD | Yes |
| Jet Air Threading | No |
| Lay In Threading | Yes |
| Auto Tension Release | Yes |
| Auto Looper Threader | No |
| Colour-Coded Threading | Yes |
| LCD Screen | No |
| Sleeve Arm | No |
| Rolled Hem | Yes, by Lever |
| Differential Feed | Yes |
| Stitch Functions | 3 Thread, 4 Thread |

Customer Reviews
I am so impressed by this overlocker. It came pre-threaded with some spools of thread to get started. I've never used an overlocker before but it's simple to use and so far I love it.

This is my first overlocker and I'm very pleased with it. I was worried I wouldn't get on with one, but I've made two dresses already. Very quick delivery, couldn't ask for more. Happy customer.

This is the 1st ever overlocker I have owned. Did a lot of on line research before picking this model. So delighted, it is a cracking machine, so easy to use, instructions are clear and concise. I haven't re threaded it yet but doesn't look too difficult !! Shopping experience was good - I phoned and spoke to a nice gentleman , who knew his product well. Very quick delivery, overall a very positive experience would highly recommend both the Janome overlocker and this company .

Brilliant easy to use machine. Instruction manual could be improved as had to resort to YouTube for additional help. Customer service by Sewing Machine sales was excellent. Order one day received the next.

Overall a very good machine and very stable. However I did find it very difficult to set it up with the correct tension and took very long.

This is my first overlocker but it is a great machine. It is easy to use and does a great job. The machine comes pre threaded which makes it quick and easy to get going. I'm very pleased with it.

Fabulous little machine, very quick and easy to use and very portable too - great service and speedy delivery too thank you!

We work with a group of students on the autism spectrum. They have found the Janome 9300DX Overlocker easy to set up and use.

Wonderful. Best overlocker I have owned.

Really pleased with the service. Delivery was super quick. The Janome 9300DX is a joy to use. As it was pre-threaded already it was even easier to use. Very well built machine and very fast.

Why not share your review with others.