The compact overlocker from Janome, the 8002d /8002dg has a 3 and 4 thread option, colour coded threading guide and differential feed for gathering and stretch fabrics. Its a basic overlock sewing machine but it has a good over-edge stitch
Limited number available
FREE delivery by DPD
, order
Delivery: 1 Working Day(s) (Sat, Sun options)
Expected Delivery Date is Tuesday, September 21st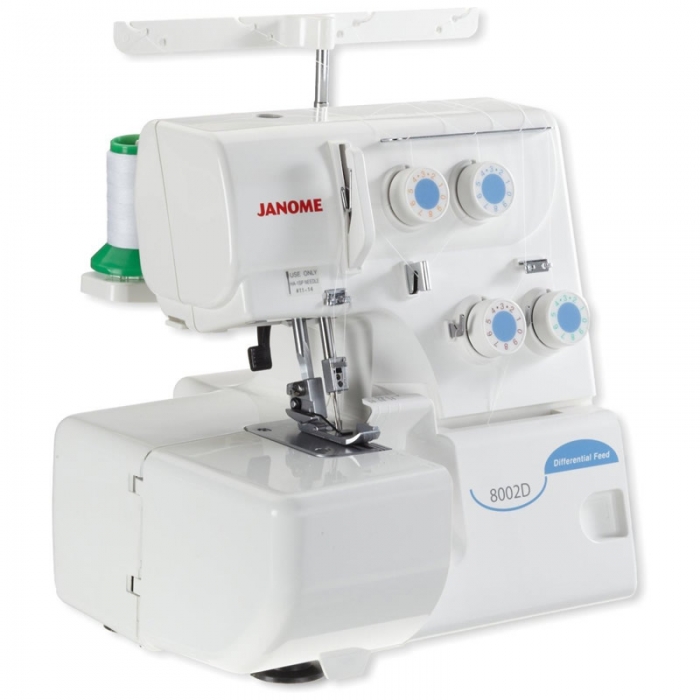 Why choose the Janome 8002DG from us?




Its a lightweight no nonsense and reliable overlocker. The Janome 8002d / 8002dg is perfect for your most home sewers needs.
This Janome 8002 overlocker gives you a wide range of overlocking features in a compact machine. It uses a sturdy design with four rubber suckers holding it in place on a desk or table and precise Janome stitch mechanism ensures beautiful 3 or 4 thread overlock operation. Janome quality at a budget price and the fact that it doesn't take up much space makes it an easy fit for your sewing room, means it's a top seller.
 
The 8002d overlocker comes pre-threaded and converts quickly to rolled hemming for a professional finish. Other stitch functions include Pin tuck, Decorative over-edging, Gathering, Picot edging, in fact it even includes a quick start DVD.

The cutting width is adjustable from 3 to 5 mm. Length is also adjustable. Its built in differential feed prevents puckering and stretching, and can be used for fun special effects and the upper knife can be deactivated for decorative sewing. The Janome 8002D uses standard ball point needles which are available form most sewing shops.

Colour coded paths make threading a breeze. Other features include an extra-high presser foot lifter, whisper-quiet operation, and an electronic foot control.
8002D/8002DG Key Features:
1300 stitches per minute
Differential feed adjustable from .05 to 2.25
Adjustable cutting width: 3 - 5mm
3 or 4 thread overlock stitching capabilities
Stitch length is adjustable from 1mm to 4mm
Snap-On presser feet
Includes DVD
Specification

| | |
| --- | --- |
| UPC | 5027843101379 |
| Manufacturer | Janome |
| Model Number | 8002DG |
| Type | Overlocker |
| Promotion | Limited number available |
| Warranty | 2 Years Full Manufacturers Warranty |
| Weight Kg | 7.5Kg |
| Size (Height, Width, Depth) | H31 cm x W31 cm |
| Variable Electronic Speed Control | Yes |
| Tutorial CD / DVD | Yes |
| Jet Air Threading | No |
| Lay In Threading | No |
| Auto Tension Release | No |
| Auto Looper Threader | No |
| Colour-Coded Threading | Yes |
| LCD Screen | No |
| Sleeve Arm | No |
| Rolled Hem | Option Available |
| Differential Feed | Yes |
| Stitch Functions | 3 Thread, 4 Thread |

Customer Reviews
A nice light weight machine but hard to thread in the lower looper

Prompt and efficient delivery. This fantastic Janome overlocker was given to me as a present from a family member (I chose & ordered it myself and they reimbursed me). As I had never used an overlocker before, I was a bit apprehensive about threading it with my new cones of coloured thread. However, with the clear instructions on the DVD plus the instruction manual, I was able to thread it after just two attempts. The lower looper is the most challenging to thread but the tweezers help with this. I also used a little torch to help me see the last stages of threading more clearly. The lower looper itself has two holes, back then front for the thread to pass through. The upper looper has only one hole at the front. I followed the colour coded thread guides on the machine (very handy) and also counted each step of the threading process: the lower looper has 11 steps; upper looper has 9; right needle 8 and left needle 7 steps, so I just count as I go along. I also used a different colour thread for each of the four stages of threading with black T-shirt fabric to practice on; this helped me to clearly see how each thread looked and what needed adjusting such as tensions. I now make a note of all the tension settings for each type of fabric used. I also learnt to adjust the cutting width as the stitching was beyond the fabric edge (p.12 of manual), - I get perfect stitches now. Having a good quality overlocker makes the whole experience an exciting adventure and I love using it.

Very prompt service. Arrived within timed slot. Very nice machine easy colour coded threading and very smooth operation. Very good value for money. Thank you

Lovely compact machine. Smooth operation. Overlocks efficiently. Am very pleased with purchase and quality of item. Easy to thread, except lower looper may require a little practice.

An excellent machine sews very smooth in its operation it has the Janome quality that I expected. Very easy to use and thread giving a high quality finish.

This a good quality machine from Janome. Having a Janome sewing machine for many years this overlocker has the same high quality

Arrived all threaded and ready to use. The additional DVD is excellent for those who have never used an overlocker before, lots of clear instructions. I have set mine up on my sewing table, it doesn't take up much space. An excellent machine for the price, easy to use. very pleased with my purchase thanks!

Really easy to set up and use - I was a little apprehensive with the threading but clear instructions made it fine! Very quiet and smooth to operate. Thank you for your advise.

This little gem is worth its price together with the FREE Accessory Kit. Being so compact its easy to move around, & storage is no problem if youre lacking of space. The threading parts are colour coded; to save time in re-threading, I simply joined the new spool to the ones that came with it, pulled it through the loop holes.

Good performance, good for everyday sewing & easy to follow DVD instructions, am happy with this purchase.Thank you!

Why not share your review with others.