This well proven, easy to use Janome 6324XL overlocker has a combination of features not found on some more expensive models. Features such as slant needle shafts, colour coded thread paths making threading quick and simple, built in rolled hem, and of course the differential feed adjustment to help cope with the most demanding fabric. The differential feed can also be used for applications such as gathering.
FREE delivery by DPD
, order
Delivery: 1 Working Day(s) (Sat, Sun options)
Expected Delivery Date is Tuesday, January 25th

Click to buy or view finance options.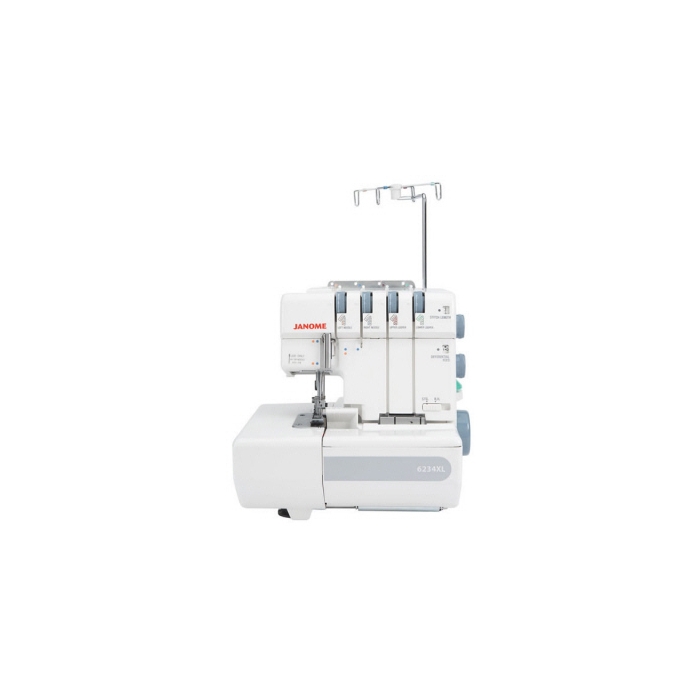 Why choose the Janome 6234XL from us?




Great value and typical Janome top quality, the 6234XL makes overlock sewing easy! with electronic speed control it is an advanced overlocker and has 2 needles allowing 2, 3 or 4 thread overlock stitching.
Incorporating the differential feed system of two feed dogs, the differential feed ratio, which is adjustable from .05 to 2.25, provides increased control for handling all types of fabrics and for creating desired special effects. Puckered edges on woven fabrics and stretched edges on knits are virtually eliminated.

Threading is a breeze due to colour-coded thread guides and nearly a self-threading lower looper. Simply lay the thread into the guide, flip a lever, and the lower looper is threaded. The guide is automatically returned to its normal position when you turn the balance wheel. And when you lift the presser foot for rethreading, the thread tensions are automatically released so you can draw the thread smoothly. The 6234XL overlocker also lets you quickly switch to rolled hemming without changing the needle plate. The rolled hem lower looper pre-tension conversion feature eliminates the need to change the needle plate, foot, or tension setting for rolled hemming.

Other stitch functions include Pin tuck, Decorative over-edging, Gathering, Picot edging, 2 thread flatlock, in fact it even includes a instructional DVD.

Automatically Released Thread Tensions
By lifting the presser foot, the thread tensions are automatically released so that you can draw the threads smoothly when changing the threads. The Threads are Securely inserted between the tension disc when rethreading.

Easy Rolled Hem
There's no need to change the needle plate for rolled hemming. Just slide the needle plate setting knob to the "R" position to switch the chaining finger to that for rolled hemming.

2 Thread Edging
2-thread overlocking works well for rolled hem stitch with thick thread, flat lock stitch, and when overlock stitching stretch materials.

When you want to make the most of your sewing time, with professional results, the 6234XL overlocker is unmatched.

Additional Features:
2 Thread / 3 Thread and 4 Thread Overlocking
Maximum Stitch Length: 5mm
Seam Width upto: 5.7mm
Adjustable Cutting Width
Retractable Upper Knife
Colour Coded Threading Guide
Lower Looper Easy Threading Mechanism
Easy Rolled Hem Conversion (no plate change)
Lay in Tension Dials
Maximum Sewing Speed: 1500 s.p.m
Rolled Hem: 2.0mm
Differential Feed Ratio: 0.5 to 2.25
Snap On Presser Feet

Accessories:
Standard foot
Small Lint Brush
Needle Threader
Needles
Screwdriver Large
Screwdriver Small
Spanner
4 Spool Caps
4 Spool Cone Holders
4 Spool Nets
Spreader
Tweezers
Spare Upper Knive
Waste Chip Box
Foot Control
Instruction Book
Instructional DVD
Oil
Cover
Specification

| | |
| --- | --- |
| UPC | 5027843101027 |
| Manufacturer | Janome |
| Model Number | 6234XL |
| Type | Overlocker |
| Warranty | Extended Warranty 10 Years Parts and Labour |
| Weight Kg | 9Kg |
| Size (Height, Width, Depth) | H28 cm x W29 cm |
| Variable Electronic Speed Control | Yes |
| Tutorial CD / DVD | Yes |
| Jet Air Threading | No |
| Lay In Threading | No |
| Auto Tension Release | Yes |
| Auto Looper Threader | Yes |
| Colour-Coded Threading | Yes |
| LCD Screen | No |
| Sleeve Arm | No |
| Rolled Hem | Yes, by Lever |
| Differential Feed | Yes |
| Stitch Functions | 2 Thread, 3 Thread, 4 Thread |

Customer Reviews
Super speedy service. Machine pre threaded which is a good head start! Machine is really easy to use and the instruction book with dvd are clear and helpful. Very pleased with my purchase.

I ordered this machine yesterday lunchtime after to speaking to a really helpful gentleman on the phone. It arrived this morning and I am absolutely over the moon! This machine is perfect, it arrived pre-threaded which saved me the initial hassle, I plugged it in and started sewing. This will be a game changer. Thank you so much for being so helpful and arranging such speedy delivery. Fantastic customer service and excellent offer of a 10 year warranty, I'm thrilled.

Really pleased ,opened the box ,read the manual, switched on the machine and off It went. The machine arrived ready threaded which was one thing I was worried about. The service from Sewing Machine Sales was brilliant - the lady I spoke to when making my purchase was very knowledgeable and helpful, delivery was spot on too. I do like the Janome sewing machine I have for its reliability and from the little experience I've had with my over locker so far have every reason to believe this machine will be the same

The overlocker has been used for a few projects now. It worked pretty much out of the box as it came already threaded with cones. It didn't arrive the day it was supposed to but that was down to the people delivering. I ordered a number of items and each box was labelled 1 of 3 etc. I am happy with the service from Sewing Machine Sales.

This is our second Janome. Always been impressed with the build quality. The service and delivery were bob-on with the machine turning up at the door exactly when it was meant to, the day after I'd ordered it.

Excellent overlocker, very smooth running, quiet and easy to use. This is my second Janome overlocker and I have never had any problems with them. Highly recommended. The service I received from sewing machine sales was also very good. I ordered my new machine on Wednesday evening and it arrived by Friday afternoon, I even got a time slot of between 13.45 and 14.45 so I didn't need to stay in all day. Wouldn't hesitate to order from then again.

Having had a 3 thread Artisan overlocker for many years I find the 6234 easy to use. Have not yet tried all its features but hope to in the near future.

Why not share your review with others.