Janome AT2000D Air Thread Overlocker
While using the AT2000D you will view overlocking in a whole new light. This easy-to-use Janome AT2000D overlocker includes Jet-Air Threading, plus adjustable manual tensions that allow for perfect stitches on any type of fabric and differential feed for gathering or stretching the fabric as required
CHRISTMAS OFFER - SAVE £50 + FREE 12x MADEIRA OVERLOCK THREADS worth £49
Sorry, temporarily Out-Of-Stock
Please use the link above to sign up for new stock update. We will email you the moment it comes back in to stock.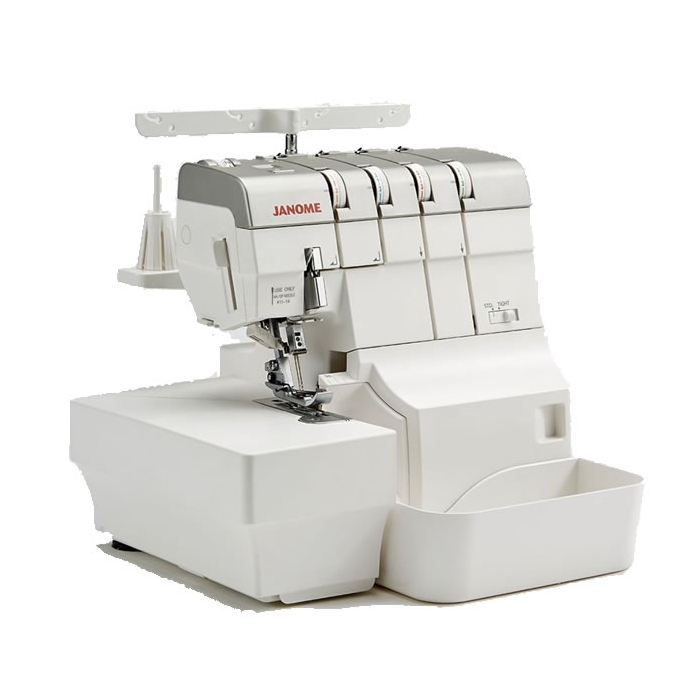 Why choose the Janome AT2000D from us?




Overlocking changes the way you sew. And the professional Janome 2000D Air Thread overlocker changes the way you overlock...! It's the first in the Janome range with Air threading.

Janome has put their overlock range in a new league that makes it a friendly and effortless way for everyone who wants to overlock. You've got it made with the Janome AT2000D overlocker, as we have already mentioned the AT stands for Air Threading. Because of the manufacturing patents it seams perfect. Air Threading completely redesign the overlocker, it bypassed the most difficult part of using an overlocker which is threading it up. This machine is revolutionary for Janome, its almost unfair to call it a standard overlocker.

JET AIR THREADING -  It eliminates the difficulties with threading an overlock. The problems found with thread tension, the complications with changing stitch length and width, the headaches with heavy, bulky or sheer fabrics, and the wavy seams, the puckering, the stretching. The AT2000D takes the guesswork out of selecting machine and tension settings.

One touch of a lever automatically and instantly jet airs thread through the tubular to the upper looper. A push of another lever effortlessly threads the lower looper. There is also a manual threader for the needles. So simple, so fast, so easy

The Janome AT 2000D overlocker handles special and decorative threads as easily as standard cone threads, which means you can effortlessly embellish your creation with the fanciest and finest threads.

Built In Needle Threader
Needle threading is quick and easy. A touch of a lever automatically threads the eye of each needle

Differential Feed Adjustment
Complete fabric manipulation is possible on the AT2000D because of Janomes full featured differential feed dial. The feed system works with all fabrics and in multiple sewing applications. It prevents seams from waving, fabrics from stretching and wovens from puckering.

Heavy Duty Cutting System
No matter what the fabric weight, the AT2000D blades cut through it like butter. A twist of a dial engages and disengages the blade. Lock the blade and it becomes a sewing guide. Unlock it and it trims the fabrics as you sew.

Stitch Length and Rolled Hem Dial
A single lever/switch delivers automatic rolled hems, rolled edges and stitch length adjustments. A flick of a lever switches the AT2000D from three thread stitching to a narrow rolled hem. Long and short stitch lengths can be dialed without stopping the machine for any stitch, 4, 3, or 2 thread, flatlock or rolled hem. Customize the stitch length to fit every sewing project, from over-edging to seaming as well as decorative overlocking

Features:
Instant Jet-Air Threading System
Built-in Needle Threader
Full-Featured Differential Feed
4/3/2 Thread Serging
Cutting System
Angled Needle Penetration
Rolled Hemming with 3 or 2 Threads
Dial Adjustable Stitch Length
Presser Foot Pressure Adjustment
Adjust presser foot pressure for any thickness of fabric

Accessories Included:
Warranty Card
Customer Care Information
Instruction manual
Instructional DVD
Foot Control
Soft Dust Cover
Accessory Box Trim Trap
Looper Threader wire
Needle applicator/Spreader pin
Spare Upper Knife
Screw Driver (2)
Spanner
Lint Brush
Needles
Oil
Specification

| | |
| --- | --- |
| Manufacturer | Janome |
| Model Number | AT2000D |
| Type | Overlocker |
| Promotion | CHRISTMAS OFFER - SAVE £50 + FREE 12x MADEIRA OVERLOCK THREADS worth £49 |
| Warranty | Manufacturers 2 Year, Our 10 Year Extended Warranty Applies |
| Weight Kg | 8.5 |
| Size (Height, Width, Depth) | H30 cm x W35 cm |
| Variable Electronic Speed Control | Yes |
| Tutorial CD / DVD | Yes |
| Jet Air Threading | Yes |
| Lay In Threading | Yes |
| Auto Tension Release | Yes |
| Auto Looper Threader | Yes |
| Colour-Coded Threading | Yes |
| LCD Screen | No |
| Sleeve Arm | No |
| Rolled Hem | Yes, by Lever |
| Differential Feed | Yes |
| Stitch Functions | 2 Thread, 3 Thread, 4 Thread |

Customer Reviews
This was a purchase for my wife who uses a Janome sewing machine which she is happy with but she had always believed overlockers looked difficult to use . After watching various Youtube videos and doing some online research it appeared that this model was user friendly so I purchased one . The fear of overlockers has now gone from my wife and the machine was set up in a few minutes and proved as easy to operate as the videos suggested. I did hear a few swear words when my wife managed to break a needle due to her fault in pulling on material that was not stretchy however the needle was swiftly replaced so she is now even more confident in how easy the machine is to operate . I have no hesitation in recommending this machine to anyone contemplating purchasing an overlocker for the first time and similarly recommend Sewing Machine Sales for a smooth purchasing experience.

Got this machine second hand and not used so looked a good buy and oh yes it was money well spent great machine. You Need one buy one.

Why not share your review with others.