Bernette B38 Sewing Machine
1
Review
Average rating 5.0 out of 5 Stars.
The Bernette B38 is the perfect sewing machine to tackle any project. It is fully computerised and has over 394 stitches including alphabet and 8 auto 1-step buttonholes, it even has memory facilities. The LCD screen with enhanced informational display and touchpad for easy navigation gives direct selection for the most useful stitches
FREE £50 Sewing Pack + Lettering, Memory and Extension Table
FREE delivery by DPD
, order
Delivery: 1 Working Day(s) (Sat, Sun options)

Click to buy or view finance options.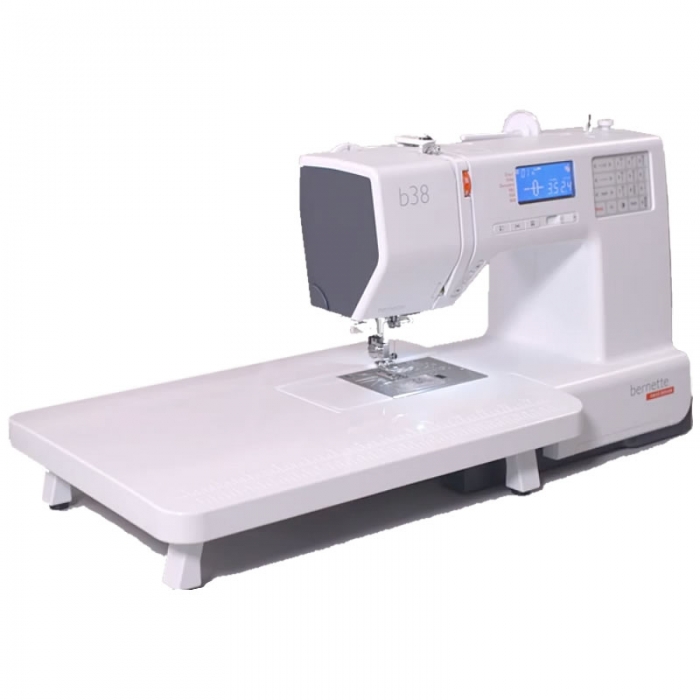 Why choose the Bernette B38 from us?




The affordable top model in the Bernette B series of sewing machines is the B38. It offers a wide range of computerised functions and includes a hard protective carry cover as well as an extension table for stitching larger projects.
With 394 different stitches, including the stretch stitch for elastic fabrics you will be sure to tackle almost any project. The stretch stitch means you will be able to create fantastic T-shirts from jersey fabric, for example. The Bernette 38 also has 8 different 1-step buttonholes and 3 alphabets.

In addition to all of the great functions, the B38 also has a memory function, via which you can store various combinations of patterns and access them again at a later time. The handy speed regulator, which can be adjusted on the front display panel.
The LCD screen shows the selected stitch, with width and length setting also on screen as well as the recommended presser foot to use.
To the right of the LCD screen, this Bernette B38 uses the keytouch pad to skip through the stitch modes, direct, utility, decorative, and a choice of 3 alphabets, including both upper and lowercase as well as Cyrillic lettering. The most used stitches like buttonholes, zigzag, blind hemming, over edging, triple and straight stitch can be accessed directly from the key pad. As well as memory settings, mirror, length and stitch width up to 7mm.
When winding the bobbin, the hand wheel disengages automatically. Inserting the bobbin is from the top and it offers a view-through window to check at any time and see how much thread is available on the bobbin.
The very well concealed pull out draw contains a booklet full of stitch selections available. Use it as a handy reference guide.
As the top model in this range, this impressive sewing machine also has a bright LED sewing light, a threader and both an automatic and a manual thread cutter.


Features:

    394 Stitches
    1 Step Auto Buttonhole (8 Styles)
    20 Utility Stitches
    67 Decorative Stitches
    25 Quilting Stitches
    2 Darning Stitches
    3 Alphabets
    Top Loading Drop in Bobbin
    7mm Maximum Stitch Width
    5mm Maximum Stitch Length
    Stitch Memory Function
    Start/Stop Button
    Adjustable Hand Operated Speed Control
    Adjustable Presser Foot Pressure
    Needle Up/Down
    Drop Feed
    Automatic Bobbin Winder
    Automatic Securing Function
    2 Step Foot Lifter
    Twin Needle Capability
    Needle Threader
    LED Sewing Light
    Automatic Thread Cutter
    Manual Thread Cutter
    Maximum Speed 700 SPM

Accessories:

    Bobbins (4x)
    Seam ripper (buttonhole opener)
    Screwdriver
    Needle assortment
    Zigzag foot
    Zipper foot
    Overlock foot
    Satin stitch foot
    Blind stitch foot
    Button-sew-on foot
    Open toe foot
    Buttonhole foot with slide
    Brush
    Spool Net
    2x Spool Disk Small
    2x Spool Disk Large
    Hard Cover
    Extension Table
    Foot control
    Manual
BERNINA bernette - combining Swiss design with Japanese engineering.
Specification

| | |
| --- | --- |
| UPC | 08800200208914 |
| Manufacturer | Bernette |
| Model Number | B38 |
| Type | Sewing Machine |
| Promotion | FREE £50 Sewing Pack + Lettering, Memory and Extension Table |
| Warranty | 2 Years Full Manufacturers Warranty |
| Weight Kg | 8.5 |
| Size (Height, Width, Depth) | H30 x W41 |
| Variable Electronic Speed Control | Yes |
| Bobbin Access | Top Loading |
| Transparent bobbin cover Bobbin Cover | Yes |
| Hard Carrying or Storage Cover | Yes |
| Automatically Tensions Thread | Yes |
| Integrated Needle Threader | Yes |
| Thread End Cutting | Automatic |
| Number of Stitch Selections | 394 |
| Popular Stitch Functions | Straight, Zig-Zag, Multi Zigzag, Blind Hem, Stretch Blind Hem, Rolled Hem, Straight Stretch, Overlock Stretch, Scallop, Ric Rac, Honeycomb, Herringbone, Gathering, Applique, Sew-On Buttons, Quilting Stitches |
| Formation of Buttonholes | 1-Step Fully Automatic |
| Variety of Buttonholes | 8 |
| Twin Needle | Optional |
| Maximum Speed Limit Adjustment | Yes |
| Needle Up/Down Function | Yes |
| Integrated Dual Feed System | No |
| Integrated Fabric Feed Lowering | Yes |
| Hook Movement | Smooth Rotary Action |
| Needle Positions | Left / Right / Centre |
| Tutorial CD / DVD | No |
| Voltage | Dual Voltage 110-240 Volts |

Customer Reviews
Threading, even for people with poor eye sight is a breeze, it threads its self basically. I love the pressure sensitive speed foot control, thats worth the extra cost to me. Very pretty stitches. The parts, extra bobbins, different presser feet, tools etc are very handy. Does button holes very well with no hassle. Loads of good points.

Why not share your review with others.