Bernette B77 Sewing Machine
1
Review
Average rating 5.0 out of 5 Stars.
The B77 is a high end computerised sewing machine from Bernette. It has some unique features to this brand. Dual Feed, Colour touch screen, multi-function control knob plus programmable foot control that can cut the thread automatcally
Free Scissors + Threads + Sewing Pack worth £85
FREE delivery by DPD
, order
Delivery: 1 Working Day(s) (Sat, Sun options)

Click to buy or view finance options.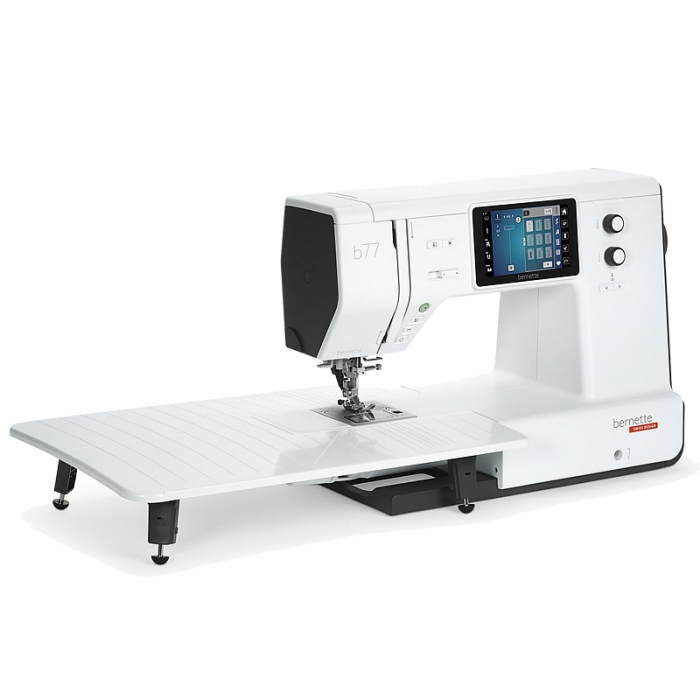 Why choose the Bernette B77 from us?




The all new Bernette B77 is a computerised sewing machine with added features.
It's wide body provides a 23cm space to the right of the needle, 500 stitches, up to 7 mm wide decorative patterns with 17 buttonholes and 8 different presser feet…and that's not all!
It's a high-end sewing machine ready to tackle any stitching task; quilts, patchwork, curtains, dressmaking or repairs. Decorative stitch patterns available, with speciality eyelets, antique hand sewn look and various quilting stitches. Each stitch is pre-set for optimum settings but can quickly be overridden by using the multi-function control knobs at the right side of the screen.
The B77 sewing machine uses a larger touch screen with each stitch setting able to be viewed in real time on the colour LCD screen. The Stitch Creator function allows you to create your very own custom stitches. If you need help, the built-in sewing advisor can assist you.
Four bright LED lights illuminate the sewing bed and needle area.
A first for Bernette is the "Dual Feed" system. It is a top fabric feed unit and is originally from the industrial side of sewing, where it is used in industry to help manufacture most of the garments you see in the shops. It prevents fabric slippage when using multiple layers and keeps puckering seams to a minimum. The Dual Feed works with zigzag and straight stitch and when you adjust the stitch length, this clever Dual Feed also changes to work in harmony with the lower regular fabric feed for perfect fabric transportation.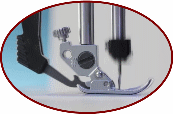 Read more about this unique Dual Feed system here.
Yes this superior B77 has all the other bells and whistles one would expect, for example…thread cutter for both top and bottom threads at the touch of a button, automatic tie-off, presser foot lift button, reverse, maximum speed slider- great for using when doing free-motion embroidery (yes the B77 comes with a free-motion foot too)
Threading is simple. Follow the arrow paths to lay your thread and with the help of the semi-automatic needle threader, it couldn't be more simple. Loading the bobbin is hassle-free and from the top, it uses a rotary hook, which is super smooth even when stitching at high speeds. Top bobbin system is more jam-proof than any other type. Peer through the transparent bobbin cover to view how much thread is left on the bobbin helping you make sure you won't run short before the end of your seam.
Lettering combination can be stored for later use in the memory. Fonts include upper and lower case as well as punctuation and numbers.
Our Bernette B77 includes a large slide-on extension table. The presser feet have locations in the removable tray which is part of the sleeve-arm extension however other accessories may also be stored.
Presser feet included:
Zigzag foot
Appliqué embroidery foot
Zipper foot
Automatic buttonhole foot
Blind Stitch foot
Button sewing-on foot
Overlocking foot
Free-motion Embroidery foot
Main Features:
5" Colour Touch screen
Dual Feed
LED lights
Knee Lifter
Programmable Back-Tack Electronic Foot Control
Sliding Max Speed Setting
Securing Tie-In
Thread Cutter
Presser Foot Up/Down
Needle Up/Down
Start/Stop
15 Needle Positions Key
Stitch width/length adjustment
Drop Feed Lever
Upper Multifunction Control Knob
Lower Multifunction Control Knob
Stitch Creator
Needle Threader
Accessories included:
Knee Lift
Extension Table
Spare bobbin
Spool net
Brush/ Seam ripper
Patchwork seam guide
Spool discs
Screwdriver
Dust cover
Oil
Touch Screen styles
Twin needle spool pin
Bernina needles
Power cable
Foot control
Quick start guide
Online Instruction manual
Specification

| | |
| --- | --- |
| UPC | 7630043519530 |
| Manufacturer | Bernette |
| Model Number | B77 |
| Type | Sewing Machine |
| Promotion | Free Scissors + Threads + Sewing Pack worth £85 |
| Warranty | Manufacturers 2 Year, Our 10 Year Extended Warranty Applies |
| Weight Kg | 10Kg |
| Size (Height, Width, Depth) | H41 x W38 x D21 cm |
| Variable Electronic Speed Control | Yes |
| Bobbin Access | Top Loading |
| Transparent bobbin cover Bobbin Cover | Yes |
| Hard Carrying or Storage Cover | No |
| Automatically Tensions Thread | No |
| Integrated Needle Threader | Yes |
| Thread End Cutting | Automatic |
| Number of Stitch Selections | 500+ |
| Popular Stitch Functions | Straight, Zig-Zag, Multi Zigzag, Blind Hem, Stretch Blind Hem, Rolled Hem, Straight Stretch, Overlock Stretch, Scallop, Ric Rac, Honeycomb, Herringbone, Gathering, Applique, Sew-On Buttons, Quilting Stitches, Basting Stitch, Closed Overedge, Plus decorative patterns |
| Formation of Buttonholes | 1-Step Fully Automatic |
| Variety of Buttonholes | 17 with eyelets |
| Twin Needle | Included |
| Maximum Speed Limit Adjustment | Yes |
| Needle Up/Down Function | Yes |
| Integrated Dual Feed System | Yes |
| Integrated Fabric Feed Lowering | Yes |
| Hook Movement | Smooth Rotary Action |
| Needle Positions | Left / Right / Centre |
| Tutorial CD / DVD | No |
| Voltage | 220-240 Volts |

Customer Reviews
I bought a Bernette 77 sewing machine from this company and it arrived quickly, within days of ordering. I have since bought a Patchwork foot for it and again I was impressed with the service so much that I will not hesitate to buy from them again.

Why not share your review with others.