Brother Innovis 15 Sewing Machine
The start of something amazing, The Brother Innovis 15 sewing machine is your first step toward perfection. The quality of stitch that the little machine can produce makes it untouchable by other machines in the same price range


Price

£299.00


Today

£289.00
LATEST 2022 MODEL
FREE delivery by DPD
, order
Delivery: 1 Working Day(s) (Sat, Sun options)
Expected Delivery Date is Tuesday, January 25th
For all the right reasons this NV15 is a best seller! Apart from being computerised, it is super smooth while stitching, strong & robust, yet lightweight, with a good stitch selection & automatic buttonholes. It is such a trustworthy & reliable model we offer 30 day returns!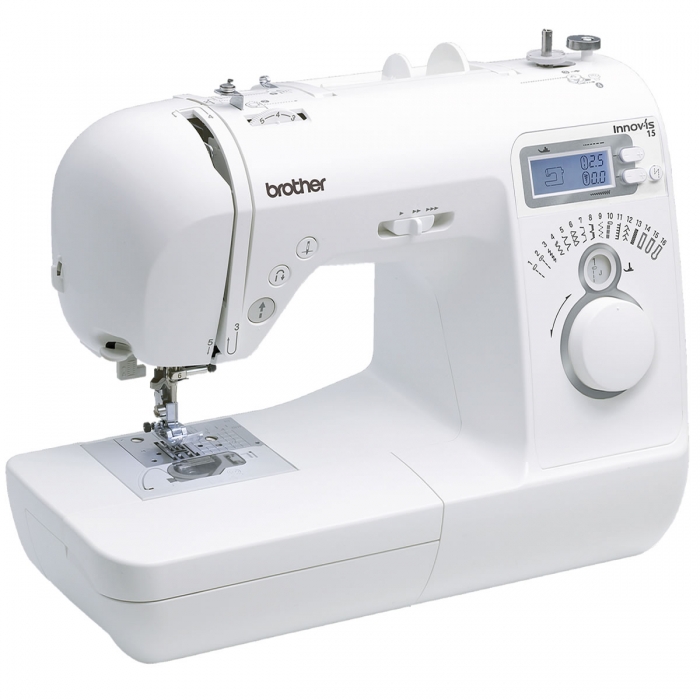 Why choose the Brother Innov-is 15 from us?




You wont be disipointed when choosing the Brother Inovis 15 sewing machine. 
Brother reinvented the design of this model to bring it up to date. Replacing the dated blue plastic with sleek modern silver and chrome, oooh! very nice. This new Innovis 15 is great. It is a beginners perfect choice and is a brilliant Ambassador for everything that Brother Sewing Machine company stand for today precision. This machine will not let you down use it Patchwork and Quilting, Dressmaking, free motion embroidery, Sewing crafts this machine covers the lot. But still manages to be portable and heavy duty, I don't know how Brother have achieved this so well as they have, yes that's right a portable machine that is heavy duty. This Aluminium bodied sewing machine is rigid, this allows the perfection in skip free stitches that Brother demands.
What you might not know about the Brother NV15
This series was first released a few years ago, hence, it is well proven. Since then, this newer and redesigned NV15 superseded it predecessor the NV10! This was a shock to us as we loved the Innovis 10, thankfully the changes were mainly cosmetic and the Brother Innovis 15 we have today is a winner to all who use it.
What make the Innov-IS range so good
Reliability, I love using the Brother Innovis sewing machines, from the Innovis 15 to the 1E and anywhere in between. But it's not just me, My other half (also known as "she who must be obeyed") voluntarily runs a sewing club here and teaches complete beginners how to use sewing machines. Her choice is also the Innovis Range, from teaching garment construction, to the difference in needles and their effects on different types of fabrics. The reason why she chooses this sewing machine over hundreds of others is consistency. Every NV15 out of the box is exactly the same high quality as the other; there is no variable just perfect stitching every time. One dial stitch selection is easy to master from the first time you use this machine you will be impressed at how easy it is to use this machine. There are simple features in this machine that make it an excellent starter machine. The needle up/needle down button ensures the needle always stops in or out of the material which ever you like, this is great for pivoting when doing intricate work and quilting, also this can be used to help hold the fabric in place when you are doing bigger jobs like curtains, or seams in trousers or jeans when you need to do a bit of shifting around.
It has a top loading drop in bobbin that you can see every time you sit at you machine, So you will never run out of thread again when you're half way through a job. There are 16 stitch functions to choose from at the turn on the dial no need to start changing lengths and widths this is all done for you by the machine automatically. There is a choice of three style Automatic one step button holes, the machine along with the automatic button hole foot measures the button for you and creates the perfect sized button hole with no hassle an it's very neat. The speed control adjuster is a brilliant feature for when you have that precise task to do and you need to ensure the machine doesn't run away, You are in complete control with this machine.
Optional accessories:
7 Groove Pin Tuck Foot and Guide Plate, Narrow Heming Foot, 1/4 Inch Quilting and Patchwork Foot, 5-Hole Cording Foot, Cording Foot, Beading, Pearls and Sequins Foot, Bias Binding Foot Snap on, Braiding Foot, Clear View Foot, Concealed Invisible Zipper Foot, Fabric Edge to Edge Joining Foot, Free-Motion Quilting Foot, Fringe Foot, Open Toe Appliqué Foot, Open Toe Free Motion Foot, Picot Edging Foot, Pleater Ruffler Attachment, Quilting Bar, Brother Quilting Foot, with 1/4 inch Guide for Patchwork, Side Cutting Overlock Attachment, Stitch Guide Foot, Straight Stitch Foot, Teflon Non Stick Presser Foot for Horizontal Bobbin Type, Walking Foot, Foot with 3 cord guide, Decorative Transparent Sewing Foot, Circular Attachment and extension table, With all of this available anything is achievable.
Standard Accessories
Button fitting foot , It holds your button for you
Automatic 1-Step button hole foot, Measure your button and creates the perfect sized button hole
An Overedging or overcast  foot, Perfect for finishing off edges to prevent fraying
Zipper foot, This versatile little foot makes zip application so easy
Zig Zag foot, Your standard general purpose foot (I use this foot too much)
Blind hemming foot, If you're like me and have short legs you'll need this for taking up trousers
Seam ripper, Bobbins, Needle pack, Twin needle, Cleaning brush, Screwdriver, Spool cap x3, Twin needle pin, Spool net, Electronic foot speed control, Manual, Quick reference guide, Accessory bag and Cover.
Specification

| | |
| --- | --- |
| UPC | 4977766712644 |
| Manufacturer | Brother |
| Model Number | Innov-is 15 |
| Type | Sewing Machine |
| Promotion | LATEST 2022 MODEL |
| Warranty | 3 Years Full Manufacturers Warranty |
| Weight Kg | 7.5 |
| Size (Height, Width, Depth) | W41 cm x H32 cm |
| Variable Electronic Speed Control | Yes |
| Bobbin Access | Top Loading |
| Transparent bobbin cover Bobbin Cover | Yes |
| Hard Carrying or Storage Cover | No |
| Automatically Tensions Thread | No |
| Integrated Needle Threader | Yes |
| Thread End Cutting | Manual |
| Number of Stitch Selections | 15 |
| Popular Stitch Functions | Straight, Zig-Zag, Multi Zigzag, Blind Hem, Stretch Blind Hem, Rolled Hem, Straight Stretch, Overlock Stretch, Ric Rac, Herringbone, Gathering, Applique, Sew-On Buttons, Quilting Stitches |
| Formation of Buttonholes | 1-Step Fully Automatic |
| Variety of Buttonholes | 3 |
| Twin Needle | Included |
| Maximum Speed Limit Adjustment | Yes |
| Needle Up/Down Function | Yes |
| Integrated Dual Feed System | No |
| Integrated Fabric Feed Lowering | Yes |
| Hook Movement | Smooth Rotary Action |
| Needle Positions | Left / Centre |
| Tutorial CD / DVD | No |
| Voltage | 220-240 Volts |

Customer Reviews
Having never used a sewing machine before, I took my mothers advice, who has used singer for over 45 years. I could get started straight away as its so easy to use and within a month had made curtains, tablecloth & napkins plus adjusted many clothes that had been in my to be dealt with later pile. Amazing, sturdy but lightweight. My friend has now bought one too after seeing mine!

I ordered a Brother Innovis 15 sewing machine as a gift for my daughter, she is delighted, it has some very useful features, sews really quietly, it is not too basic. seems very good value for money. Delivered three days earlier than expected, and informed at every stage!

Was recommended the Brother Innov-is 15 by a friend and did a bit of research too... and I can say I am very happy with my purchase. The other day I just whipped it out and quickly repaired a hole in my jeans. It is really light and very straight forward to use. Belief this will stand me in good stead for many many years to come.
Sewing Machine Sales were extremely quick to deliver and very pleased with the price and service.

I bought this machine for my daughter for her birthday. (She is used to using my old Brother machine which is over 15 years old but still works well). She is absolutely delighted with her new machine and mastered it within hours.
She loves the digital aspect although said it took a bit of practice to master the auto needle threader. She also said it's super light and easy to use. Delivery was quick and I was kept informed of exactly when it was arriving at her house.
She has convinced me that I need to upgrade and I am going to order the same model. :)

Fantastic machine easy to use lightweight good features and love the self threader. Really quick delivery. Thank you looking forward to years of sewing.

I bought this for my wife to replace her old machine. She loves it, being so quiet, light and very easy to use. Recommended!

What a great machine, replaced a 25 year old workhorse and so glad I chose this one. Quiet, easy, great light and intuitive to use. And excellent service from this website. Considerably cheaper than Amazon too!

Excellent machine, easy to use but capable and quiet in operation.

Bought this for my wife she and is over the moon with it.

My trusty 30yr old singer packed up and due to repair cost I decided to upgrade especially, as I'm now elderly and needed a more transportable machine. After lots of research I decided the Brother Innovis 15 would meet my needs and I must say that inspite of my initial fear that I would find it too flimsy and plasticky, I am absolutely delighted with my purchase. It does feel so different of course from an all metal machine but I wished I'd upgraded sooner!! It's light, actually quite sturdy and sews like a dream. It's also quiet and one of the best features for me is that it no longer takes me an age to thread the needle. I'm delighted I've at least mastered that one. Now have to master all the other features!! Seriously though its a very intuitive and easy machine to understand and work even for an elderly technophobe like me. Order from this company! You won't be disappointed.

Why not share your review with others.