Janome 2200XT Sewing Machine
The Janome 2200XT is a sewing machine that puts simplicity at your finger tips, perfect for beginners who want a basic machine for general sewing jobs around the home.
Popular with beginners
FREE delivery by DPD
, order
Delivery: 1 Working Day(s) (Sat, Sun options)
Expected Delivery Date is Tuesday, January 25th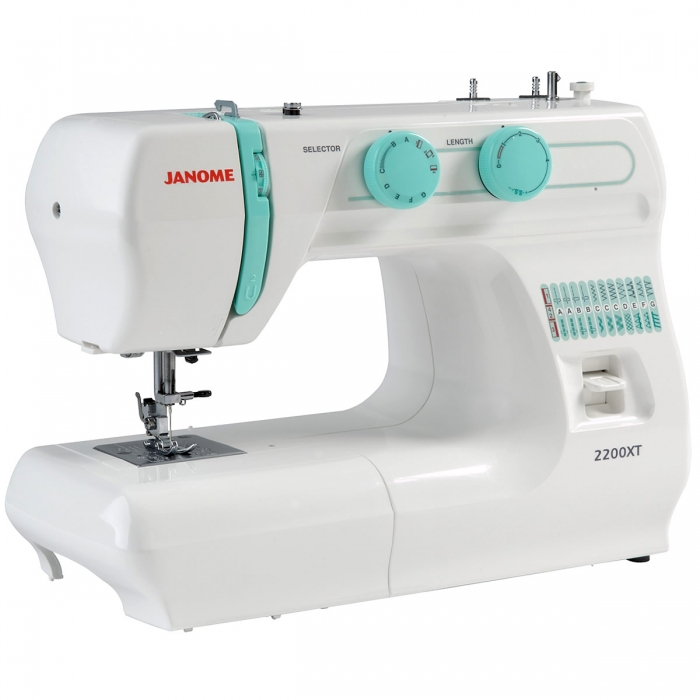 Why choose the Janome 2200XT from us?




Its the new LOW COST Janome 2200 XT sewing machine is built to last it has 13 stitch range including a simple to operate 4-step buttonholer. It has a front loading oscillating hook system which is quick to load, auto-stop bobbin winding, retractable spool pins that recess for storage and soft cover plus it's light weight..!

The detachable sewing table, lifts out of the way to reveal a free arm for circular stitching work. With the Janome 2200XT you also get easy declutch bobbin winding with auto-stop, snap-on feet, a push button reverse lever, and recessed tension unit for lay-in threading, its a budget priced sewing machine in a lightweight package that will suit the occasional sewer.

Stitch length and stitch width are adjustable via the two handy dials making selection quick and trouble free. It offers a good range of stitches, even stretch and overlock stitch as well as having the ability to use twin needles as a option.

This new Janome 2200XT is lightweight with a front loading bobbin case and a convertible free arm for circular sewing. This feature packed machine not only makes an ideal starter machine because it is so easy to use but would also suit the serious seamstress or home maker because it has loads of time saving features.

Threading is no longer a dreaded chore because the easy to follow numbered thread path gets you down to the needle where it threads front to rear, get the job done in seconds.

The 4 step buttonhole foot means fast and neat buttonholes. The detachable storage box converts the flat bed into a convenient free arm and allows easy access to difficult areas like sleeves and trouser legs.

The extra height foot lifter doubles the height of the foot and allows for extra bulky fabrics and the independent stitch width and length adjustments increase the versatility.

The Janome 2200 XT also has 2 handy pull up/push down spool pins for ease of use and safe storage. And because there are 2, you can really be creative using twin needles. All this, plus quick foot change, a reverse stitch lever, a one-hand thread cutter.

Features:
13 Stitches
Stitch Length
Stretch Stitches
Twin Needle Sewing Option
Automatic 4 Step Buttonhole
Snap on Feet
Light Weight
Free Arm
Soft Dust Cover

Included in the standard accessories are 3x Bobbins, Seam Ripper, Button Hole Foot, Needle Pack, Soft Cover, Instruction Book and Foot Control.
Specification

| | |
| --- | --- |
| UPC | 5027843101362 |
| Manufacturer | Janome |
| Model Number | 2200XT |
| Type | Sewing Machine |
| Promotion | Popular with beginners |
| Warranty | 2 Years Full Manufacturers Warranty |
| Weight Kg | 7 |
| Size (Height, Width, Depth) | W39 cm x H30 cm |
| Variable Electronic Speed Control | No |
| Bobbin Access | Front Loading |
| Transparent bobbin cover Bobbin Cover | No |
| Hard Carrying or Storage Cover | No |
| Automatically Tensions Thread | No |
| Integrated Needle Threader | No |
| Thread End Cutting | Manual |
| Number of Stitch Selections | 13 |
| Popular Stitch Functions | Straight, Zig-Zag, Multi Zigzag, Blind Hem, Stretch Blind Hem, Straight Stretch, Overlock Stretch, Ric Rac, Honeycomb, Applique, Sew-On Buttons |
| Formation of Buttonholes | 4-Step Sequence |
| Variety of Buttonholes | 1 |
| Twin Needle | Optional |
| Maximum Speed Limit Adjustment | No |
| Needle Up/Down Function | No |
| Integrated Dual Feed System | No |
| Integrated Fabric Feed Lowering | Yes |
| Hook Movement | Oscillating Action |
| Needle Positions | Centre Only |
| Tutorial CD / DVD | No |
| Voltage | 220-240 Volts |

Customer Reviews
I didn't know the first thing about sewing machines, I didn't even have the faintest idea how to thread one up ! So, I needed a lockdown project. Did my research and was on a budget. Crossed my fingers and chose the Janome 2200 XT. I am more than pleased with this machine. Very easy to use and the instructions are not in Klingon. Result ! I can now not only thread my machine but have just made some cushions with invisible zips as my first project. So chuffed with myself and the machine.

Love my new machine , been looking for months for a low cost high level machine and this fits just right. Not used all the features yet but have tired out a few and they work great eg roll hem , zipper and button hole. Would recommend this machine for any one new or old to sewing.

Why not share your review with others.