Silver Viscount 303 Sewing Machine
Using any one of the 32 stitch options, anything is possible using this new Silver 303. Sew on a button or make a stretch Lycra leotard. With front loading bobbin, adjustable foot pressure, sleeve arm, auto needle threader this is a machine that needs to be appraised


Price

£199.00


Today

£175.00
Free £30 Scissors Pack + Lightweight with 32 stitches and needle threader
FREE delivery by DPD
, order
Delivery: 1 Working Day(s) (Sat, Sun options)
Expected Delivery Date is Monday, December 6th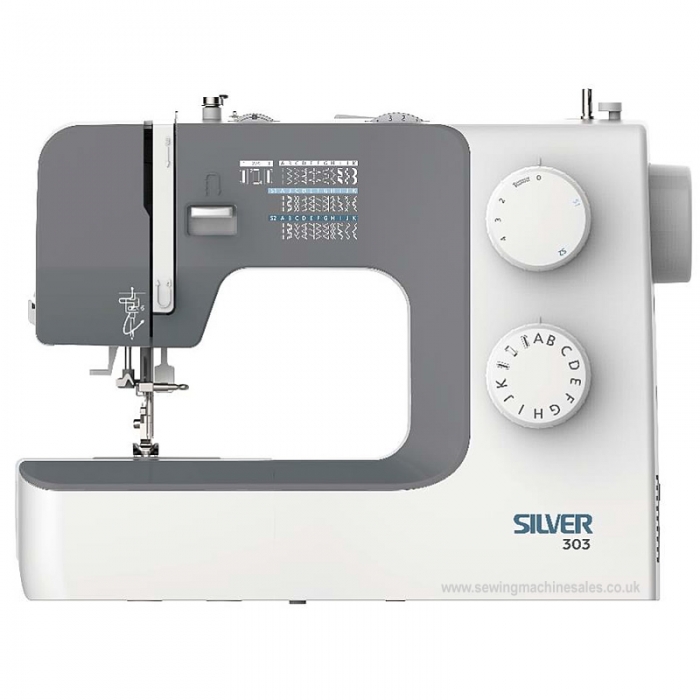 Why choose the Silver 303 from us?




New lightweight manufacturing of sewing machines, Silver Viscount has revealed three new models. Here is the Silver 303 with all the functions that the home sewer would need. It looks and sews like a machine twice it's price.
The Silver 303 has 31 stitches plus a 4-step buttonhole, reverse sewing and a built in needle threader, a "must have" on any new sewing machine. Original scallop, blind hemming and multiple zigzag, plus stretch stitches e.g the straight stretch and overlock stretch, perfect for stitching all the modern day stretch types of fabrics. This machine is also at home when the user needs to sew curtains and will handle many layers of denim in it's stride.
Slightly shorter is size than some models, this Silver 303 has a sturdy aluminium internal frame to keep the machine running smoothly at speed and prevent skipping stitches, as well as the ability to sew thicker heavy weight materials appearance not only looks clean and uncluttered but the quality on the brushed outer finish is superb.
Stitch width and length are both adjustable. Threading is via the horizontal spool pin for a smoother flow of thread to needle. It has a automatic de-clutch mechanism built-in to the hand wheel for winding the bobbin meaning no need to push or unscrew bits and bobs to stop the needle moving whilst winding thread on to the bobbin.
Silver 303 sewing machine also includes the electronic foot control. It gives perfect speed control with-out the feeling that the machine is running too quickly. Each needle penetration is powerful even at very slow speeds thanks to the clever Silver 303 electronics and powerful motor.
Plenty room for large fingers or for those of us who have less dexterity in our hands and loading the bobbin case is from the front. The sleeve arm slides off and lowering the flap gives access to the bobbin case.
Silver 303 Main Functions:
Clip on feet
Lightweight
LED light
4-Step buttonholes
Convertible sleeve arm
Built in accessory box
Variable stitch length up to 4 mm
Variable stitch width up to 5 mm
Front loading bobbin
Needle threader
When sewing a seam or adding top stitching using the Silver 303, it is extremely important to sew the line of stitching in the correct position in relation to the seam edge. The Silver 302 gives you an opportunity to move the needle from full left to full right position so every seam will be sewn in the perfect 1/4" or at your desired perfect width.
Accessories Included:
All purpose foot.
Zipper foot.
Sliding buttonhole foot.
Button sewing-on foot.
Quick-un-pic.
Lint brush.
Patchwork edge quilting guide.
Darning plate for free motion embroidery.
Spool holders x 2.
Spare needle.
Spare bobbins.
Twin needle spool pin and felt.
Screw driver, light sewing machine oil all of which can be stored in the sleeve arm.
Dust cover.
Instruction book.
Electronics foot speed controller are also included.
Specification

| | |
| --- | --- |
| UPC | 5059419602706 |
| Manufacturer | Silver |
| Model Number | 303 |
| Type | Sewing Machine |
| Promotion | Free £30 Scissors Pack + Lightweight with 32 stitches and needle threader |
| Warranty | Extended Warranty 10 Years Parts and Labour |
| Weight Kg | 6.4 |
| Size (Height, Width, Depth) | W38 cm x H22 cm |
| Variable Electronic Speed Control | Yes |
| Bobbin Access | Front Loading |
| Transparent bobbin cover Bobbin Cover | No |
| Hard Carrying or Storage Cover | No |
| Automatically Tensions Thread | No |
| Integrated Needle Threader | Yes |
| Thread End Cutting | Manual |
| Number of Stitch Selections | 32 |
| Popular Stitch Functions | Straight, Zig-Zag, Multi Zigzag, Blind Hem, Stretch Blind Hem, Rolled Hem, Straight Stretch, Overlock Stretch, Scallop, Ric Rac, Honeycomb, Herringbone, Gathering, Applique, Sew-On Buttons, Quilting Stitches |
| Formation of Buttonholes | 4-Step Sequence |
| Variety of Buttonholes | 1 |
| Twin Needle | Optional |
| Maximum Speed Limit Adjustment | No |
| Needle Up/Down Function | No |
| Integrated Dual Feed System | No |
| Integrated Fabric Feed Lowering | No |
| Hook Movement | Oscillating Action |
| Needle Positions | Left / Right / Centre |
| Tutorial CD / DVD | No |
| Voltage | 220-240 Volts |

Customer Reviews
I love everything about this sewing machine, very easy to use, very affordable

I am so pleased with the quality and performance of this machine. I bought it after a recommendation from a local small business.

Bought this as a first sewing machine for my daughter. Delivery was very quick, with good communication for a one-hour timed slot. My daughter learned to use the machine very quickly and is very happy with it. It is more solid than I expected and also comes with a bag of extras - scissors and other things that she says are useful. Very good purchase.

I was very uncertain about the machine i wanted to buy, but i can say that after buying this machine, i have no regrets, its very easy to use, the delivery was excellent and it comes with extra accessories which is really helpful. I wouldn't hesitate to buy or recommend this machine to anyone interested. excellent value for money.

I bought this machine for my granddaughter's birthday, not till the end of this month, so she hasn't tried it yet, but I have and it is a sturdy little thing and the embroidery stitches are of a good quality.
Very pleased with my purchase delivery was quick.

I have only had this machine a few days, but it seems very good. I was looking for a top loading spool, but they were more expensive. The front loader on this machine was suprisingly easy. Good useful assortment of stitches, and easy to use overall. So far so good.

Bought for my teenage daughter who is very happy with it, straight forward to use, lots of different stitch choices, everything you need, delivery quick, all good.

I'm an OAP and sewed all my life, various machines incl Industrials when space permitted so can be picky when it comes to my sewing machine. Bought a very well known brand 5yrs ago, from different supplier, worst purchase ever. Have spent last 2 yrs looking for new machine but frightened in case I chose another bad buy. Silver 25-3 - expected to find fault or something I didn't like but no to both. Instruction book in English and easy to understand. This machine runs smoothly and quietly, not too heavy. Dials for changing stitch width, length and type of stitch very easy. Pressure foot control perfect for feeding through material, nothing worse than being able to pull material this way and that while foot is down, nightmare when doing curves believe you me. This machine has ability to reduce/increase pressure on foot depending on thickness/thinness of material. Auto threader good, thread cutter on head of machine excellent, no more starting to sew again for thread to come out of needle because you've not left enough thread spare. I was prepared to pay more for a machine but due to personal preference I prefer a 4 step buttonhole and dearer machines have a 1 step. In my opinion this is a good machine and excellent value for money.

Very happy with machine, easy to use, great delivery service on time, best price online from sewing machine sales.Thank you

I did plenty of looking around for the right machine and fingers crossed so far very happy with my decision. I also looked at the different companies to buy from sewing machine sales had great reviews so I went with them and I have not been disappointed they have lived up to expectations. They were not the cheapest but we're very reasonable plus a free gift ,service and warranty. The delivery was spot on ordered Sunday evening got it Tuesday lunch time. I also like the idea that if I have made a mistake with my choice I have 30 days to change my machine

Why not share your review with others.