Pfaff Passport 3.0 Sewing Machine
Its the newest machine in the Pfaff range. The Passport 3.0 is a thing of beauty with lovely white front panel and bright orange function keys. The LED screen tells the user which stitch has been selected and of course its a Pfaff so quality of stitch has no compromise.
FREE Sewing, scissors, threads worth £50
Sorry, temporarily Out-Of-Stock
Please use the link above to sign up for new stock update. We will email you the moment it comes back in to stock.

Click to buy or view finance options.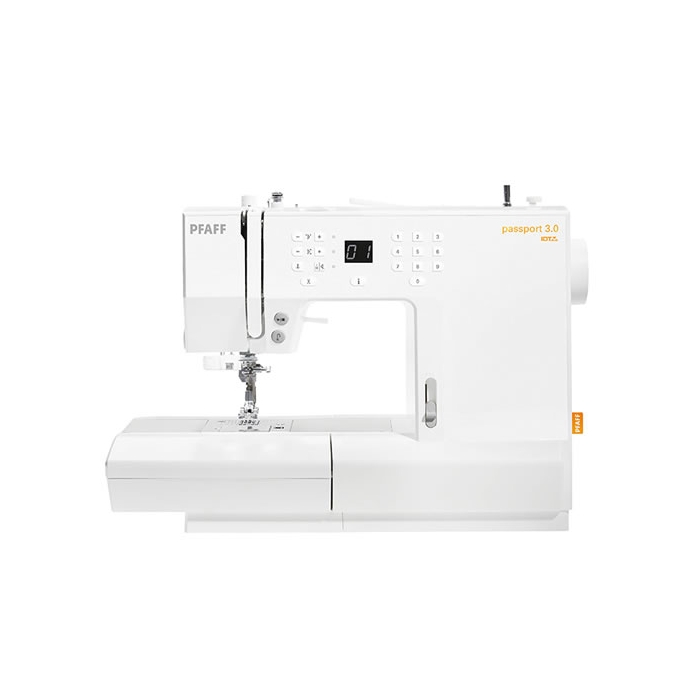 Why choose the Pfaff Passport 3.0 from us?




As a sewing enthusiast, you can transform any fashion idea into reality with a machine that features the very latest in both design and technology. Looking for a compact, light sewing machine without losing features and stitches, then look no further. The new Pfaff Passport 3.0 is your answer.
This lightweight Pfaff Passport 3.0 is ideal to take with you to sewing classes. You no longer need to miss your hobby when on holiday as the Passport is so lightweight and compact you can even take with you. Or why not take your Passport 3.0 with you to your friends where you can all sew together.
Low on space, and wondering where you can fit a sewing machine without having to store it away in the attic, well the Passport 3.0 is compact and can even be stored on a bookshelf!
IDT™ (Integrated Dual Transportation) – Absolutely even fabric feed from both the top and bottom. IDT™ is ideal for the quilter and sewer! IDT™ works with any stitch in forward or reverse at any stitch length or width. Built right onto the machine, it can be easily engaged or disengaged as needed. Many Pfaff accessories and presser feet can be used with IDT to ensure even seams with any stitch on any fabric.
Pfaff Passport 3.0 offers, 100 inspiring stitches with wide variety of beautiful 7mm stitches, including utility stitches, buttonholes, decorative stitches, quilt stitches, needle art stitches and satin stitches.
The Original IDT System – Integrated Dual Transportatation only from. PFAFF® for over 40 years! Absolutely even fabric feed from both the top and the bottom.
100 Stitches – A wide variety of beautiful 7mm stitches, including utility stitches, buttonholes, decorative stitches, quilt stitches, needle art stitches and satin stitches.
Beautiful Appliqué Pin Stitch – Adjustable; easy to achieve your desired result.
Start/Stop – Sew without the foot control – makes sewing long seams, free-motion and buttonholes easy.
Speed Slider – Adjust the speed with the speed slider for full control.
One-step Buttonhole – Snap on the buttonhole foot and sew repeatable buttonholes smoothly.
Free-motion Sewing – Simply attach the optional free-motion presser foot and lower the feed dogs for easy quilting.
External Feed Dog Drop – Easily accessible at the back of the free arm.
Extra-High Presser Foot Lift – Raises the presser foot to its highest position so that thick fabrics can be placed easily under the presser foot.
Presser Foot Pressure – Can be adjusted for specialty techniques or when sewing on light or heavy fabric..
Needle Up/Down – Touch a button to set your needle to automatically stop up or down in the fabric for pivoting, appliqué and more. Tap the foot control to shift between needle up/down position.
Immediate Tie-off – When the button is pushed, the machine will tie-off automatically for a quick and easy finish.
Automatic Thread Cutter - trims the top and bottom threads at the touch of a button
Two LED Light Sources – Optimized bright lights illuminate your sewing area without shadows.
Its is the machine of the classes. The Pfaff Passport 3.0 is slightly smaller and a little lighter making it ideal to take to the sewing class or workshop. It is fully computerised and can handle quilt making in its stride. Whats more it incorporates the unique IDT feed system making for perfect fabric control. Electronic speed controller means smooth powerful stitches no matter what the material thickness. Use the foot control or use the slider to adjust its maximum speed for free-motion work.
Other functions include start/stop at the touch of a button. In fact all 100 stitches can be chosen at a touch. The stitch number is displayed on-screen and the pull out stitch reference guide is a handy addition, it saves looking for the instruction book when you want to view all its stitches at a glance. It cleverly pushes away into the machine body.
As well as the usual buttonholes which are automatic and included fashion keyhole types, the Pfaff Passport can also sew on buttons. It includes the unique hand sewn quilt stitch and other specialist quilting stitches. Plus block and decorative, utility functions and the lovely Greek key stitch.
The whole machine feels powerful to use. Needle up/down button. Electronic reverse without having to keep your finger on the button. Tie off function at the start and end of a seam.
But what i really like about this machine is the stainless steel sewing bed, it covers the full length of the bed. It is really made to last years and years. Pfaff have thought of everything, even a place to store the foot control when not been used. It lives in a pocket inside the hard protective cover.
Main features
Computerised
Thread Cutter
100 Stitch selection
Top loading bobbin
IDT even feed system
Preset and variable stitch length
Preset and variable stitch width
Stitch reference guide
4 buttonhole styles
Auto tie off
Built in needle threader
Drop feed facility
Stretch stitches
LED lights
Freearm storage compartment
Weight 6.3kg
Standard accessories
Zipper foot
Fancy stitch foot
Fancy stitch foot 2
Blind hem foot
Buttonhole foot
Bobbins (5)
Felt pad
Multi-purpose tool
Screwdriver
Spool cap (S, L)
Seam ripper/lint brush
Edge guide
Auxiliary spool pin
Hard cover
Foot control
Needles
Instruction manual
Specification

| | |
| --- | --- |
| UPC | 7393033093983 |
| Manufacturer | Pfaff |
| Model Number | Passport 3.0 |
| Type | Sewing Machine |
| Promotion | FREE Sewing, scissors, threads worth £50 |
| Warranty | Manufacturers 5 Year, Our 10 Year Extended Warranty Applies |
| Weight Kg | 7.0kg |
| Size (Height, Width, Depth) | H28 x W38 |
| Variable Electronic Speed Control | Yes |
| Bobbin Access | Top Loading |
| Transparent bobbin cover Bobbin Cover | Yes |
| Hard Carrying or Storage Cover | Yes |
| Automatically Tensions Thread | No |
| Integrated Needle Threader | Yes |
| Thread End Cutting | Manual |
| Number of Stitch Selections | 70 |
| Popular Stitch Functions | Straight, Zig-Zag, Multi Zigzag, Blind Hem, Stretch Blind Hem, Rolled Hem, Straight Stretch, Overlock Stretch, Scallop, Ric Rac, Honeycomb, Herringbone, Gathering, Applique, Sew-On Buttons, Quilting Stitches, Closed Overedge, Plus decorative patterns |
| Formation of Buttonholes | 1-Step Fully Automatic |
| Variety of Buttonholes | 4 |
| Twin Needle | Included |
| Maximum Speed Limit Adjustment | Yes |
| Needle Up/Down Function | Yes |
| Integrated Dual Feed System | Yes |
| Integrated Fabric Feed Lowering | Yes |
| Hook Movement | Smooth Rotary Action |
| Needle Positions | Left to Right |
| Tutorial CD / DVD | No |
| Voltage | 220-240 Volts |

Customer Reviews
The Passport 3.0 is a great sewer. I had to buy mine when my ancient Pffaf Tipmatic started chewing the pointy edges of the quilt pieces. I love the needle down, cut thread and backstitch features. None of which are specific I know but they're very easy to use. It also has a start/stop feet-free sewing option which works well, once you practice a little, especially as the speed is controlled by a slide button at the front. It accommodates all the original presser feet I had just not the bobbins. The only other comment is that the quality of the extras, from vendor, don't do credit to the excellent quality of the Pfaff Passport 3.0

Although I haven't had it long enough for a thorough review I must say this is a fabulous machine. What I really like about it and that I've never had before is the IDF system. I lined up some stripy material with a pin didn't even tack it and it came out perfectly aligned. It's a really nice looking machine and easy to transport to class. It's a bit pricey compared to other machines but in my opinion it's worth it. I also really like that it's got a hard case to protect it.

Why not share your review with others.