Janome 5060QDC Computerised Sewing Machine
Computer functions save time and make the Janome 5060QDC heavy duty machine easy to use. Select a stitch and the best stitch settings, such as length, width are set automatically by the computer. Settings can be adjusted as needed. All important information is shown in the Info display with 60 stitches available

Click to buy or view finance options.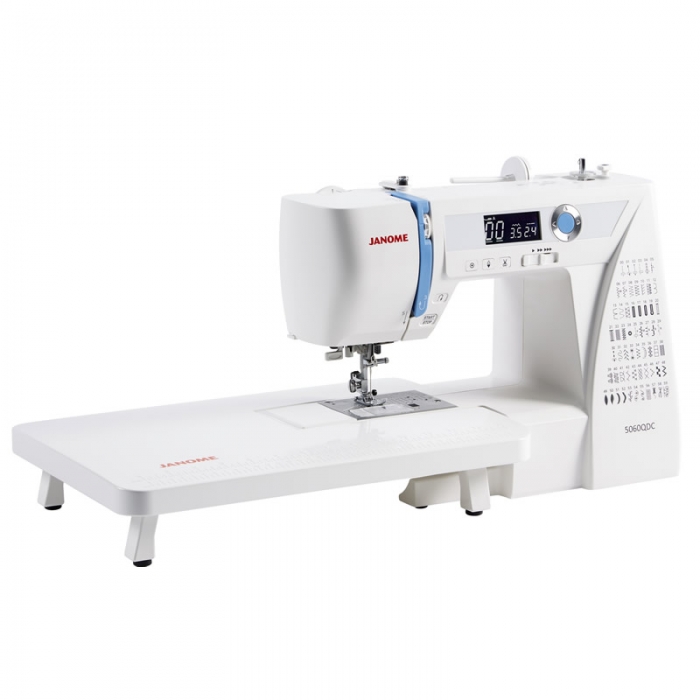 Why choose the Janome 5060QDC from us?




Introducing the latest 5060QDC sewing machine its computerised and easy to use with many features often only found on more expensive machines.
INCLUDING EXTENSION TABLE & QUILTING ACCESSORY SET WITH WALKING FOOT.
The 5060QDC is blue and white with a modern design, the new sewing machine gives you computer control with 60 pre-programmed stitches, including 6 styles of automatic one step buttonholes. The LCD display makes it easy to see which stitch you've chosen as well as the stitch width and length, which are fully adjustable.
A jam-proof, magnetic, top-loading, full rotary hook system eliminates the need for a removable bobbin case. The hook cover plate opens at the touch of a button, and the extra needle penetration power of the Janome 5060QDC lets you sew across heavier fabrics & multiple layers. It uses the latest quick set bobbin system, so while inserting the bobbin the thread end it trimmed to the correct length and is ready to start stitching, no need to turn the hand wheel to bring the bobbin thread to the top like older models!

There is also a needle up/down button for selecting whether the needle should stop in the fabric (great for pivoting) or in the up position. The extension table also detaches for free-arm sewing.
It's like a quilting machine with all the accessories you need in one package, included with our 5060QDC:
Extension table (size 28cm x 40cm)
Walking foot
Quilting/Patchwork guide
1/4" Seam foot
Clear crafting foot
Cloth edge guide
Darning/Embroidery foot
As well as all the standard foot and accessories listed bolow.
The Janome 5060QDC sewing machine also features a seven piece feed mechanism; a drop feed facility, automatic needle threader. There's also a speed control lever for setting the maximum sewing speed and by using the stop/start button you don't have to use the foot control and the machine comes complete with a soft cover.

It's very easy to use, with features such as snap on feet. Most of the feet for the machine just snap on and off, all you have to do is push the red button on the back of the shank to release the feet and lower the shank down for the feet to clip into place again. Yep... we would recommend this Janome 5060QDC to a novice or an expert sewer!
Plus, we love the hard protective cover.

Features:
7 point feed system gives better results on fine, difficult and heavy fabrics
60 stitches, including Decorative, Stretch, overlock and blind hemming stitches
6 One-Step Auto-Size Buttonholes: square, round, and keyhole
Backlit LED display
Twin needle facility
Needle Stop Up/Down control
Can be operated with or without its foot control
Built-in needle threader
Quick set bobbin loading
Adjustable needle positions makes piping and zip insertion easier
Auto-Lock Stitch after seam or pattern ends
Electronic speed limiter for greater control
DC motor gives more power at slower speeds
Top loading jam proof bobbin system
Extra high foot lift for heavy fabrics
Sturdy construction with metal frame
Built-in carry handle
Standard Accessories:
Six presser feet included,
Standard Zigzag Foot
Automatic One-Step Buttonhole Foot
Satin Stitch Foot
Overedge Foot
Blind Hemming Foot
Zipper Foot
Hard Plastic Protective Cover
Screwdriver - 3 sided type
Large & Small Spool Caps
Twin Needle Spool Pin 
Spare Needles
Spare Bobbins
Power Lead
Electronic Foot Control
Instruction Manual


Specification

| | |
| --- | --- |
| Manufacturer | Janome |
| Model Number | 5060QDC |
| Type | Sewing Machine |
| Warranty | 2 Years Full Manufacturers Warranty |
| Weight Kg | 8 |
| Size (Height, Width, Depth) | W41 cm x H31 cm |
| Variable Electronic Speed Control | Yes |
| Bobbin Access | Top Loading |
| Transparent bobbin cover Bobbin Cover | Yes |
| Hard Carrying or Storage Cover | Yes |
| Automatically Tensions Thread | No |
| Integrated Needle Threader | Yes |
| Thread End Cutting | Manual |
| Number of Stitch Selections | 60 |
| Popular Stitch Functions | Straight, Zig-Zag, Multi Zigzag, Blind Hem, Stretch Blind Hem, Rolled Hem, Straight Stretch, Overlock Stretch, Scallop, Ric Rac, Honeycomb, Herringbone, Gathering, Applique, Sew-On Buttons, Quilting Stitches |
| Formation of Buttonholes | 1-Step Fully Automatic |
| Variety of Buttonholes | 6 |
| Twin Needle | Optional |
| Maximum Speed Limit Adjustment | Yes |
| Needle Up/Down Function | Yes |
| Integrated Dual Feed System | No |
| Integrated Fabric Feed Lowering | Yes |
| Hook Movement | Smooth Rotary Action |
| Needle Positions | Left / Centre |
| Tutorial CD / DVD | No |
| Voltage | 220-240 Volts |

Customer Reviews
I was looking for a good all round machine, and I have found it. It's very easy to use, not to complicated but with all the bells and whistles. I am really enjoying sewing and looking forward to all the things I can make. Would recommend.

A really smooth machine. This was a big step up for me.. from a tiny old John Lewis sewing machine. So I've not got lots of experience with the more professional machines. But this is like a dream!
Very smooth sewing, neat functions like the auto lock button to use at the start and end of your stitching. The cut button to cut cotton at the end. The needle stops automatically in the down position when you take your foot off the pedal so it's easy to turn corners. Excellent range of stitches. An easy slider to adjust the sewing speed when using the foot pedal. Easy to adjust stitch length using the selector buttons. I haven't tried it for quilting yet, but I can imagine it will be easy to use for this. There are measurements on the extension table to help with spacing between quilting.

Why not share your review with others.