Pfaff Passport 2.0 Sewing Machine
The newest computerised sewing machine in the Pfaff range. The Passport 2.0 is a thing of beauty with lovely black front panel and bright orange function keys. The LED screen tells the user which stitch has been selected and of course its a Pfaff so quality of stitch has no compromise
FREE Sewing, scissors, threads worth £50
Sorry, temporarily Out-Of-Stock
Please use the link above to sign up for new stock update. We will email you the moment it comes back in to stock.

Click to buy or view finance options.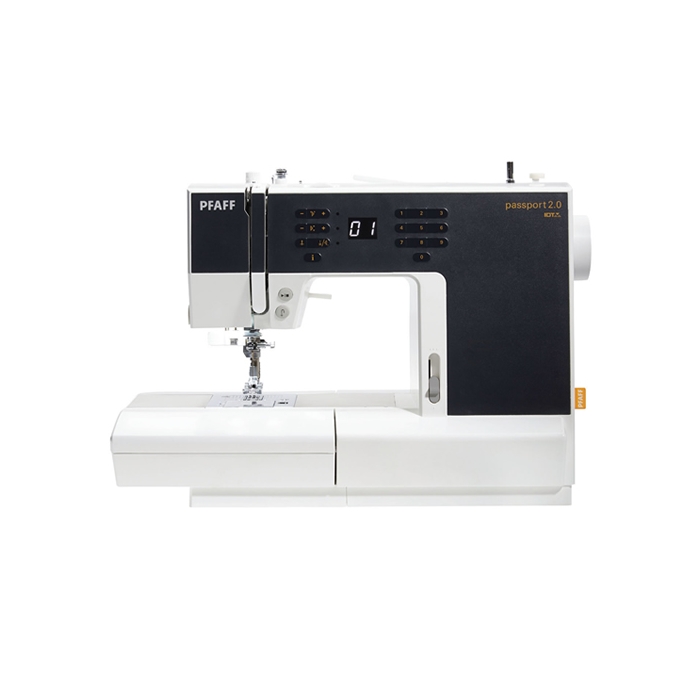 Why choose the Pfaff Passport 2.0 from us?




Its is the machine for the classes. The Pfaff Passport 2.0 is slightly smaller and a little lighter making it ideal to take to the sewing class or workshop. It is fully computerised and can handle quilt making in its stride.
What's more, it incorporates the unique IDT feed system called Integrated Dual Transporation, it feeds the fabric from the top as well as the bottom, as usual, making for perfect fabric movement without any slippage.
Electronic speed controller means smooth powerful stitches no matter what the material thickness. Use the foot control or use the slider to adjust its maximum speed for free-motion work.
Other functions include start/stop at the touch of a button. Reverse stitch and auto seam tie-off setting. In fact all 70 stitches can be chosen at a touch by bringing the stitch number on to the LCD screen. The stitch number is displayed on-screen and the pull out stitch reference guide is a handy addition, it saves looking for the instruction book when you want to view all its stitches at a glance. It cleverly pushes away into the machine body.
As well as the usual buttonholes which are automatic and included fashion keyhole types, the Pfaff Passport can also sew on buttons. It includes the unique hand sewn quilt stitch and other specialist quilting stitches. Plus block and decorative, utility functions and the lovely Greek key stitch.
The whole machine feels powerful to use. Needle up/down button. Electronic reverse without having to keep your finger on the button. Tie off function at the start and end of a seam.
But what I really like about this machine is the stainless steel sewing bed, it covers the full length of the bed. It is really made to last years and years. Pfaff have thought of everything, even a place to store the foot control when not been used. It resides in it's own pocket inside the hard protective cover.
Included are some handy sewing feet and accessories. In fact five presser feet, standard z/z, fancy stitch, blindhem, zipper and buttonhole foot. As well as everyday sewing tools:
Bobbins 
Felt Pad
Screwdriver
Multi Purpose Tool
Spool Caps Large and Small Sizes l
Seam Ripper
Lint Brush
Spare Needles
Quilting Edge Guide
Extra Spool Pin
Power Cord
Hard Protective Cover
Instruction Manual
Electronic Foot Control
Specification

| | |
| --- | --- |
| UPC | 7393033082789 |
| Manufacturer | Pfaff |
| Model Number | Passport 2.0 |
| Type | Sewing Machine |
| Promotion | FREE Sewing, scissors, threads worth £50 |
| Warranty | Manufacturers 5 Year, Our 10 Year Extended Warranty Applies |
| Weight Kg | 7.0Kg |
| Size (Height, Width, Depth) | H28 x W38 |
| Variable Electronic Speed Control | Yes |
| Bobbin Access | Top Loading |
| Transparent bobbin cover Bobbin Cover | Yes |
| Hard Carrying or Storage Cover | Yes |
| Automatically Tensions Thread | No |
| Integrated Needle Threader | Yes |
| Thread End Cutting | Manual |
| Number of Stitch Selections | 70 |
| Popular Stitch Functions | Straight, Zig-Zag, Multi Zigzag, Blind Hem, Stretch Blind Hem, Rolled Hem, Straight Stretch, Overlock Stretch, Scallop, Ric Rac, Honeycomb, Herringbone, Gathering, Applique, Sew-On Buttons, Quilting Stitches, Closed Overedge, Plus decorative patterns |
| Variety of Buttonholes | 4 |
| Twin Needle | Included |
| Maximum Speed Limit Adjustment | Yes |
| Needle Up/Down Function | Yes |
| Integrated Dual Feed System | Yes |
| Integrated Fabric Feed Lowering | Yes |
| Hook Movement | Smooth Rotary Action |
| Needle Positions | Left to Right |
| Tutorial CD / DVD | No |
| Voltage | 220-240 Volts |

Customer Reviews
Dispatch and delivery was perfect.
This is the first Pfaff I have bought, I make bags as a hobby using anything from leather, faux leather on the thicker side to cotton on the thinner side and what an absolute dream this machine is.. I have 2 other machines, one is an electronic domestic machine and the other a heavy duty machine, what the Pfaff does is take all the good points from both machines and combine them into one very neat easy to use robust sewing machine… consistent even stitching.. no bunching of thread, has easily breezed through 2 layers faux leather, 2 layers faux suede, 2 layers decovile light and 2 layers iron on fleece.
One thing I like is the ease of control..you can start on the button and finish on the foot with a slider to control speed, but overall it is a fab machine and I wish I had bought years ago.. would definitely recommend!!

I bought this for my daughter as she is studying fashion design in Uni. She loves it so much. The price was great as well.

I bought this for my daughter as she is studying fashion design in Uni. She loves it so much. The price was great as well.

Excellent little machine. Lightweight to carry to classes but still feels robust, does an excellent stitch and is very easy to use. Highly recommend.

Delighted with the Passport 2.0, have had a good play showing all my friends how easy it is to operate and all the added features it has compared to the Select models. I have used Pfaff now for over 10 years and can say that every model I have is a joy to use. One and only concern is the sliding card showing the stitches, if the tab gets damaged or torn it will be difficult to use. With that in mind I have stitched a crib book showing all the stitches with their numbers and stored it with the hand book.

I sew as a hobby. So far, I am very satisfied with this purchase. I have already helped mending a friend's clothes and had to use various stitches. I am enjoying discovering all the functionalities of this machine. This is the very first one I own and I am very pleased with it!

Why not share your review with others.