Pfaff Select 3.2 sewing machine
It is a mechanical machine that can sew through up to 12 layers of denim with ease. Yes this model utilises the IDT fabric feed system. The Pfaff Select 3.2 It strong, well made and reliable. What more do you want from a sewing machine!
Free £50 scissors and sewing kit included!
FREE delivery by DPD
, order
Delivery: 1 Working Day(s) (Sat, Sun options)

Click to buy or view finance options.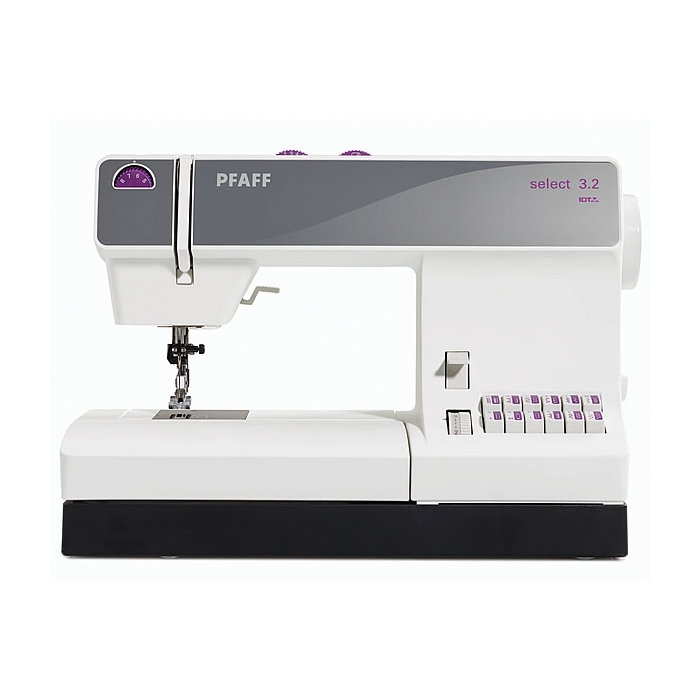 Why choose the Pfaff Select 3.2 from us?




What makes the Pfaff Select 3.2 special..! reliability, strength and precision. Easy to use soft touch button selection with 27 stitch functions. Choose from 15 different needle positions for perfect zip placement or seam widths. Every machine in the Select range has an extra slim free arm, always handy for children's cuffs and dolls clothes. It uses bright LED lights which make for no-flicker lighting of the sewing area.
For quilters the Select 3.2 has a high presser foot lifter and constant powerful needle piercing power, makes for controlled sewing. When you're ready for free-motion stitching, drop the feed dogs, put the presser foot lever into free-motion position and stipple away.
Pfaff developed Integrated Dual Feed (IDT) system is introduced at this level and beyond, ensuring fabric is fed evenly from the top and the bottom at the same time, at any stitch length and in forward and reverse, to eliminate fabric slip. A great example of this is to take about 8 to 10 strands of different coloured threads, set stitch to zigzag and with the threads placed under the foot, engage the IDT system, start sewing and guide them under the foot. The result is your own decorative cord. Just imagine using this on silky fabrics.
Key Features

27 utility stitch functions, covers a wide range of stretch stitches.
Automatic buttonholes in adjustable widths. Sew them easily without having to turn the fabric.
Infinitely variable stitch width up-to 5.5mm and length up-to 6.0mm.
15 needle positions for perfect topstitching and accurate seams.
Electronic speed control giving full motor power even at slow speeds. You can switch between two speed settings, one will slow the novice sewer down, the other setting will make full use of the powerful 90 watt motors speed....
Snap-on presser feet.
Drop feed.  Ideal for quilting and free hand embroidery.
Pfaff's rotary hook action, front loading.
LED lighting for better colour matching.
Large accessory storage area, swings or can be removed to be able to use the long, extra slim free arm.
Hard durable plastic cover and storage for foot control and accessories.
At the heart of every Pfaff Select there is a rugged, yet light weight Aluminium body.

Standard Accessories: Buttonhole foot, Zipper foot, Zig-Zag foot, Overlock foot, Blind Hem foot, Quilting Guide, Seam ripper, Screw driver, Set of needles, 4 x Bobbins, Lint brush, 2 x Spool holders, Twin needle spool pin, Hard protective cover, Instruction manual, 2 Speed foot control.
Specification

| | |
| --- | --- |
| UPC | 07393033085834 |
| Manufacturer | Pfaff |
| Model Number | Select 3.2 |
| Type | Sewing Machine |
| Promotion | Free £50 scissors and sewing kit included! |
| Warranty | Manufacturers 5 Year, Our 10 Year Extended Warranty Applies |
| Weight Kg | 9.0Kg |
| Size (Height, Width, Depth) | H27 x W39 |
| Variable Electronic Speed Control | Yes |
| Bobbin Access | Front Loading |
| Transparent bobbin cover Bobbin Cover | No |
| Hard Carrying or Storage Cover | Yes |
| Automatically Tensions Thread | Yes |
| Integrated Needle Threader | No |
| Thread End Cutting | Manual |
| Number of Stitch Selections | 27 |
| Popular Stitch Functions | Straight, Zig-Zag, Multi Zigzag, Blind Hem, Stretch Blind Hem, Rolled Hem, Straight Stretch, Overlock Stretch, Ric Rac, Honeycomb, Herringbone, Gathering, Applique, Sew-On Buttons, Plus decorative patterns |
| Formation of Buttonholes | 4-Step Sequence |
| Variety of Buttonholes | 1 |
| Twin Needle | Optional |
| Maximum Speed Limit Adjustment | No |
| Needle Up/Down Function | No |
| Integrated Dual Feed System | Yes |
| Integrated Fabric Feed Lowering | Yes |
| Hook Movement | Smooth Rotary Action |
| Needle Positions | Left / Right / Centre |
| Tutorial CD / DVD | No |
| Voltage | 220-240 Volts |

Customer Reviews
Not used a lot yet, but a simple and robust machine. Chose this based on advice from a number of people. In particular for the IDT.

Speedy delivery after advice from helpline helped me to choose between two models in minutes. I opted for the mechanical machine over a computerized version at the same price.
I use the machine to stitch leather bags and for millinery projects as well as making roman blinds and general dressmaking. I like that the arm removes for precision sewing, which you don't get with many other models. I also like that there's an in-built light, which again you don't get on some of the less expensive models. The only issues I've had are that the machine had a dirty thumbprint on it when I removed it from the box, but I put this down as occurring in the factory as the box was sealed. Also, the machine leaves a loop on the underside of the fabric when I've started and stopped a long row of stitches [yes, I do leave the needle in the machine] but to be fair I don't know whether this is the machine or the way I'm using it as I haven't yet spoken to SMS about this.
The machine gives you a lot more for your money than comparable machines available on the High Street and it's sturdy metal body doesn't jump around the table like it's plastic counterparts.
For the money, I prefer the functionality and robustness of the mechanical machine to the extra embroidery stitches and automatic buttonhole on the computerized version. I have given four stars rather than five because it doesn't have the convenience of a drop-in bobbin. Overall, sturdy machine, reliable brand, better than High Street counterparts for the same price.

Excellent machine has effortlessly sewn six layers of fur fabric, really robust machine which copes just as we'll with chiffon

Why not share your review with others.