Janome M100 QDC Sewing Machine
With a button to snip top and bottom thread after stitching a seam, this Janome M100 QDC is sure to be a hit with many sewing enthusiasts. Typical Janome quality and reliability with 100 stitch options and a strong metal chassis
Bonus Walking foot + Embroidery foot + Seam foot + Quilting foot + Extension Table + DVD

Click to buy or view finance options.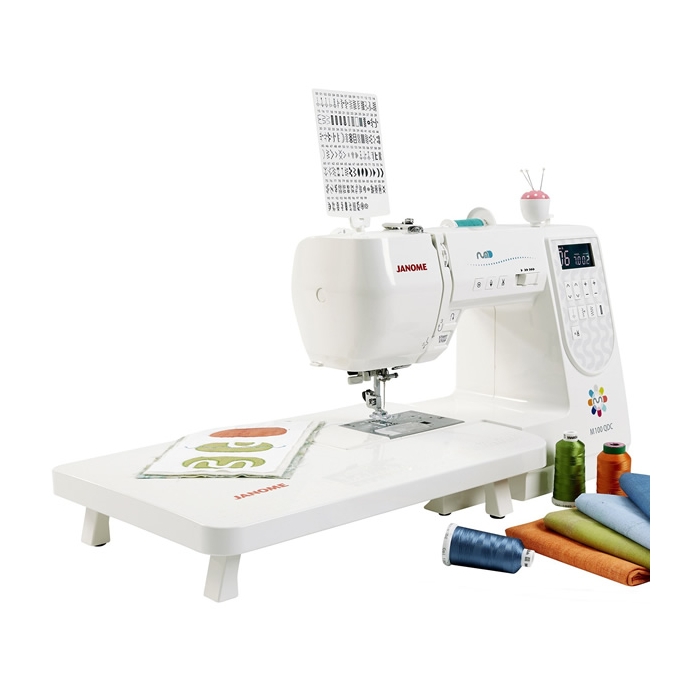 Why choose the Janome M100QDC from us?




The Janome M100 QDC is ready to tackle a quilt, curtains, repairs to kids pants or those custom cushions you dream of. With over 100 stitches, including stretch stitch, overlocking, quilt making, decorative and satin appliqué settings... anything is possible.
The M100 sewing machine also comes with the bonus quilting pack, plus the clip on extension table and is ready to sew straight from the box. Weighing only 6.4Kg, it is easy light enough to carry. Lifting is easy thanks to the sturdy built in handle and the exclusive hard protective cover with the machine handle available through a slot in the hard cover.
Threading is as simple as following the numbered paths, 1,2,3,4,5 and 6, using the built in needle threader to help thread the eye of the needle. Winding the bobbin is quick using the auto hand wheel de-clutch, which essentially disengages the needle when winding thread on to the bobbin. Place the bobbin into the top loading Janome none jam bobbin case... this could not be more simple. Janome has gone a step further by added threading paths for the bobbin thread 1,2 where step 2 will cut off the bobbin thread to the correct length ready to start stitching. No need to bring the bobbin thread to the top and under the presser foot like other machines.
The Janome M100 QDC offers the user the ability to adjust stitch width and length of each stitch.The screen shows these options as well as the best presser foot to use.
Start/Stop, needle up/down, reverse, max speed limiter and auto tie-off functions are all available at the touch of a button.
The bonus quilting pack includes:
¼" Seam foot.
Stitch in the ditch foot.
Open toe satin stitch foot.
Walking / Even-feed foot.
Quilting guide.
Darning / Free-motion embroidery foot.
Standard accessories include:
Hard Cover
Extension Table
Pin Cushion
Automatic Buttonhole Foot
Blind Hem Stitch Foot
Lint Brush
Overedge foot with brush
Satin Stitch Foot
Screwdriver
Seam Ripper
Spool Caps
Twin needle spool pin
Standard Zigzag Foot
Stitch Chart
Stitch Chart Holder
Zipper Foot
Spare Bobbins
Spare Needles
Foot Control (Electronic)
Power Lead
Printed Stitch Card
Instructional DVD
Printed Instruction Manual
Specification

| | |
| --- | --- |
| UPC | 05027843501872 |
| Manufacturer | Janome |
| Model Number | M100QDC |
| Type | Sewing Machine |
| Promotion | Bonus Walking foot + Embroidery foot + Seam foot + Quilting foot + Extension Table + DVD |
| Warranty | 2 Years Full Manufacturers Warranty |
| Weight Kg | 6.4 |
| Size (Height, Width, Depth) | W40 cm x H32 cm |
| Variable Electronic Speed Control | Yes |
| Bobbin Access | Top Loading |
| Transparent bobbin cover Bobbin Cover | Yes |
| Hard Carrying or Storage Cover | Yes |
| Automatically Tensions Thread | No |
| Integrated Needle Threader | Yes |
| Thread End Cutting | Automatic |
| Number of Stitch Selections | 100 |
| Popular Stitch Functions | Straight, Zig-Zag, Multi Zigzag, Blind Hem, Stretch Blind Hem, Rolled Hem, Straight Stretch, Overlock Stretch, Scallop, Ric Rac, Honeycomb, Herringbone, Gathering, Applique, Sew-On Buttons, Quilting Stitches |
| Formation of Buttonholes | 1-Step Fully Automatic |
| Variety of Buttonholes | 7 |
| Twin Needle | Optional |
| Maximum Speed Limit Adjustment | Yes |
| Needle Up/Down Function | Yes |
| Integrated Dual Feed System | No |
| Integrated Fabric Feed Lowering | Yes |
| Hook Movement | Smooth Rotary Action |
| Needle Positions | Left / Right / Centre |
| Tutorial CD / DVD | Yes |
| Voltage | 220-240 Volts |

Customer Reviews
Coming back to machining after a long break I found this machine very easy to use straight from the box. Stitches well, instructions good, excellent range of functions - overall very pleased! Great service from Sewing Machine Sales with super speedy delivery (next day).

Only just bought machine and have been trying it out today, found it excellent to use. My second Janome machine, I thought my first one was good but loads of extra features on the new one. Already trying out new skills.
Service and delivery were excellent from the company as well

Why not share your review with others.