Janome M200 QDC Sewing Machine
Using computers to control the formation of stitches gives a perfect stitch every time, this new Janome M200 QDC offers many exciting functions which together will make sewing fun, enjoyable and faster. Try it out yourself
Bonus Walking foot + Embroidery foot + Seam foot + Quilting foot + Extension Table + DVD
FREE delivery by DPD
, order
Delivery: 1 Working Day(s) (Sat, Sun options)
Expected Delivery Date is Monday, September 20th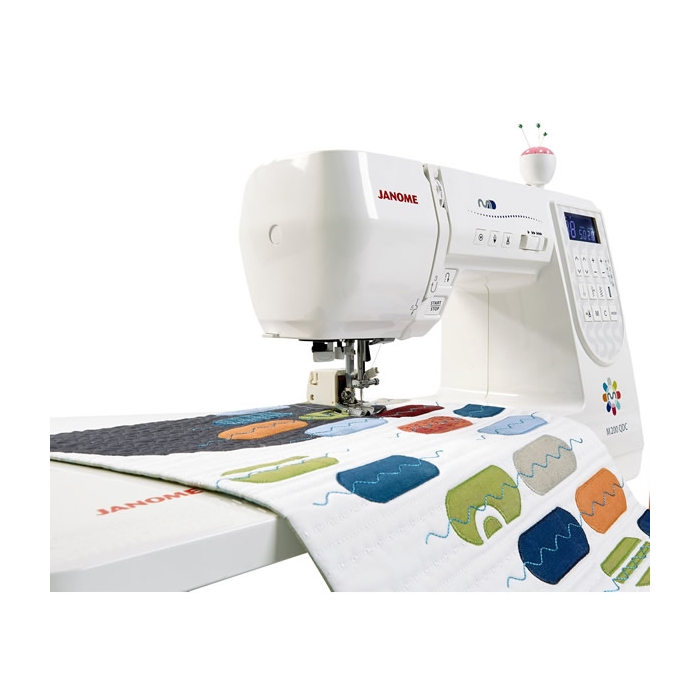 Why choose the Janome M200QDC from us?




Boasting 200 stitches including memory and alphabet, the M200 QDC is the top of the M series range from Janome. It has all the functions from the other M models, and more!
Additional features over the lesser models include:
Programmable pattern combinations.
Alphabet lettering.
Mode control for stitch groups.
12 Automatic buttonhole types.
Additional appliqué, satin, quilting stitches.
Memory.
M200 QDC also includes:
Extension table. (41cm x 28cm)
Hard plastic protective cover.
Built-in needle threader.
Start/Stop button.
Thread cutter (both upper and bobbin thread).
Needle up/down.
Maximum speed limiter setting.
Electronic foot speed controller.
Bright LED lights.
And in addition to the standard accessories I will list later, the Janome M200 a bonus accessory package:
¼" Seam foot.
Stitch in the ditch foot.
Open toe satin stitch foot.
Walking / Even-feed foot.
Quilting guide.
Darning / Free-motion embroidery foot.
As you can see from the list above, this model is packed full of all the functions one would need for stitching a large quilted project, a simple repair or just about any creative task that comes to mind. Even leather or multiple layers of denim are not a problem for this machine. It is blessed with a sturdy aluminium internal body, so each stitch will be perfectly balanced.
The large LCD screen shows the selected stitch number along with stitch width and length settings, which both can quickly be adjusted. Zigzag width up to 7mm and length up to 5mm. The screen also shows which presser foot to use for the particular stitch.
This Janome M200 QDC has the electronic soft start, so when starting to sew a seam using the foot control or the button start, it wont run away and speed off, it starts slowly and builds stitching speed gradually. This helps stitch formation when sewing organza or lycra and lets the user stay in control no matter how fast or slow you want to sew.
Standard accessories included:
Pin Cushion
Automatic Buttonhole Foot
Blind Hem Stitch Foot
Lint Brush
Overedge foot with brush
Satin Stitch Foot
Screwdriver
Seam Ripper
Spool Caps
Twin needle spool pin
Standard Zigzag Foot
Stitch Chart
Stitch Chart Holder
Zipper Foot
Spare Bobbins
Spare Needles
Foot Control (Electronic)
Power Lead
Printed Stitch Card
Instructional DVD
Printed Instruction Manual
Specification

| | |
| --- | --- |
| UPC | 05027843501902 |
| Manufacturer | Janome |
| Model Number | M200QDC |
| Type | Sewing Machine |
| Promotion | Bonus Walking foot + Embroidery foot + Seam foot + Quilting foot + Extension Table + DVD |
| Warranty | 2 Years Full Manufacturers Warranty |
| Weight Kg | 6.4 |
| Size (Height, Width, Depth) | W40 cm x H32 cm |
| Variable Electronic Speed Control | Yes |
| Bobbin Access | Top Loading |
| Transparent bobbin cover Bobbin Cover | Yes |
| Hard Carrying or Storage Cover | Yes |
| Automatically Tensions Thread | No |
| Integrated Needle Threader | Yes |
| Thread End Cutting | Automatic |
| Number of Stitch Selections | 200 |
| Popular Stitch Functions | Straight, Zig-Zag, Multi Zigzag, Blind Hem, Stretch Blind Hem, Rolled Hem, Straight Stretch, Overlock Stretch, Scallop, Ric Rac, Honeycomb, Herringbone, Gathering, Applique, Sew-On Buttons, Quilting Stitches |
| Formation of Buttonholes | 1-Step Fully Automatic |
| Variety of Buttonholes | 12 |
| Twin Needle | Optional |
| Maximum Speed Limit Adjustment | Yes |
| Needle Up/Down Function | Yes |
| Integrated Dual Feed System | No |
| Integrated Fabric Feed Lowering | Yes |
| Hook Movement | Smooth Rotary Action |
| Needle Positions | Left / Right / Centre |
| Tutorial CD / DVD | Yes |
| Voltage | 220-240 Volts |

Customer Reviews
The quality is soon apparent as I took it out from its box. As I started my first cushion which my new m200 handled the thicker brocade and zips quickly. My next project is a dog coat as soon as I can get more fabric.

Excellent service from ordering to Drlivery
Was very impressed with Sewing Machine sales.
I had been looking at Machines for awhile and would look up on YouTube to see what performance the Machines did that I was interested in before I purchased.
So when I found the machine that pushed all the buttons for me I did a search on where to purchase and I came across Seeing Machine Sales
I was impressed from the start with the availability of Machines and the prices
But the Janome M200 QDC was just what I was looking for and I'm so pleased with it
It has everything from stop/Start needle threader, automatic speed function you don't need to use a pedal, needle up/down ,end finish, reverse, scissor cut, patterns you name it and this little machine has it.
This machine also comes with a table and extra feet eg : walking foot, 1/4 ins foot, embroidery/ free motion open toe.
It's so quiet and smooth it's easy to use , and the patterns are fantastic I really like this machine it's a smaller version of my Janome 7700 QPC and is just what I needed for my caravan
I would definately recommend this machine also Sewing Sales they were brilliant Maz

Great customer service from ordering to being kept informed of delivery date and time. Just going through all the functions on this machine a big step up from my old Janome machine which is still working after 15 plus years. Loving everything so far on the M200 QDC and can't wait to start all the projects I have in mind which I am sure this machine will cope with no problem.
Would recommend.

Why not share your review with others.