Pfaff Select 4.2 sewing machines
Top of the Select range, this Pfaff Select 4.2 has extra features over the others and we would recommend the Select for its high quality construction, alloy body and industrial components.
Free scissors and sewing kit included!
FREE delivery by DPD
, order
Delivery: 1 Working Day(s) (Sat, Sun options)

Click to buy or view finance options.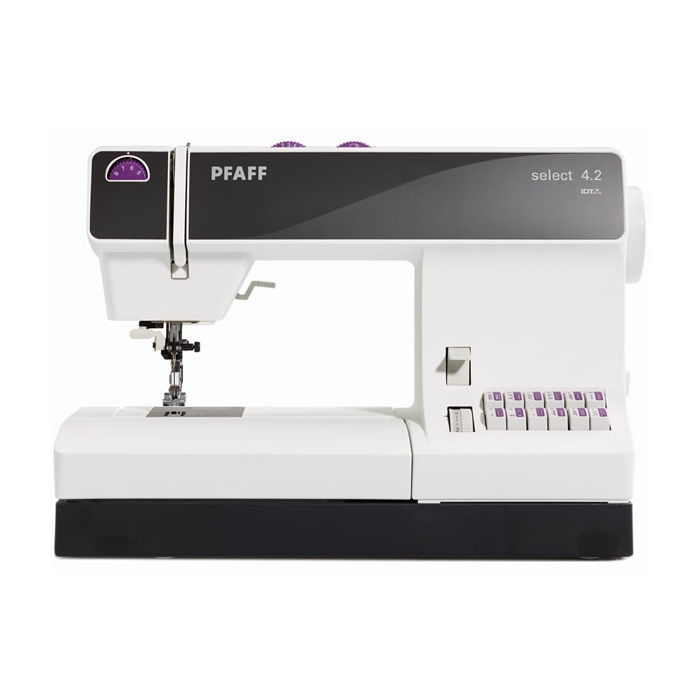 Why choose the Pfaff Select 4.2 from us?




With it's new dark graphics and purple dials this new Select 4.2 looks like a machine which is capable of sewing anything, from quilts to inserting zips in to kids clothing. It uses bright LED lamps to illuminate the sewing bed plus 40 stitch functions can be selected at the press of a soft-touch button. You can even combine them for more variety. The Select 4.2 is powerful, strong and reliable, perfect for heavy duty sewing projects or when you need to spruce up your home decor.
The Pfaff Select 4.2 is up for any task and includes the added feature of Pfaff's IDT System for total control of your fabric. When stitsching multiple fabric layers or slippery silk like materials, the IDT system feeds the fabric from both the top and the bottom.

Extras features over the other machines in the Select range, is the edition of an automatic needle threader and sewing accessory storage tray with separate presser foot storage. A little known example of how versatile this machine is; when you need to re-wind a bobbin. It's not necessary to remove the thread from the threading paths and needle, simply wind the bobbin through the needle eye.
Sewing speed is infinitely variable with stitch lengths up to 6mm. Both width and length can be adjusted at any time. Powerful motor is easily controlled in two speed stages with the foot control, even when sewing slowly, you'll find the needle-piercing power remains consistent through well over 12 layers of denim.

Main Features
40 Stitch selections
Industrial rotary hook system
IDT even feed system
Variable stitch length
Variable stitch width
4 Step buttonhole
Built in needle threader
Drop feed facility
Stretch stitches
LED lamps
Hard cover
Free arm storage compartment
Accessories included. Quilting Patchwork guide, free motion quilting/daring foot, standard presser foot, transparent foot, overlocking/blind stitch foot, zipper foot, buttonhole foot, rolled hem foot, seam ripper, lint brush, twin needle bobbin pin, needles, bobbins, hard protective cover, very good instruction book.
Specification

| | |
| --- | --- |
| UPC | 7393033086107 |
| Manufacturer | Pfaff |
| Model Number | Select 4.2 |
| Type | Sewing Machine |
| Promotion | Free scissors and sewing kit included! |
| Warranty | Manufacturers 5 Year, Our 10 Year Extended Warranty Applies |
| Weight Kg | 9.0Kg |
| Size (Height, Width, Depth) | H27 x W39 |
| Variable Electronic Speed Control | Yes |
| Bobbin Access | Front Loading |
| Transparent bobbin cover Bobbin Cover | No |
| Hard Carrying or Storage Cover | Yes |
| Automatically Tensions Thread | No |
| Integrated Needle Threader | Yes |
| Thread End Cutting | Manual |
| Number of Stitch Selections | 40 |
| Popular Stitch Functions | Straight, Zig-Zag, Multi Zigzag, Blind Hem, Stretch Blind Hem, Rolled Hem, Straight Stretch, Overlock Stretch, Ric Rac, Honeycomb, Herringbone, Gathering, Applique, Sew-On Buttons, Quilting Stitches, Plus decorative patterns |
| Formation of Buttonholes | 4-Step Sequence |
| Variety of Buttonholes | 1 |
| Twin Needle | Optional |
| Maximum Speed Limit Adjustment | No |
| Needle Up/Down Function | No |
| Integrated Dual Feed System | Yes |
| Integrated Fabric Feed Lowering | Yes |
| Hook Movement | Smooth Rotary Action |
| Needle Positions | Left / Right / Centre |
| Tutorial CD / DVD | No |
| Voltage | 220-240 Volts |

Customer Reviews
Was as expected for a mechanical machine, bought for IDT system and very pleased overall. As expected, a basic machine, hence 3 stars, but it sews very well.

Not very impressed with that machine. I was expecting a robust and strong machine. The needle plate looks weak. When you stop sewing, it is a bit fiddly to pull the thread. Maybe it is just me. I am used to my old Singer, which I was going to replace but as soon as I started using this Pfaff Select 4.2 I decided not to. Still thinking about exchanging to another machine. The needle thread tension dial is plastic and feels like it is loose when you have to use it. Not impressed at all. I wouldn't have bought it if I had tried it before. There is review from 2007 and I guess this is not a new machine. Unless the review is about a different model. If you are thinking about buying this machine, try it before to make sure it is what you want.

I am very happy with this purchase and monitoring, and the speed of delivery.
Thank you very much!

Very good machine. I was very satifsfied with the perfect service when buying (efficient and very quick delivery) and also afterwards when I realised that a small part was missing. Perfect!

i have a 1540 which you dont show on screen. I like it very well only wish I had got an embordery machine instead. Mine does look somewhat like the this select 4.0.

I have recently received my first sewing machine! I have tried a few stitches and the result is very nice. I'm looking forward to having more time to play with it.

I have the Pfaff 1546 and its the best thing since sliced bread! Its easy to use, almost fool-proof and its sews beautifully. Wish that I had bought a Pfaff before instead of up dating my old Frister Rossman with another well-known brand

Why not share your review with others.