Pfaff Ambition 610 Sewing Machine
A superb computerised sewing machine with dual feed system IDT, the Pfaff Ambition 610 has a large space to the right of the needle making it ideal for quilters. The sewing area is well illuminated with bright long lasting LED lighting. The Ambition range gives an excellent choice for home furnishings projects, quilting dressmaking and gifts
FREE Sewing Pack worth £50
FREE delivery by DPD
, order
Delivery: 1 Working Day(s) (Sat, Sun options)
Expected Delivery Date is Tuesday, January 25th

Click to buy or view finance options.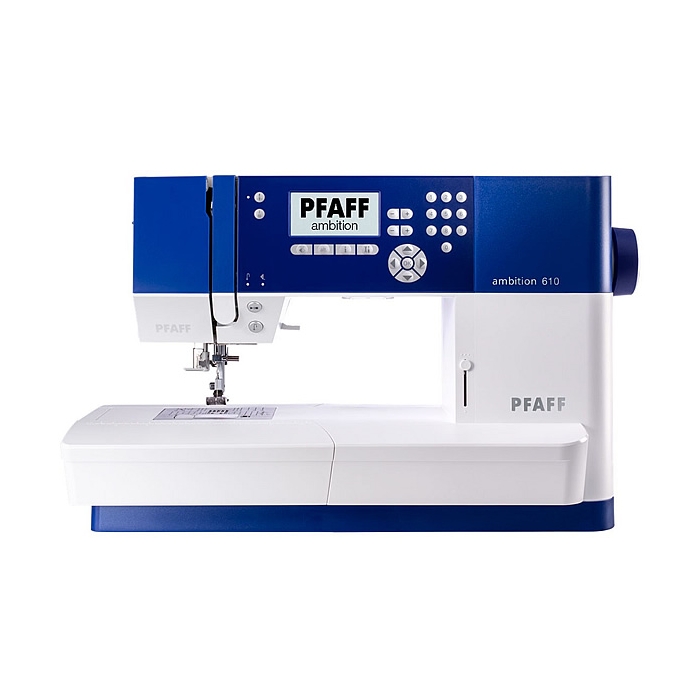 Why choose the Pfaff Ambition 610 from us?




Using many features normally found on more expensive models this Ambition 610 has a lot working in its favor. LCD screen with over 100 stitches and electronic speed control. The sewing bed size is a generous 200 mm to the right of the needle giving a relaxed working area with lots of space for large amounts of fabric - an advantage for quilters! Thanks to the three led light sources, the complete work surface is optimally illuminated with no shadows around the needle and presser foot area.
The difference is in the detail and that's where the new Pfaff Ambition 610 excels. Computerised, with touch button functions that will allow you to control every one of it's 110 stitches, buttonhole or decorative stitches. Its modern LCD display, bright LED sewing light and automatic buttonhole functions are proven winners.
Threading is super easy using the needle threader and with a top loading type bobbin, with see-through cover, you can keep an eye on bobbin thread whilst sewing longer seams or big projects. Sewing speed can be pre-set, so when doing free hand embroidery, this helps give perfectly spaced stitches, even for a novice. The addition of a hard cover to keep your precious Ambition 610 safe when not in use is a bounus.

This machine also features Pfaff's IDT - Integrated 'walking foot' system.
Absolutely even fabric feed from both the top and the bottom the IDT is ideal for the quilter and sewer! IDT works with any stitch in forward or reverse at any stitch length or width. It's built in so you get precise feeding of all materials, from super fine silk and organza to brocade and denim. When not needed IDT can quickly be disengaged.
Pfaff Ambition 610 is the ideal sewing machine for creative newbies who want good quality, ease of use and modern design. It is very efficient to use as all the functions are at hand, no need to keep reaching for the instruction book every time you want to change stitch.
Other great features of the Ambition 610 include:
High foot lifter - Gives more space under the foot when sewing wadding in between multiple layers of cotton.
Free-motion sewing - Simply attach the optional free-motion presser foot for easy quilting and free-motion embroidery.
External feed dog drop - Lower the feed dogs for stippling, free-motion embroidery or darning.
Presser foot pressure - Can be adjusted when using specialty techniques or when sewing on light or heavy fabric.
Start/Stop button - Press the Start button to sew without the foot control.
Immediate tie-off - When selected the machine will tie-off automatically at the end of a seam for a quick and easy finish.
Integrated Needle Threader - Makes threading the needle fast and easy.
The Ambition 610 also offers 110 different stitches, natural lighting to help ensure colour fidelity, adjustable thread tension, automatic needle up/down, automatic thread tie-off, stitch width and length adjustment, 29 needle positions and many other great features, all selectable via the easy-to-navigate, high resolution LCD display.
Accessories included:
Standard presser foot
Fancy stitch foot
Fancy stitch foot
Blind hem foot
Zipper foot
One-step Buttonhole foot
Thread net
Edge guide
Felt pad
Screwdriver
Twin needle spool pin
Seam ripper
Lint brush
Spare bobbins
Screwdriver for needle plate
Spool cap, large and small
Multi-purpose tool
Electronic foot control
Power cord
Needles pack
Instruction Manual
Hard Cover

Specification

| | |
| --- | --- |
| UPC | 7393033102616 |
| Manufacturer | Pfaff |
| Model Number | Ambition 610 |
| Type | Sewing Machine |
| Promotion | FREE Sewing Pack worth £50 |
| Warranty | Extended Warranty 10 Years Parts and Labour |
| Weight Kg | 9.0Kg |
| Size (Height, Width, Depth) | H27 x W39 |
| Variable Electronic Speed Control | Yes |
| Bobbin Access | Top Loading |
| Transparent bobbin cover Bobbin Cover | Yes |
| Hard Carrying or Storage Cover | Yes |
| Automatically Tensions Thread | No |
| Integrated Needle Threader | Yes |
| Thread End Cutting | Manual |
| Number of Stitch Selections | 110 |
| Popular Stitch Functions | Straight, Zig-Zag, Multi Zigzag, Blind Hem, Stretch Blind Hem, Rolled Hem, Straight Stretch, Overlock Stretch, Scallop, Ric Rac, Honeycomb, Herringbone, Gathering, Applique, Sew-On Buttons, Quilting Stitches, Plus decorative patterns |
| Formation of Buttonholes | 1-Step Fully Automatic |
| Variety of Buttonholes | 4 |
| Twin Needle | Optional |
| Maximum Speed Limit Adjustment | Yes |
| Needle Up/Down Function | Yes |
| Integrated Dual Feed System | Yes |
| Integrated Fabric Feed Lowering | Yes |
| Hook Movement | Smooth Rotary Action |
| Needle Positions | Left / Right / Centre |
| Tutorial CD / DVD | No |
| Voltage | 220-240 Volts |

Customer Reviews
Previously I had a Bernina Quilters machine for over 25 years which no longer works. Looking at many reviews and models and prices I decided on Pfaff 610. The IDT system initially sold me on this instead of another Bernina. With arthritic wrists It is certainly easier to put the bobbin in the top than a front fact bobbin holder. The led lights are excellent, the needle threader a plus and like the tie off. As I have only had a week I haven't thoroughly explored yet but so far very pleased with this machine.

All I can say is I Absolutely love my Pfaff Ambition 610!

Wonderful, wonderful, wonderful from start to finish. Many thanks.

Wonderful, wonderful, wonderful from start to finish. Many thanks.

Why not share your review with others.